»
Go to news main
Why many Atlantic Canadian farmers struggle to adopt high‑tech solutions — and what can be done to change that
Posted by
Stephanie Rogers
on August 23, 2022 in
Research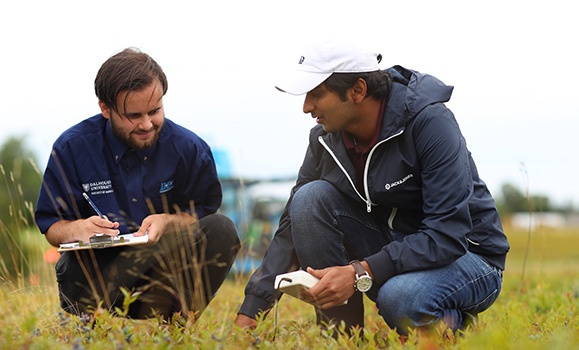 New digital technologies offer great promise to farmers and regional agricultural producers in Atlantic Canada, yet many struggle to adopt them due to rapidly increasing expenses. 
IGNITE Atlantic — a rural innovation hub — recently developed a Food Automation Series to highlight innovative solutions being implemented across the region and to create an awareness of new advancements in the industry while reducing barriers to automation for industry members.
In partnership with the Faculty of Agriculture, Ignite Atlantic recently hosted the Exploring Opportunities in Agricultural Technology forum to open the discussion surrounding automation in the rural agriculture industry.
"Atlantic Canadian agriculture is unique," explained Jolene MacEachern, a dairy farmer and strategy specialist with the Faculty of Agriculture. "Smaller-scale farming operations such as those on the East Coast have the benefit of increased precision, but numerically, the implementation of technology works better in bigger operations. We need to think about how we adopt technology to facilitate advantages in both small and large operations."
Related reading: This emerging smart technology makes farming blueberries cheaper and more environmentally friendly
Barriers to adoption

In addition to financial barriers, there is an overwhelming amount of information involved in the process of acquiring capital and adopting new technologies. This is a systemic issue that requires additional supports in place for early adopters.
Utility issues can also be a barrier to automation in the agriculture industry. The lack of high-speed internet and cell service in rural areas can prevent the adoption of innovative technologies. Although Build Nova Scotia has a plan for high-speed internet and are optimistic for access, there are concerns as to affordability.
"Farming and producing food in the next century will look nothing like it has in the past," explained David Gray, dean with the Faculty of Agriculture.  "The use of data and technology will drive this change. It is essential that Atlantic Canadian farmers can access technology to ensure our region is competitive and sustainable in food production system development."
While there are barriers to adoption of technology in the industry, there are also success stories, including solar technology, disease prediction software (apples), and controlled environmental storage to name a few — and hope for the future.
Related reading: A Clever partnership means good news for wild blueberry industry
Making tech attainable

Currently, Atlantic Canada has some of the oldest farmers in the country, making succession planning a vital process. This causes generational challenges that don't exist in other industries. In some cases, there are as many as three generations still involved in the farm. This highlights the need for more farmers at a younger age. New and exciting innovations could be a point of attraction for younger generations.
"The best way to support agriculture producers is to work closely with them," said Brennan Gillis in the Faculty of Agriculture's Office of Commercialization & Industry Engagement.  "Our researchers are keen to listen and understand producer concerns and challenges. This helps us fine tune research opportunities that support economically viable solutions."
Implementation of equipment co-ops could also be beneficial especially to smaller operations who don't need full-time access to expensive technologies.
Another proposed solution are poject teams, which suggest structured human resources support to help farmers apply for and manage innovation projects that can become models for other farms.
"Our focus is to build up rural communities. To do that, you must consider the industries within those communities and look at what problems exist," said Kiah-Jade Bonnar, Industry Project Manager, Ignite Atlantic. "For us, it's not just about identifying those barriers, but providing meaningful programs and realistic support that not only help industry members achieve their end goals, but that make the entire process of innovation more attainable."
For more information on agricultural technology and innovation solutions reach out to:
Brennan Gillis
Commercialization & Industry Engagement
Dalhousie University Faculty of Agriculture
Email: BrennanGillis@dal.ca
Phone: +1 902 266 2991
Kiah-Jade Bonnar
Industry Project Manager at IGNITE ATLANTIC
902-802-1409
kiah-jade@igniteatlantic.com