News
»
Go to news main
A Clever partnership means good news for Wild Blueberry Industry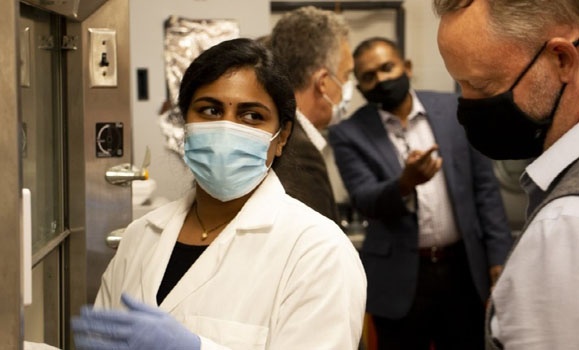 Dalhousie University Faculty of Agriculture and Clever Fruit Products, a Nova Scotia-based food company, are partnering to conduct research on converting locally grown wild blueberries to high-value food ingredients.
The four-year project is led by Dr. Vasantha Rupasinghe, professor of functional foods and nutraceuticals in the Department of Plant, Food, and Environmental Sciences at the Faculty of Agriculture.  The Industry and Alliance Program of the Natural Sciences and Engineering Research Council of Canada is contributing $320,000 to be used to optimize a novel process to generate encapsulated food ingredients from fermented wild blueberry.
"This value-added agri-food process is a combination of ancient knowledge on generating health-promoting fermented food and innovative food nanotechnology," Dr. Rupasinghe explained.  "The new food ingredients will be assessed for their efficacy in reducing the risk of cardiovascular disorders, a rising health problem in Canada and worldwide that can lead to social and economic burdens."
The funds will also help to train a new generation of food scientists.
Canada produces about half of the world's wild blueberries. About 80 per cent of the wild blueberries produced in Canada are exported in the individually quick-frozen form. Recently, the farmgate value of wild blueberries has declined due to the increased supply.  Therefore, product diversification through value-addition is timely.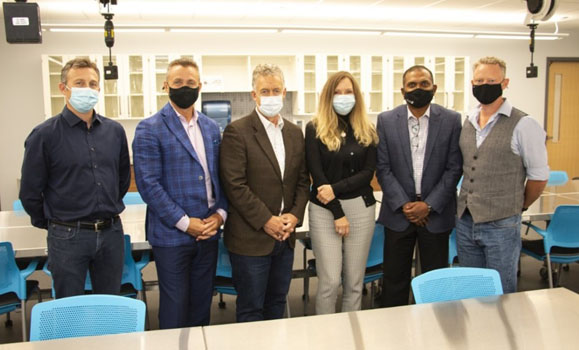 The board of directors of Clever Fruit Products visited the new food product development facilities of Dalhousie Agricultural Campus. Left to right: Dr. Chris Cutler (Associate Dean Research), Dean Mosca (Director, Clever Fruit Products), Sean Sears (Executive Chairman, Clever Fruit Products), Lorna Vanderhaeghe (Director, Clever Fruit Products), Dr. Vasantha Rupasinghe (Principal Investigator of the project) and Liam Tayler (Director, Clever Fruit Products). (Photo by Brennan Gillis)
"Once the scalable-manufacturing process is completed, we will manufacture the new food ingredient in Nova Scotia and distribute to the global health food ingredient market," added Antigonish-born businessman and the Executive Chairman of Clever Fruit Products Sean Sears.
Lorna Vanderhaeghe, a renowned nutritionist and a director of the company, expressed her excitement at working with Dalhousie University. "The unique raw-material and value-added process will help us to introduce clean and healthy food ingredients and dietary supplements to the emerging sustainable global functional foods sector."
Dr. Chris Cutler, associate dean research of the Faculty of Agriculture, said "this is an excellent example of industry-academia partnership which can support value-added agricultural industries in Atlantic Canada. The use of local agricultural products as value-added ingredients will enhance the growth of our rural-based bio-economy."
In addition to the beneficial properties, the safety of the new food ingredients will also be studied. The outcome of the proposed research will contribute to the product diversification of Canadian wild blueberry and the health promotion and well-being of Canadians.