Faculty of Computer Science News
»
Go to news main
Building a community of support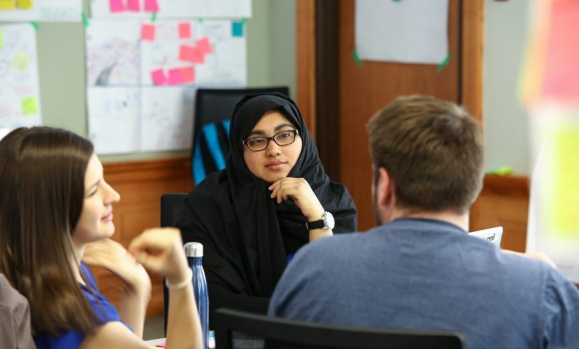 It's been a year of reflection and planning the for the Master of Applied Computer Science (MACS) program – the graduate degree that prepares students for a dynamic career in the software industry.
As director of the program, Dr. Raghav Sampangi has been the driver behind many of the new – and re-focused old – initiatives, working hard to build a community where students and alumni feel connected and supported.
MACS students are now provided with their own dedicated team of academic advisors and graduate administrator – as well as an opportunity to receive in-program scholarship funding and recognition for their hard work in and out of the classroom.
Dr. Sampangi is particularly proud of the introduction of the new medals of excellence. "It's a chance to thank everyone for contributing to creating an engaged community," he says. "There is great strength in working together, and everything our students have been doing is contributing immensely towards creating a positive learning environment."
Gold, silver and bronze medals valuing from 500 to 1000 dollars each were awarded this year to three students – Shilpa Singh, Grace Liu, and Robbie MacGregor - for their contributions.
"These students managed to work on their grad school academic requirements as well as motivated themselves and their peers to work together to create an engaging and a positive learning environment," says Dr. Sampangi.
In addition, $2500 in-program academic scholarships will be awarded to some MACS students in the spring as a chance to recognize academic excellence.
Looking ahead, Dr. Sampangi says "Our students can expect to benefit from some sought-after certificate options in topics like cloud computing, and from elective courses that are created based on trends in industry (often through industry suggestions and feedback). We will look to industry and ensure our students are graduating with the confidence that they have what it takes to stand out and exceed in the job market."
Venture out
The MACS degree offers students three stream options (internship, entrepreneurship, project), to better suit their needs and goals.
Sogra Memon is the first student to go through the entrepreneurship stream,aimed at leveraging students' technical skills with business knowledge. Taking these skills, Sogra has acted as Chief Product Officer for a business venture named Toddler+, where she's been responsible for everything from product design to aligning customer requirements with the business vision.
Their idea looks to solve a problem that so many parents face today. "The time spent by toddlers on tablets and smartphones has increased drastically over the past couple of years. This drastic change has caused – and is causing – multiple issues among children, such as obesity and developmental delays," Sogra's team explains. "Toddler+ is working on designing a range of innovative products that will take the tablet away without the tantrum."
This business venture led to winning a prestigious award – taking home first place in the Nova Scotia International Entrepreneurship Competition. "It's really an amazing achievement for Sogra. It's also an amazing confirmation that this stream could really help students innovate and maybe kickstart some ideas of their own," says Dr. Sampangi.