FCS News
»
Go to news main
Dal brings art, wonder and research to Halifax's Nocturne festival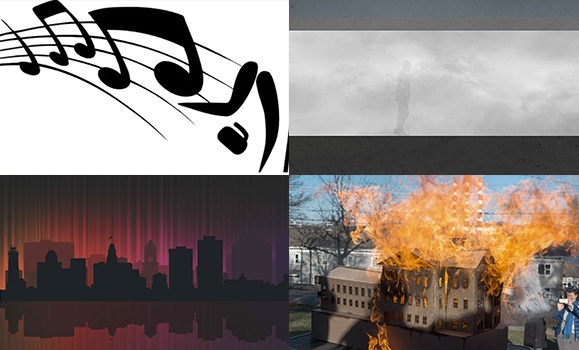 The theme of this year's Nocturne: Art at Night festival is "vanish," alluding to ephemeral experiences and the shifting nature of narratives and pasts. And while Nocturne is, indeed, the sort of ephemeral evening where art appears across the city for one night only, it also leaves an inspiring mark — not just on attendees, but artists as well.
Many of those artists come from the Dalhousie community. Several exhibits take place on campus, and a number are hosted by Dalhousie faculty and students. Read on for more info on some of them.
The 10th-annual Nocturne: Art at Night festival takes place Saturday, October 14 from 6 p.m. to midnight, with venues across Halifax and Dartmouth. For more information, visit its website.
Curling Virtuoso
Graphics and Experiential Media Lab ­— Derek Reilly, Joseph Malloch
Natural History Museum Parking Lot, 1747 Summer St
Derek Reilly's lab in Dal's Faculty of Computer Science has become a Nocturne staple over the years, from human "pong" to an interactive combination of Twitter and Tetris — "Tweetris" — that won the festival's first Artist Award in 2012. And each of the exhibits doubles as a research project, one that typically explores human/computer interaction.
This year's project fuses two beloved Canadian pastimes: curling and music. At "Curling Virtuoso," attendees will grab curling brooms, don virtual reality headsets and enter a virtual curling rink — one where the sweeping and pressure of the broom simultaneously control a virtual cello. The more accurate the broom is swept, the better the cello plays.
While attendees curl, those gathered around the exhibit will be able to see the virtual rink projected around the player, along with a wall-sized tree visualization that grows and shrinks depending on how well the curler is performing.
Sunder
Dalhousie Architecture Students
Ralph M. Medjuck Building, 5410 Spring Garden Road
Dalhousie's Architecture students have put together an interactive exhibit about disorientation and navigating unfamiliar spaces.
With "Sunder," attendees will make their way through illuminated structure outside Dal's Medjuck Building, one built with translucent materials and lighting meant to disrupt the visual senses. Once inside the building's Exhibition Room, a second space will allow attendees to interact with material that generates sound — an activity which changes depending on how many people are participating.
If it's anything like past Architecture Nocturne exhibits, it's sure to be a unique, engaging experience.
Sculptures
Society of Dalhousie Music Students & performers from the Fountain School of Performing Arts
Maritime Museum of the Atlantic, 1675 Lower Water Street
The Society of Dalhousie Music Students (SDMS) has put together a performance that involves still imagery, improvisational live music, monologues and an interactive light show. "Sculptures" is a five-movement piece that takes the audience through the past and present of Halifax.
The project is directed by SDMS president Stephen Fewer (4th year BMus), while Patrick Wu (4th year BMus) — profiled on Dal News this week — is SDMS Nocturne Advisor. The music is by Wu, Stephen Fewer, Jessica MacIsaac (3rd year BMus) and Packer Woo (5th year BMus). Monologues were written by Stephen Fewer as well as an original montage with still imagery.
Walking the Debris Field: Public Geographies of the Halifax Explosion

Dalhousie Art Gallery
6101 University Ave  
This year marks the 100th anniversary of the Halifax Explosion, and the Dalhousie Art Gallery — which will be opening its doors for Nocturne — currently features several exhibits that explore the various social and cultural impacts of one of the most significant events in the city's history. These include:
Walking the Debris Field: Public Geographies of the Halifax Explosion: Organized by the Narratives in Space + Time Society — which promotes walking and the use of mobile media by artists and the public — the exhibition features new projects to mark the Halifax's Explosion's 100th commerziation
Negotiations: Photographs from Halifax artist Claire Hodge of the city's Hydrostone neighbourhood, which through its role in the reconstruction effort stand as one of the most striking legacies of the Halifax Explosion.
Arthur Lismer and the Halifax Explosion: An exhibition highlighting the work that Arthur Lismer, Group of Seven artist, produced during his time in Halifax from 1916-1919.
Arthur Lismer and The Drama of the City: Courtesy of historian Alan Ruffman, this exhibition features reproductions of Lismer's illustrations of the explosion's aftermath.
From 2D to 3D: Mapping Halifax Over Time: The Dalhousie Libraries GIS Centre presents depictions of Halifax from just before the Explosion to the present day.
You can find more information about the exhibits (which run through December 17) at the Dalhousie Art Gallery website.