"Tweetris is a game within a game," says Derek Reilly, assistant professor in Dalhousie's Faculty of Computer Science.

No, he isn't making an Inception reference. Dr. Reilly is describing a mash-up of yoga, Twitter and Tetris that is sure to be a must-see installation during Saturday's Nocturne: Art at Night festival.

The Tweetris game is one of three Dal-hosted exhibits during this year's edition of the annual, city-wide free art festival. The others are Info Glow – a sneak peak at a permanent Dal installation based on real-time energy data from the Mona Campbell Building – and an improv musical performance in the Student Union Building stairwell. (See our footnote below for more information on these exhibits.)
The festival takes place all over downtown Halifax (and at Alderney Landing in Dartmouth too!) from 6 p.m. to midnight on Saturday.
Artistic gaming


Nocturne goers who walk Spring Garden Road on Saturday will see the Medjuck Architecture Building transform into an enormous GameBoy screen as computer science students and faculty share the latest in interactive art-tech with Tweetris..

Here's how it works: first, attendees participate in a shape-matching game. Using Kinect technology and a large screen, participants will enter a cube van where they compete to make Tetris shapes with their bodies.

Successfully completed shapes — the image of the person within a Tetris block — will be saved and tweeted to @TweetrisHal. In the second part of the game, audience members will move their modes to manipulate these life-size Tetris images as they are projected onto the front of the architecture building.
Human and computer collaboration


"Tweetris was originally conceived as a way for computer science, human computer interaction (HCI), art and design researchers and students to work collaboratively on a large project," explains Dr. Reilly, who began the project in collaboration with faculty and students at OCAD University and the University of Toronto.

"We analyze a product from a human-centric perspective: how a user will use the product, what can be the issues faced by the users and how to overcome those issues," says Jihal Patel, a computer science masters student, describing his interest in HCI.

That's why the Tweetris team is treating Saturday's exhibit not just as art, but as science: examining patterns of whole body interaction.

"If we were to examine Tweetris gameplay in a lab we're not as likely to see the level of engagement we get at events like Nocturne," says Dr. Reilly. "We're also not as likely to draw as many participants."

Tweetris was first unveiled at the 2011 Nuit Blanche, an all-night art event in Toronto. The project has since appeared at an independent game conference, a digital media industry conference, and an academic HCI conference, as well as Dal computer science open houses and orientation days.

"One of the more interesting things we have seen is how seemingly slight variations in the venue lead to dramatically different engagement patterns," says Dr. Reilly.
Expanding interest


Patel is excited to act as a project demonstrator this upcoming weekend.

"I think nowadays computer science has not remained a separate field anymore," he says. "Computer science helps in improving the efficiency and effectiveness of the work done in other fields."  

Meanwhile, fourth-year computer science student Nathan Lapierre has been busy developing the Kinect game interface for Tweetris so that participants can control the movement of falling Tetris images with their bodies.

"Computer science and art go hand-in-hand, as technologies enable really interesting ways to create interactive exhibits," says Lapierre.

Tweetris has attracted the attention of many Dalhousie computer science students including Patel, LaPierre, Derek Neil, Swapnil Mahajan and Mohammed Salimian. Dr. Reilly is also grateful for the administrative support of faculty members Kirstie Hawkey and Bonnie MacKay.

Carolyn Watters and the Office of the Vice-President Academic and Provost have provided the projector rental for Tweetris and the Faculty of Computer Science is also supporting the project. Funding for the research is provided by the GRAND NCE (Graphics, Animation and New Media Network of Centres of Excellence).
Fascinating and fun


While the exhibit will further their research, the members of the Tweetris project team hopes Nocturne attendees have a lot of fun too.

"We wanted to encourage playful engagement and performativity," says Dr. Reilly.

"I think the game will look pretty impressive being projected on the side of the building," says Lapierre. "It should be a lot of fun to both watch and participate in."

So stretch well and go visit Tweetris at the Dalhousie Architecture Building on Spring Garden Road this Saturday between 6pm and midnight. Also check out the project online.

-

More Dal at Nocturne

Tweetris isn't the only Dal exhibit taking place during Saturday night's Nocturne festival. Make sure to find your way to Studley campus and check out these cool exhibits: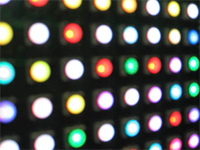 Info Glow (Dalhousie Art Gallery): Want an advance sneak peak at a permanent Dal installation? As part of Nocturne: Art at Night, the Dalhousie Art Gallery will be presenting, for one night only, Info Glow, an installation that will eventually be located in the atrium of the Mona Campbell Building.
Kelly's research into computer interfaces and audio technologies have enabled him to design and fabricate a three-dimensional digital 'painting' comprised of LED lights, textiles and subtle sound components that respond in real-time to the digital 'smart' systems that monitor and control the building's internal environmental conditions and energy use. 
Les Mécaniques De Nuit (Student Union Building): A performance of improvised music in a classical vein in a reverberant stairwell in the SUB at Dalhousie. Artists: Howard Beye and James Southcott.