When Hsiu-Ping (Patrick) Wu chose to pursue a Bachelor of Music degree at Dalhousie it was partially because Dal was familiar — he used to practise at the Arts Centre with the Nova Scotia Youth Orchestra. However, now that he's planning for a future in music, he's doing his best to avoid the familiar. 
"I'm trying to follow the principle that my conductor in Taiwan told me this summer: do what people wouldn't normally do because in this competitive world, in order to stand out, you need to do something a bit special," he says.
So, he's made it a point to get out of his comfort zone.   
Organized spontaneity

That's one of the reasons Patrick decided to get involved with the Society of Dalhousie Music Students' (SDMS) participation in Nocturne, an annual celebration of art at night that turns downtown Halifax into hundreds of venues for art in all forms.
"It's all about putting yourself out there and gaining the experience. It's more than just music, and then you have to know how to budget things and write up the whole application."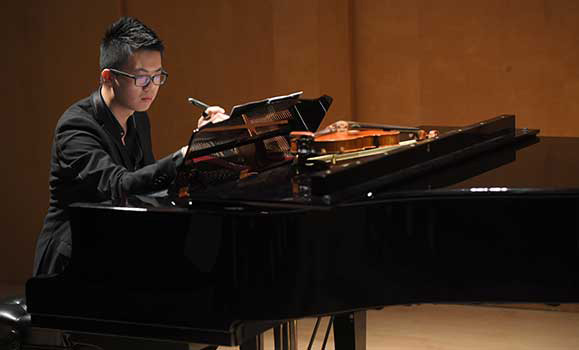 This will be Patricks's fourth year at Nocturne and his second year working on an improvisational score for the project. 
"For improv score we basically compose the skeleton of the piece — there's not much to it, it's detailed on gestures, mostly commands — and we just tell the players what to do. For these projects, it's all very abstract. We try to make the music as abstract as possible for people to interpret in different ways.
"This is helps with what I'm currently learning from my composition prof — he says I'm sometimes too detailed in my music."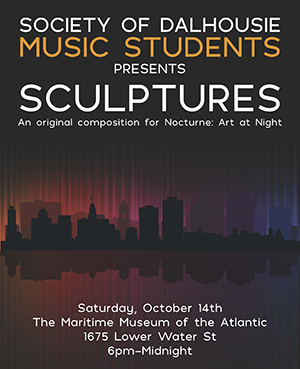 This year, the SDMS is presenting Sculptures, a five-movement piece about the history of Halifax that includes an interactive light show. The performance will take place on Saturday, October 14 from 6 p.m. until midnight at the Maritime Museum of the Atlantic on Lower Water Street.  
Diverse experiences

Before returning for his fourth year of studies as a Composition major in Dalhousie's Fountain School of Performing Arts, Patrick spent this past summer travelling, performing and composing.   
First, he returned home to Taiwan for summer break and to participate in the National Taiwan Symphony Orchestra Camp, one of the top orchestra camps in the country. 
"That camp really opened my eyes to see how we compare as musicians to everyone out there — especially in Asia because things are so competitive. It was very intense but it was an unforgettable experience." 
After that, he travelled to Pavia, Italy for the highSCORE Festival, which brings composers from around the world to participate in masterclasses and premiere an original composition. Patrick composed a fantasia for clarinet and piano inspired by Edgar Allan Poe's The Tell-Tale Heart.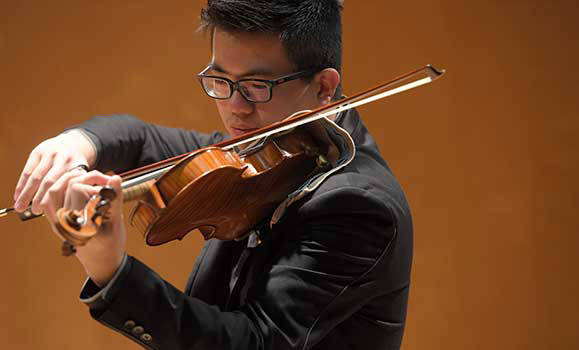 "In that festival, there were 40 of us, all composing music. It was great because we all spoke the same musical language and when we interacted we absorbed knowledge from each other. Because we were from all over the world, I got to establish really important connections and I was exposed to all these different ideas."
Playing it by ear

Though he's not yet certain where his career will take him, Patrick knows that learning as much as he can about the arts and music industry will help him break into the competitive field. For starters, he'll be staying at Dal for an extra year to brush up his violin technique. From there, he'll continue to explore new ways to differentiate himself. 
"You just need to find your own voice in your art," he says. "You need to have a vision first, you can't just sit there waiting for opportunity, and you need to be passionate about it to convince the audience with your music."