Honours Program
Considering the Honours Program in IDS? Your journey starts here!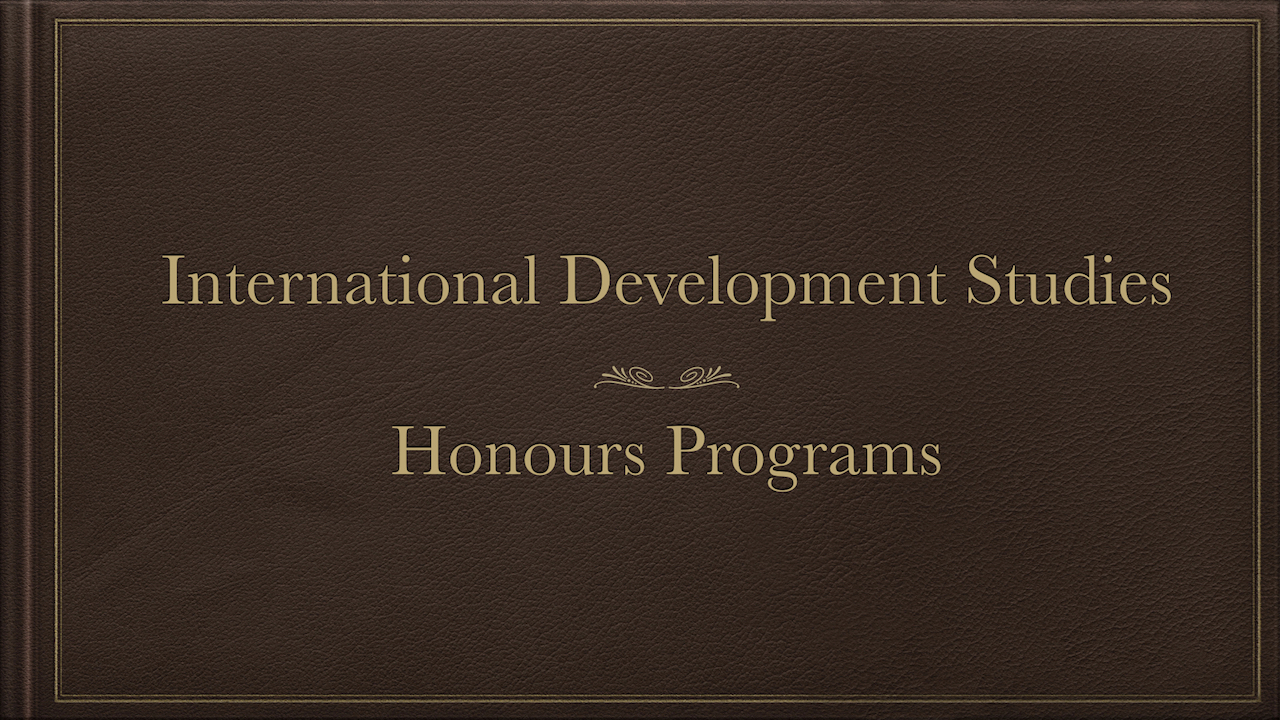 Step 1: Is an Honour's degree is right for you?
What is an honours degree?
An IDS honours degree is meant for students who want to explore important issues in international development through independent research. An honours degree demonstrates an ability to pursue, manage, and present research findings. It is intended for students who are interested in pursuing graduate work, or for those who would like to gain deeper insight on a research topic.
Do I need an honours degree to go on to future study (grad school, law school, teachers' college, etc)?
No. Many students with high GPAs and non-honours degrees still get into professional programs after completing their undergraduate studies. Many Master's programs look favourably on students who have experience conducting independent research, and who are familiar with preparing grant applications and proposals. IDS Honours gives you this experience.
How do I get started?
Students must apply to the program in their 3rd year. Only students whose applications meet the entrance requirements (see below) are admitted into the IDS honours program.
Step 2: Is IDS your primary subject of study?
If IDS is your primary subject of study, then you will need to apply to the IDS department for honours admission. Go to Step 3.
If IDS is not your primary subject of study, then you do not apply to the IDS department. You will apply through your primary subject and then arrange for an IDS Undergraduate Advisor to approve and sign the Registrar Honour's Admission Sheet. Please contact the IDS Undergraduate Advisors directly who will be happy to help with this.
Step 3: What is expected of me in the Honours Program?
Students completing an IDS honours degree will undertake a full year undergraduate thesis under the supervision of an IDS faculty member, or cross-appointed faculty member. Students must register for both IDS honours thesis courses in the same academic year. The thesis stream is made up of two thesis classes (INTD 4401 and INTD 4402) worth 3 credit hours each, for a total of 6 credit hours. The Fall semester is spent mastering the craft of preparing the thesis, while the Winter semester focuses on collaborative editing and career development.
The Honours program builds research, grant writing, and career building skills. Students should be focused, self-motivated, and interested in challenging themselves to learn and apply a more sophisticated kind of research and writing than they have previously done. Students are expected to work both independently on their research and writing, and collaboratively as a research community learning to support one another and give and receive critical feedback.
What are the admission standards?
The minimum standard required for admission to the honours program is a GPA of 3.7 and a B+/A- average in all IDS and IDS-approved courses. Meeting the minimum requirement does not guarantee entry into the program, students are required to apply by the Friday preceding the Winter semester Reading Week and be admitted by the IDS Undergraduate Committee.
Step 4: Apply to the IDS Honours Program.
Students wishing to be admitted to the honours program for 2023/24 need to submit their IDS honours application form to the IDS office by February 17, 2023
The application form is available here [PDF-107KB]. After admissiion to the program,you are also requested to complete the attached form (PDF-254KB). FAQs on completing the forms are available here.
Watch the video for all information regarding an IDS Honours Degree