Jasmina
Milićević
Associate Professor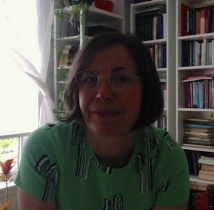 Email:
jmilicev@dal.ca
Phone:
902-494-1720
Mailing Address:
Room 1105, Marion McCain, 6135 University Avenue
PO Box 15000, Halifax, Nova Scotia, Canada B3H 4R2

Research Topics:
Semantics
Lexicology and terminology
French language

Office Hours
Monday and Wednesday from 1:00-2:00 p.m., or by appointment <jmilicev@dal.ca>

Education
BA (Belgrade)
MA, PhD (Montreal)
Biography
Jasmina Milićević received her undergraduate degree in English and French from the Univerzitet u Beogradu. She worked as an interpreter and language teacher in her "old country" before settling in Canada. She studied linguistics at the Université de Montréal, and joined Dalhousie in 2003, where she has taught various language and linguistic courses.
Dr.Milićević is a member of the research group Observatoire de linguistique Sens-Texte   
Research

Lexicology and Lexicography, Learner's Dictionaries; Adaptation of Linguistic Tools for Language Teaching; Formal Modeling of the Paraphrase; Serbian Linguistics (in particular, phenomena at the interfaces Semantics ~ Syntax ~ Morphology)
Teaching
FREN 2020, 2075 Introduction to Linguistics
FREN 2025 Morphology
FREN 3021 Syntax
FREN 3022, 5125 Semantics
FREN 4011, 5110 Lexicology
FREN 4013 Pragmatics
FREN 5127 Paraphrase in Language and Natural Language Processing
Selected Publications
BOOKS
---Introduction à la linguistique, vols 1-3. Paris: Hermann; pp. 1068. Co-authored with Prof. I. Mel'čuk.
---La paraphrase. Modélisation de la paraphrase langagière. 2007. Berne: Peter Lang; pp. 421.
ARTICLES
--- Risquer en français: un problème de description lexicographique. To appear. In: Tsedryk, E., ed., Proceedings of the 36th Annual Conference of the Atlantic Provinces Linguistic Association, Halifax, November 2-3, 2012.
---Describing Quasi-linguistic Paraphrases within a Meaning-Text Linguistic Model. 2014. In: Contemporary Issues in Linguistics and Language. Proceedings of the Linguistics and Language Conference, LILA '14, Istanbul, June 16-18, 2014; 170-182.
--- Pairing Semantic and Semantic-Communicative Structures for Paraphrase Generation in a Meaning-Text Linguistic Model. 2013. Proceedings of the 6th International Conference on Meaning-Text Theory, Prague, August 29-31, 2013; 113-124.
--- Impersonal Constructions in Serbian. A Description within a Meaning-Text Linguistic Model. 2013. In: Kor-Chahine, I. ed., Current Studies in Slavic Linguistics. Amsterdam/Philadelphia: John Benjamins; 169-183.
--- Description lexicographique du vocable breton keuz 'regret'. 2013. Lingvisticae Investigationes, 36/1: 90-130. Co-authored with F. Louis.
---Extraction de paraphrases sémantiques et lexico-syntaxiques de corpus parallèles bilingues. 2010. In: Langlais, Ph. et al., eds. Actes de la 17e conférence Traitement Automatique des Langues Naturelles (TALN), Montréal, Canada pp. 10.
---Linear Placement of Serbian Clitics. A Description within a Dependency-Based Approach. 2009. In: Polguère, A. & I. Mel'čuk, eds, Syntactic Dependency in Linguistic Description. Amsterdam/Philadelphia: Benjamins; 235-276.
---Schéma de régime: le pont entre le lexique et la grammaire. 2009. Blanco, X. & P.-A. Buvet, eds, La représentation des structures prédicat-argument. Numéro spécial de Langages n 176 (4/2009): 94-116.
---Structure de la définition lexicographique dans un dictionnaire d'apprentissage explicatif et combinatoire, 2008. In: Bernal, E. & J. DeCesaris, eds, Proceedings of the XIII EURALEX International Congress. Barcelona, 15-19 July 2008. Barcelona: University Institute for Applied Linguistics, Pompeu Fabra University: 551-561.
---A short Guide to the Meaning-Text Linguistic Theory. 2006. Journal of Koralex, vol. 8: 187-233.