News
Our newest PhD
Congratulations to Henri Biahé, for a successful defence of his PhD thesis entitled PARLERS HYBRIDES EN TRADUCTION: L'EXEMPLE DU CHIAC ET DU CAMFRANGLAIS.

Taghrid Abou Hassan invested as Knight into the Order of Academic Palms of France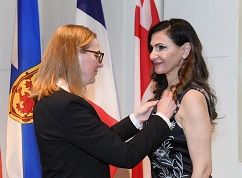 Professor Abou Hassan (R) being honoured by Mme Laurence Monmayrant, the Consul General of France in Moncton and Halifax. (Danny Abriel photos) 
A ceremony to celebrate the investiture of Madame Taghrid Abou Hassan as Knight into the Order of Academic Palms of France was held on May 23rd.
One of the oldest civil awards in existence, the decoration was first created by Napoleon to honour members of the French Imperial University. It was re-instituted in 1955 by René Coty, the President of France. Initially awarded only to French professors, it now pays homage to French nationals as well as foreigners who have made a significant contribution to the diffusion of the French culture around the world.
Félicitations Taghrid.
Read full Dal News story.

Hot off the press...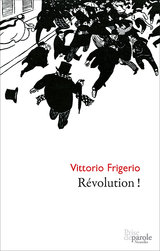 Révolution !   The latest publication from Dr. Vittorio Frigerio. For more information visit prisedeparole.ca
Jessica Albee wins 2017 Prix du Consulat général de France dans les Provinces atlantiques
On March 20, 2017, Journée internationale de la Francophonie (International Francophonie Day), FASS student Jessica Albee (Double Major French/Spanish with Minor in Italian) went home with a double reward.
First, the Prix de l'Alliance Française Halifax is annually presented to one student in French Studies from each of the following Maritime universities, as nominated by their own department: Acadia, Saint Mary's, Dalhousie, St. Francis Xavier, Mount Saint-Vincent and Memorial.  This award recognizes deserving students who have demonstrated excellency in their studies throughout the year and a passion for the French and Francophone language and culture.
Her second prize, the Prix du Consulat général de France dans les Provinces atlantiques is annually awarded through an Essay competition.  This year, each candidate was invited to write about the use of new technologies and social media in French language learning.  The essays were anonymously submitted to the jury (Mlle Emile Emond, Cultural Attaché of the Consulat général de France à Moncton, Mme Isabelle Pédot, Executive director of the Alliance Française Halifax, and Mme Solène Vidal from the Francoforum, Institut de langue française).  In her remarks, Mlle Emond indicated that the winner had been chosen for the quality of her writing as well as for their creativity and ability to implement the subject in her text.
Jessica will hence have the opportunity to further explore Francophone culture and language thanks to a complete immersion programme at the FrancoForum, Institut de langue française, located on Saint Pierre and Miquelon, off the southwestern coast of Newfoundland.
Congratulations, Jessica!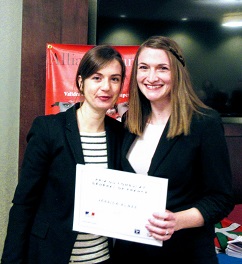 Mlle Emond, Attachée Culturelle, Consulat général de France and Jessica Albee (right).

Prix Marguerite-Mallet
Félicitations to Dr. Irène Oore - winner of the 2016 Prix Marguerite-Maillet. This annual prize recognizes outstanding contributions to the development and study of Acadian and French Canadian literature.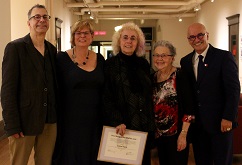 Honorary degree


Michel Deguy receives Honorary degree at the University of King's College Encaenia 2016
Michel Deguy was born in Paris, France, and has occupied a unique place on the French intellectual scene since the late 1950s. His work as a professor, writer, editor, translator, public intellectual and director of journals and cultural institutions has been recognized in France, Europe, and worldwide. An ambitious poet who coined the phrase "geopoetics" in 1960s, Deguy continues to energetically pursue a life-long quest for the "extreme referent". He is recognized for the range and originality of his work, and for his prolific and inventive contributions. From winning the Prix Mallarmé for his poetic oeuvre to the Prix Diderot-Universalis for his journal Po&Sie; from the John Hopkins colloquium of 1968 which launched "French Theory" in America to and ongoing participation in the European Graduate School; from his direction of the Collège international de Philosophie to his monthly philosophical chronicles on the radio network France-Culture; from the erotic poet to the mourning philosopher; from the lyrical traveler to the outraged citizen, few bodies of work today equal the passionate, lucid and selfless engagement of Michel Deguy's evolving corpus. Deguy is the translator of Sappho and of Heidegger, the interpreter of Pseudo-Longinus and of René Girard, Emeritus professor at Paris VIII, recent Honorary Doctor of the University of Athens, and is defender of the university and of its highest theoretical and philosophical standards.
Mission accomplie pour les 24 heures du roman | ICI.Radio-Canada.ca
L'aventure des 24 écrivains francophones qui ont participé à la rédaction d'une œuvre sur Samuel de Champlain à bord du train l'Océan a pris fin à Toronto.
Events
Congratulations / Félicitations!
Congratulations to all of our 2016/17 graduates! We are very proud of your accomplishments and we wish you all the best.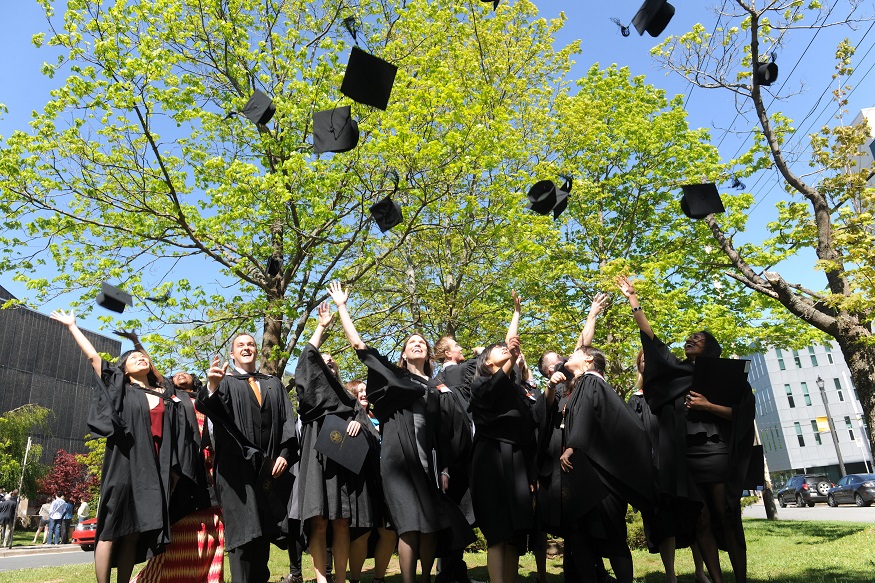 April 2017 Awards
Félicitations to this year's class, scholarship, and prize winners:
Marcelle Cendres Sandhu Memorial Prize: S. Osborne

Ruth Murray Scholarship: L. McMillan, K. Mannik

French Department Scholarship: H. Reid, M. Apostolides

Prof. & Mrs. Robert Lloyd McIntosh Prize in French: S. Faires

Sabah Metlej Scholarship in French: S. Frame

Prix de l'Ambassadeur de Suisse: H. Pinsent

Prix de l'Alliance Française: J. Albee

D. Mourad receives her award from Dr. Vittorio Frigerio

Congratulations to Aria Brunetti, recipient of the ESS Thesis/Major Project prize for the best Honours project in Environment, Sustainability and Society, for her thesis titled Seeing the Forest for the Trees: Reflections on the Sustainable Forestry Narratives of France.
Dalhousie French Society AGM
March 30, 2017 at 6 p.m. in McCain 1114
Come one - come all!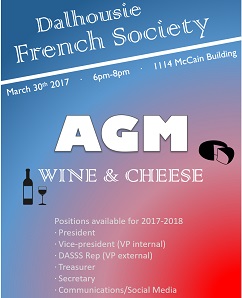 Join us on Facebook at https://www.facebook.com/DalhousieClubFrancais/