Raymond
Mopoho
Associate Professor; Chair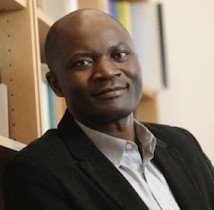 Email:
rmopoho@dal.ca
Phone:
902-494-2018
Mailing Address:
Room 3105, Marion McCain, 6135 University Avenue
PO Box 15000, Halifax, Nova Scotia, Canada B3H 4R2

Research Topics:
Sociolinguistics
Lexicology and terminology
French language
Literature and culture of Francophone minorities outside of Quebec
Translation
Office Hours
Monday and Wednesday, 8:30-10:00 a.m., or by appointment <raymond.mopoho@dal.ca>

Education
BA (Yaounde, Cameroun)
MA, PhD (Montreal)
Biography
Professor Mopoho's research interests include translation and interpretation, terminology, language policy and planning, pidginization and creolization. The main focus of this work is multilingual and intercultural communication, the analysis and management of multilingual settings, and word creation processes in specific fields.
Selected Awards
SSRHC Standard Research Grant (Professional Interpreters in Colonial Africal)
Services and Activity
Corresponding member and Reviewer for Meta.
SSHRC Standard Research Grant / Insight Grant Adjudication Committee (2010-...)
Assessor, Governor General's Prize in French Translation
President, Atlantic Provinces Linguistic Association (2011-...)
President, Association pour l'aide à l'éducation et au développement (AEED) (2011-...)
Translation Consultant for The World Bank, The African Development Bank, The Inter-American Development Bank and the Inter-American Investment Corporation
Selected Publications
---2005.Perception et autoportrait de l'interprète indigène en Afrique coloniale française. Linguistica Antverpiensa 4/5-2005, pp. 77-92.
---2003.What Model for Language Planning in Education and Development? The Journal of African Policy Studies, Vol. 9, Numbers 2 & 3, pp. 15-25.
---2000."Statut officiel de l'interprète dans l'administration coloniale en Afrique française." Meta 46(2).
---1998."Vernacularisation et traduction des textes pragmatiques en Afrique." TTR Vol. X (1). Pp.245-261. (1998).
---"Emprunt et créativité lexicale dans le discours de l'Internet français." Actes de langue et de linguistique. Vol. 9. Pp.123-132. (1997).