Vincent
Simedoh
Associate Professor; Undergraduate Advisor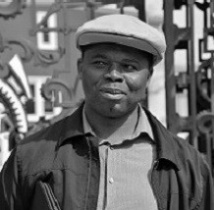 Email:
vincent.simedoh@dal.ca
Phone:
902-494-6805
Mailing Address:
Room 1110, Marion McCain, 6135 University Avenue
PO Box 15000, Halifax, Nova Scotia, Canada B3H 4R2

Research Topics:
Francophone literature
Literary theory and criticism
Translation
Literature and culture of Francophone minorities outside of Quebec

Office Hours
Monday from 11:00 a.m. to 1:00 p.m., and Wednesday from 1:00-2:00 p.m., or by appointment <vincent.simedoh@dal.ca>

Education
BA (1999, University of Fribourg)
MA (2002, University of Fribourg)
BA Education (2003, University of Fribourg)
PhD (2008, Queen's)
Selected Publications
Books
---L'Humour et L'ironie en littérature francophone d'Afrique. Des enjeux critiques à une poétique du rire, New York, Bern, Berlin, Bruxelles, Frankfurt am Main, Oxford, Wien, 2012 Peter Lang, 2012.
Articles
---«De la subversion ou de la farce dans Verre cassé: une question de légitimité ? », Légitimité, légitimation, Bordeaux, Presses universitaires de Bordeaux, 2011, p. 251-265
---«De l'éclatement spatial comme refus du cloisonnement dans le roman africain » L'Imaginaire africain et mondialisation. Littérature et cinéma, Paris, Harmattan, 2009, p. 93-110.
---«De l'assimilation à l'éclatement identitaire dans Le Baobab fou de Ken Bugul », Palabres vol. 7, n° 1, 2007, p. 211-222.
---«Sami Tchak, Hermina, Intertextualité ou une réflexion sur l'art romanesque», Ethiopiques n°75, 2005, p. 55-74.
---«Hampâte Bâ et l'oralité : Une esthétique de la parole», Analyses, Toulouse, Université de Toulouse-Le-Mirail, février 2005, n° 10, p. 69-105.