News
»
Go to news main
Architecture and Planning launches online story map as part of 200th celebration!
Posted by
Anne Swan
on November 29, 2018 in
News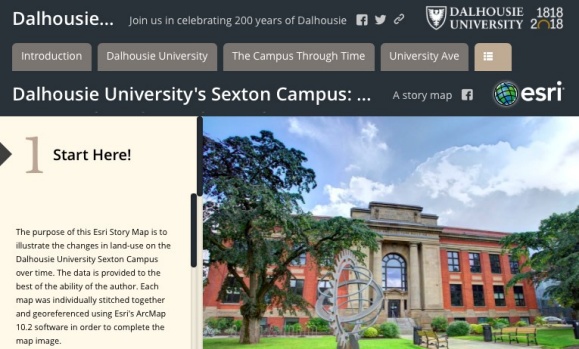 This year, 2018, Dalhousie University celebrates its 200th anniversary. In 1818, Lord Dalhousie founded Dalhousie College with the intention that it would be the principal postsecondary institution of Nova Scotia. Today, Dalhousie University is a world-leading, research-intensive community of students, staff, faculty, and alumni, that is proud to generate $1 billion in economic benefits each year. It has grown to educate more students than any other university in Atlantic Canada, building and sharing knowledge through its multidisciplinary programs. This story map is one of a series of projects produced by the Dalhousie community to commemorate this significant year in the university's history.
Dr. Eric Rapaport, Associate Professor with Dalhousie's School of Planning, assisted by alumni of the School of Planning and community partners, developed this online story map to illustrate the evolution of Dalhousie's built form as seen through both Halifax campuses. The goal of this project was to present the tangible transformation of Dalhousie over two centuries of development, highlighting changes in its built landscape and, where possible, providing historical imagery to show Dalhousie's campus buildings as they appeared to multiple generations of visitors.
Dalhousie University is more than a collection of buildings, yet it is in and around these buildings where students, faculty, and guests shape and participate in the Dalhousie community, making it the diverse, active, and vibrant place it is today. Over time, the size, shape, and form of Dalhousie campus has been influenced by local architects, donors, policy makers, and neighbours. When Dalhousie College moved from its first location on Halifax's Grand Parade to its current location along Morris Street, it was surrounded by rural lands with lots of room to grow outside of the downtown. Today, Studley campus is a fixture of the urbanized peninsula and, when considered along with Sexton campus, it is a spine of institutional growth that reaches nearly across the peninsula, from the Halifax Harbour to the waters of the Northwest Arm. The city of Halifax has grown around and alongside Dalhousie University, making each a part of the other's history. By studying the changing landscape of Dalhousie's campuses, this project aims to inform and inspire Haligonians to think about the impact of development and heritage on Halifax's built landscape, and to consider the lasting legacy of Dalhousie University as a place and community.
Using air photos and archival images, this project has pieced together the built form of each decade, highlighting new construction over time, in order to offer a spatial representation of Dalhousie's growth and development. This project required digital mapping and air photo stitching using GIS software, as well as archival research and photo collection. Air photos were collected in partnership with Nova Scotia Geomatics Centre and Dalhousie GIS Centre. Historic photos of Dalhousie buildings were primarily acquired from Dalhousie's special collections.
Two projects were completed in association with this project: the history of University Avenue, produced by Master of Planning student Cameron Robertson, and the history of Sexton Campus, produced by Honours Bachelor of Urban Design student Shannon Junor.  
Thank you for your interest and joining us in our celebration of Dalhousie's 200th year.