News
»
Go to news main
Omar Gandhi Receives 2017 Christopher J. Coulter Award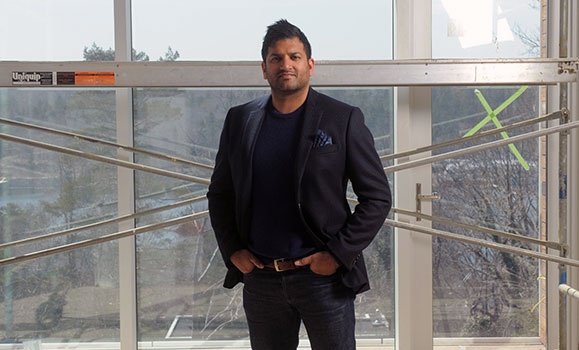 This award recognizes the success of young graduates of Dalhousie University for accomplishments in their career, public service or personal life, including notable contributions to society, their current community or Dalhousie.
He may have earned some of the most impressive honours and awards any architect could hope to receive over the course of a successful career, but Omar Gandhi (BEDS '03, MArch '05) has always made a point of prominently displaying rejection letters for projects and award submissions on his studio walls.
Gandhi concedes that may seem strange, but the rationale he offers for doing so is quite compelling. "One of the worst things you can do," he explains, "is take any success you have for granted, because then you become so motivated by the fear of losing it, you're afraid to take risks."
A rising star
If you are wondering how well this philosophy has worked for this Faculty of Architecture and Planning alumnus, consider the fact that Gandhi has managed to establish two highly successful architectural studios—one in Halifax and one in Toronto—before celebrating his 40th birthday. Publications such as The Globe and Mail, Canadian Architect Magazine and Wallpaper* have singled out Gandhi and his work for praise and profiles alike.
Even more impressive are those aforementioned accolades and awards bestowed upon him. The Architectural League of New York invited Gandhi to participate in its prestigious Emerging Voices lecture series. Monocle Magazine named him one of the 20 Most Influential Canadians. He has received the 2014 Canada Council for the Arts Professional Prix de Rome—the nation's highest honour for young architects—and two Atlantic Woodworks! Awards for his residential projects. And he was included in World Architecture News's 21 for 21 shortlist—which singles out architects who will define the profession in the 21st century.
Now, Gandhi is adding another accomplishment to his remarkable resume: the 2017 Christopher J. Coulter Award from the Dalhousie Alumni Association. The award recognizes the achievements of alumni age 40 years or under, but for Gandhi, it has a deeper meaning.
"I'm originally from Ontario, so I didn't grow up here in Halifax," Gandhi says. "But it is home for me now, and it feels really nice when your family—the university you attended and the city you live in—tell you that they're proud of you."
"I can't think of anyone more worthy of this award than Omar," says Eric Stotts, a Halifax-based architect and sessional instructor at Dalhousie who has known Gandhi for nearly ten years.
"The body of work that Omar has produced in such a short time is truly impressive. Right from the start, he wanted to do good things for good people, and he's remained uncompromising in that respect. His drive, vision, and commitment to quality are truly rare and have inspired the rest of us to continually produce better work."
The impact of hands-on learning
The determination to produce quality work is reflected in Gandhi's unique designs, which blend seamlessly with the landscapes of Nova Scotia. They include Moore Studio in Hubbards, where Gandhi incorporated plywood and reclaimed materials, and the rock-like exterior of Float house in Purcell's Cove, which seems as if it were shaped by geological processes thousands of years ago. Such designs reflect Gandhi's deep appreciation of place and material, one that first took shape during his studies at Dalhousie University.
"There aren't many schools of architecture where you have an opportunity to go out and build things with your hands," Gandhi says. "Dalhousie gave me those opportunities, all while emphasizing the importance of doing work that is regionally inspired and feels very much of a place. It's a beautiful philosophy that is closely tied to Atlantic Canadian ideals of modesty and thoughtfulness, and it's very easy to fall in love with those ideals."
Staying connected
These are the ideals Gandhi shares in lectures all over the world—taking every opportunity to sing the praises of his alma mater—and with Dalhousie students as a sessional instructor. For him, instruction is more than an opportunity to stay connected with an institution that shaped his life and his career. It is a chance to interact with up-and-coming architects, which he says is essential to his continued growth.
"You gain a lot of insight, energy and a certain outlook on the work we do from students that you don't get in the professional world. There's something very refreshing about being around people who are in the position you were in, so I'd like to be more involved with the Faculty of Architecture and Planning in the future."
A dream design
The future is something that is always on Gandhi's mind, whether it is more involvement with Dalhousie, more community commitments, such as the Immigrant Services Association of Nova Scotia (ISANS), Big Brothers Big Sisters of Halifax, and Laing House, or the next project. He continues to work in residential and commercial, but would like to focus more on public space designs.
"I dream of being able to produce a beautiful public space that makes people from all backgrounds and demographics feel happy and welcome. That would be my absolute all-time goal: to create something that touches everybody."
Given his talents, relatively young age and passion for risk-taking, there is every reason to believe Gandhi will make that happen sooner than later.
Award criteria:
Recipients must be age 40 or younger (not having reached his/her 41st birthday before December 31 of the award year) and reached success in the above-mentioned areas.
Consideration is also given to individuals who contribute to the financial well-being of a chosen charity and encourage others to give.