News
»
Go to news main
School of Architecture Launches Unique Program
Posted by
Theresa Salah
on September 4, 2017 in
Architecture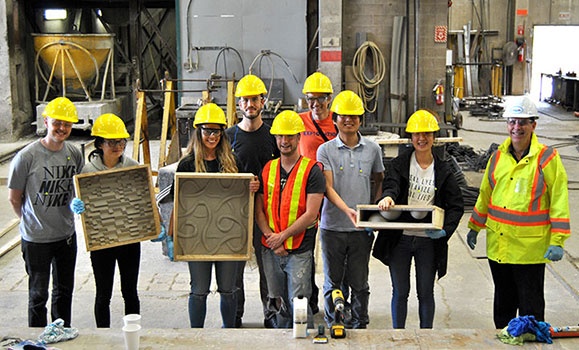 It's the first of its kind in Canada. This past summer, Dalhousie University's School of Architecture became the only architecture school in the country to partner with the Canadian Precast Prestressed Concrete Institute (CPCI).

The non-profit industry group works to advance the common interests and general welfare of the structural precast/prestressed concrete industry, the architectural precast concrete industry, and the post-tensioned concrete industry.

The group sponsors research and course work across Canada in various fields, and this is the first partnership with a school of architecture. As part of this initiative, local industry partners who produce pre-cast concrete are partnered with members of academia.
In July, CPCI partnered Dalhousie's School of Architecture with local industry partner Strescon Limited. Spearheaded by Assistant Professor James Forren, students were offered a two-week, design-build free lab called "Tooling." 

Free lab courses are open to students in the School of Architecture and NSCAD University at the end of the summer academic term. The two-week window allows professors to experiment with various forms of teaching and allows students to focus on a single project with a group leader.
One of this year's free lab courses was sponsored by CPCI. "During this course, students worked for a week on a design and for the remaining time actually got to build something," says Forren. "This was a chance for them to learn digital design processes and then follow the entire development from conception to realization."
As part of the pilot program, students were offered a tour of Strescon in Bedford. Representatives from the company were also on hand during the course to provide students with feedback on their designs and a better understanding of the goals and priorities of the company.

"A lot of the work we do in school only gets to a certain level of detail or refinement," says Forren. "The interest in this is that the students get to see the actual steps that are involved in bringing something to the real world and start to understand how they can intervene as designers."
"Strescon was very interested to see what students could bring to the table. They wanted to see them explore and fail in their ambitions, so that they could understand their constraints better," he adds.

Forren says the idea of the program is to "understand the universal through the specific." Even though the CPCI program involves working with pre-cast concrete, students are learning skills that can be applied to a range of technologies.
"For us, it's also an interest in understanding construction processes broadly: pre-fabrication, construction sequencing, ideas of design process, prototyping and how you work with industry partners," he says.

With the pilot program now complete, Forren says students will have the chance advance their ideas in future courses.

"In the fall it'll be a part of a research course that I teach," he says. "The free lab was a pilot to get a preliminary understanding of the technologies and processes. Future courses will have a different format but will build on this knowledge."
The next step is to offer it as a full-semester technology seminar this fall. After that, "the idea is to evolve it over a five-year period. During that time we will start to roll it out to other schools in Canada."