News
»
Go to news main
Back in Time
Posted by
Anne Swan
on June 21, 2017 in
News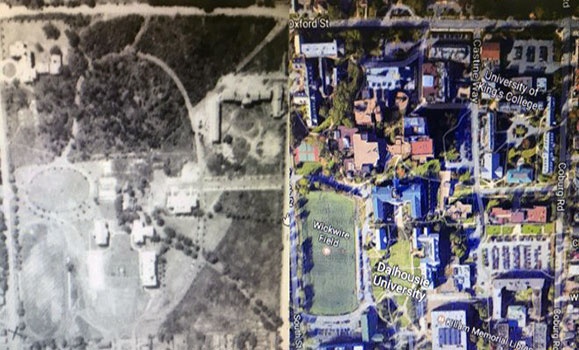 As Dalhousie University gears up to celebrate its bicentennial anniversary, many may be wondering what the university looked like at various points in its history — back 50, 100, even the full 200 years ago.
As one of many activities in place to commemorate Dal's 200th anniversary, Eric Rapaport, an associate professor in Dal's Faculty of Architecture & Planning, is helping lead a large-scale project in his Faculty that will take people back through "space and time" to showcase how the footprint and history of the university has evolved over the last two centuries.
"We're looking at how the landscape has changed at Dal, and how the buildings and properties have developed across our campus," he says. "So we're creating an online map where people can click on different buildings at Dal and get information about the property (i.e. history, architecture and design)."
Some of Rapaport's former students have already started working on these maps, starting with Sexton Campus. Eventually this virtual "time machine" will include any building that Dal has owned since 1818, including ones that have disappeared from the landscape because they were demolished over time.
"We're going to trace how Dalhousie has grown and taken over the space that it now occupies, which is Barrington Street all the way up to Coburg Street," says Prof. Rapaport.
In doing so, the Faculty of Architecture & Planning is collaborating with several partners on campus including Facilities Management, Dal Libraries, Dal Archives and Dal's GIS Centre.
The first phase of the project will involve building the online maps, and for that, Rapaport and James Boxall of the GIS Centre have been trying to collect old historical maps and historical air photos from different periods in time. They've been working with Master of Planning student Cam Robertson to scan and geo-reference images and put them into a geographical information system.
"It is a lot of tedious work, but we try to have fun. We even made a video of our work and put it on YouTube," says Prof. Rapaport.
The next phase of the project will involve learning the history of each building, and collecting photos and ephemera materials to tie into the maps.
"You'll be able to click on a particular building and see how it's changed over time," says Prof. Rapaport. "These pictures may include photos of very important people. So for example, my office is in Sexton House, which used to be the president's office. So we may have a picture of the first president when it was TUNS and the Technical College."
Prof. Rapaport says that although Dal have done a remarkable job in archiving photos of their own buildings, he's hoping to enlist the help of the public in completing the project.
"We have this idea of taking the historical maps and setting up a crowdsourcing site so that the public can load up their own memories of their time at Dalhousie University," he says. "They'll be able to upload their photos of places at Dal to help us celebrate our 200th anniversary."
He says the online map won't just appeal to Dal alumni, but anyone interested in learning more about the history of Halifax.
"This project shows us where we have come from and illustrates where we're going. It also gives a sense of how the fabric of the environment has changed over time," he says.
"If you look at University Avenue, you might think that it's always been University Avenue. But Morris street used to go all the way up to LeMarchent street. When University Avenue was created they took out a lot of buildings. So there's a lot of changes that we've lost track of."
Prof. Rapaport says the project will also be a great way of showcasing Dal's pivotal role in the evolution of architectural design in Halifax. Elizabeth Loeffler, a lecturer in the School of Architecture, is assisting with this portion of the project.
"Dal in itself has some very exemplary buildings. For example, the Dalhousie Arts Centre: this is representative of Buddhist architecture. It's a piece of design that we don't see very much in Halifax," says Prof. Rapaport. "There's a lot information we have about our buildings but they are not tied to their location even though they are well documented."
Although the 200th anniversary project will help educate the public on Dal's history, for the Faculty of Architecture and Planning, the project will serve an even greater purpose.
"We're very interested in the future and how things are going to look. But in order to look into the future, we have to look into the past. We look at how a site was once used, and we also look at the surrounding areas to better understand what the architectural form and design was," says Prof. Rapaport. "So even though this is part of the 200th celebrations, the databases that we're building will probably be used in our courses and research as well."
As other groups around the city prepare to celebrate milestone anniversaries, such as the opening of the Public Gardens, the Halifax Explosion and Africville, Prof. Rapaport says he hopes Dal's project can be expanded to help showcase the history of other important events in Halifax.
"We hopefully will inspire other groups to continue this type of work and create an atlas of city changes over time," he says. "Historical geographical information systems are one way we can reclaim our past."
Prof. Rapaport says the public can follow the progression of the historical maps online. Once complete, these maps will be located on the Faculty of Architecture & Planning website as well as Dalhousie University's 200th Anniversary website.