Dal Architecture & Planning students win first ever co-op awards
»
Go to news main
Dal Architecture & Planning students win first ever co‑op awards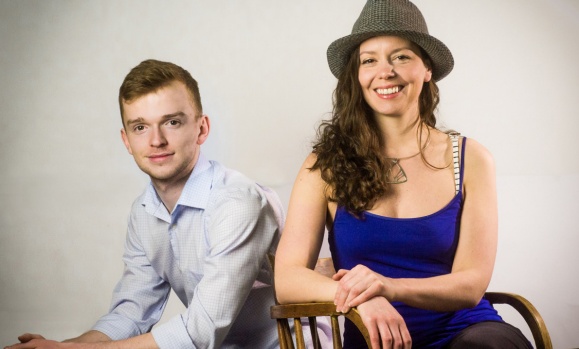 Dalhousie University's Faculty of Architecture and Planning paid tribute to their top employers and students at this year's Co-operative Education Awards reception. The awards ceremony took place on March 22 at the Atlantica Hotel in Halifax.
In addition to the Faculty of Architecture and Planning, this year's event was also hosted by Dalhousie's Department of Science, Information Technology, Engineering Co-operative Education (SITE), and the Department of Management Career Services (MCS).
This was the first time all three career centres at Dal have come together to honour their top employers and students.
Top Co-op Student of the Year Award
Two students from the Faculty of Architecture and Planning were recognized at this year's event for their outstanding work term performances, academic achievements, and student leadership roles. Both students were named Top Co-op Students of the year
School of Architecture
Claire Fontaine is a Master of Architecture student who had the opportunity to enhance her skills by participating in two co-op terms this year including one at de Hoog and Kierulf Architects.
Although she attributes much of her knowledge to academics and co-op terms, she says her commitment and passion for her work spans beyond the classroom.

"I have infused this type of experience into my life by striving to work in, or around, the architectural field over semester breaks," she says. "I strongly feel that by putting education into practice whenever possible, we are able to reinforce and add to our learning."

Claire's passion and drive was immediately noticed the first day she began her co-op term at de Hoog and Kierulf Architects.
Charles Kierulf, Principal Architect at the company, says that over the years his company has been very impressed with the calibre of Dal co-op students they've hired. This year, however, he says Claire's energy and aptitude exceeded all his expectations.
"She was genuinely active and engaged in everything she took on," he says. "No task was too small or too large, and she knew when to forge ahead and when to stop and ask for more input, direction or feedback."
Kierulf says Claire was especially instrumental in advancing one project in particular: the Snuneymuxw First Nation Community Centre in Nanaimo.
"Claire took this building from schematic design through design development and contract documentation. These tasks are often overwhelming and beyond the level of experience and competence for many co-op students, but not for Claire," says Kierulf.
Kierulf says that Claire is not only someone who demonstrates the top qualities expected in a co-op student, but she is also a true reflection of the strength of the Faculty of Architecture and Planning.
"When Claire left to return to Dal, we made sure she knew that we wanted her to come back," he says. "We told Claire that her desk would be waiting for her when she finished her degree."
School of Planning

Andrew Scanlan Dickie is a Master of Planning Student who completed his co-op term this year with Village On Main Business Improvement District, a small non-profit organization tasked with transforming the community of Dartmouth.

Andrew says his role with Village on Main exposed him to variety of valuable experiences including design, community consultation and policy interpretation while engaging with stakeholders and community organizations.
"From day one, I was responsible for all things planning," he says. "Being in a small office meant that my work and decisions were held with greater standing. At first, this was overwhelming; I had never worked in a planning position. However, it challenged and motivated me to develop habits and skills necessary to succeed in future careers."

Graziella Grbac, Executive Director of the Village on Main Business Improvement District says Andrew was eager to take on any task that was thrown at him.

Traditionally, Grbac's office employs only one full-time staff member, and depends very heavily on part-time help and volunteers. However, he says Andrew's presence at the office changed everything.

"Our office transformed from a one-person operation to an orchestrated team working on projects together like parts of a well-run machine," he says. "I believe it was Andrew's collaborative spirit that set the tone for such harmony."

Grbac says Andrew soon became both the "expert" and "go to" employee on most subjects and matters, fielding questions related to interpreting by-laws and zoning, finding data to support their position on a number of initiatives, responding to challenges on design projects of multiple levels of complexity and re-designing transit networks.

"I would describe Andrew as a true image of servant leadership," says Grbac. "His expertise position him as the one 'in charge', yet he supports his team by doing whatever is necessary and takes responsibility for professional and mundane tasks in the office as the need arises."

Co-op Employer of the Year

Students from the Faculty of Architecture and Planning, SITE and MCS also recognized their top employers of the year at the co-op awards reception. This honour is bestowed upon employers based on their quality of work assignments, supervision and environment.
The Faculty of Architecture and Planning is proud that five employers were nominated by students in the "Consulting and Design Services" category:
EcoVue Consulting in Peterborough, ON 
ERA Architects in Toronto, ON
Frank Hilbich Architects in Edmonton, AB
Kobayashi & Zedda Architects in Whitehorse, Yukon 
Nycum & Associates Architecture in Halifax, NS
Of those 5, EcoVue Consulting was selected the overall winner for the Consulting and Design Services category.
The Ontario-based company was founded in 2006 by Heather Sadler and Peggy Murphy. It provides professional planning services to municipalities, individual landowners, and larger development firms from Ottawa to Whitby and from Burk's Falls to Belleville. As the largest full-service planning firm between Ottawa and Toronto, the company focuses on balancing planning solutions that respect the natural environment, heritage, culture, and economic realities of modern society.
In 2016, EcoVue hired their first ever Dalhousie co-op student, Master of Planning student Cameron Thompson.
"We were impressed with his professional demeanour, his initiative and his obvious interest in land use planning," says Heather Sadler of EcoVue. "As with all co-op and intern students, Cameron experienced a learning curve when he first joined our firm. He handled this very well, accepting the challenges in stride. He was a quick study and an excellent technical writer for his level of experience. He asked good questions, demonstrating an ability to see matters in context rather than in isolation. In many ways we attribute our excellent experience with Cameron to the education he received at Dalhousie."
Sadler says hiring co-op students is important to EcoVue's team-based planning approach and says drawing on the strength of team members can help develop comprehensive, inspired planning solutions that best address challenges faced by their clients.
"Co-op students and recent graduates bring new ideas, energy and enthusiasm to our team," she says. "Sometimes their questions about a particular issue can cause us to think beyond our standard assumptions, with the result that we also continue to grow in our expertise and understanding of the complex world that is land use planning."
"We were thrilled to be nominated for the Co-op Award and over the moon when we learned that we had received the award. We take our role as mentors for the next generation of planners very seriously. We want to ensure that the time our co-op students spend with us is well spent and beneficial to their professional careers in the years to come."