Three questions, each answered in 150 words or less. One-Minute Meeting is a quick and easy way to get to know more about your colleagues, new and old. Learn how you can nominate someone at the bottom of this post.
Today's meeting is with Tracy Kittilsen, Manager of Extended Learning at the Faculty of Agriculture. She is a professional agrologist and adult educator, providing leadership in the provision  of training solutions for agriculture and related industries.
What's your favourite thing about working at Dal?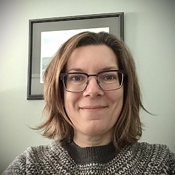 There are many things that make Dal a great place to work — the people, the sense of community, and the fact I get to work and interact with industry. Everyday, I come to work to engage with people who care about their job, each other, and the success of agriculture and related industries. I truly feel we are all playing on a team to make the best impact we can to create a sustainable food system. I love that everyday there is a new challenge.
 

What's the most surprising thing we might see on your resume/cv?
 
My educational background is in agriculture — but my first full-time job after university was selling television advertisements to companies. It was a crash course in customer service, business communication and networking. Without any formal business training, I leaned heavily on mentors to learn the trade. This is a lesson I have taken with me throughout my career — to seek advice and mentors — there is always something new to learn and perspective to consider! Also that you should never turn down an opportunity, although sales wasn't necessarily in my career plan, it helped me develop so many skills that have been critical to my work.
 
Is there a quote that motivates you?
 
"It's easier to seek forgiveness than permission" is a quote that was passed on to me from an employer several years ago while working on a government contract with an non-profit. I am by nature quite risk averse — however, my employer was trying instill in me that sometimes the benefit outweighs the risk and we shouldn't be afraid to try creative means to find solutions (as long as we aren't breaking any rules!).
Now, nominate someone you'd like to see on One-Minute Meeting.
Previously on One-Minute Meeting: