Three questions, each answered in 150 words or less. One-Minute Meeting is a quick and easy way to get to know more about your colleagues, new and old. Learn how you can nominate someone at the bottom of this post.

Today's meeting is with Jennifer Devitt, Training Coordinator in the Office of the University Veterinarian.
What's your favourite thing about working at Dal?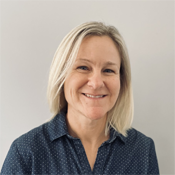 Anyone who is working with animals in science, from undergrads to faculty members, comes through me for ethics and practical training whether it be for biomedical, wildlife, or marine research. As such, I get to see so much of the fascinating research that takes place at Dal. And when you work with animals, you need to expect the unexpected, which makes every day different and often quite exciting.


 
What's the most surprising thing we might see on your resume/cv?
 
My undergraduate degree is in History and English so it was quite the jump to my doctorate in Veterinary Medicine. The transition between the two was a bit more complicated than the simplicity of that sentence implies.
 
When you're feeling burned out, what is your go-to strategy for regaining balance?
 
Without a doubt: rowing or running. Focusing on the repetitive motion of those sports helps clear my mind and allows me to better face the other tasks in life that aren't so linear. It's a rare day that I haven't gone for a row or run, often both.