All of these friendly faces live with members of the team at the Ocean Frontier Institute (OFI).
Alexis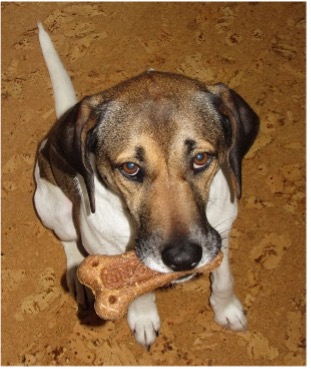 Lives with Richard Davis, Research Implementation Unit Manager.
Name: Alexis (Lexi)
Nickname: Lew, Rotten Monster
Species/breed: Treeing Walker coonhound mix
Age: 11
Fave food: Steak and hot dogs.
Special tricks: Shakes paw and knows left from right (sometimes); will go between your legs, usually when you're least expecting.
Best quality: Calm and quiet in the house; heels nicely; loves to take long walks in the woods.
Bennington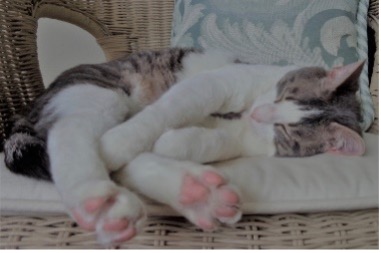 Lives with Marlies Rise, Director of Strategic Engagement.
Name: Bennington
Nickname: Benny
Species/breed: Moggie
Age: Almost 5
Fave food: Chicken…but only if it is on a dinner plate that has been served to a human.
Special tricks: Playing fetch, and giving kisses to ask for treats.
Best quality: Those jelly bean toes!   
Celia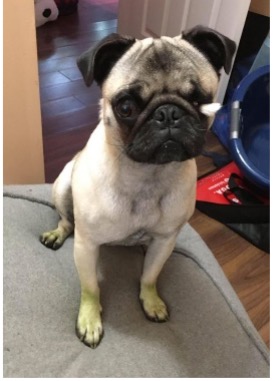 Lives with Peter Fajner, Software Developer.
Name: Celia
Nickname: Loaf
Species/breed: Pug
Age: 2
Fave food: Whipped cream puppuccinos.
Special tricks: Luring me out of the room while I eat so she can run back to my desk and eat my food.
Best quality: She's a cyclops!
Fish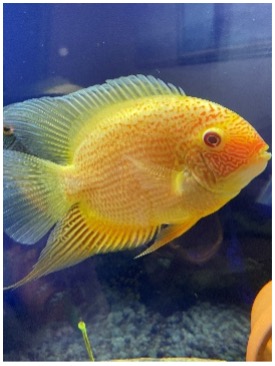 Lives with Tracey Woodhouse, Project Coordinator, Ocean Graduate Excellence Network.
Name: Fish
Nickname: none
Species/breed: Red Spot Severum, a (selectively bred) South American cichlid breed,
Age: 1
Fave food: frozen bloodworms, algae disks and … smaller tankmates that fit in his mouth!
Special tricks: Nope, he's a fish!
Best quality:  I always know where to find him.
Izzy and Gracie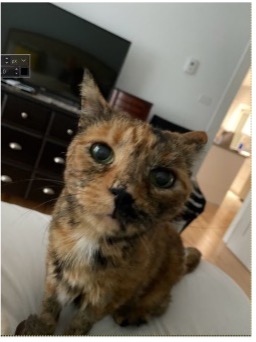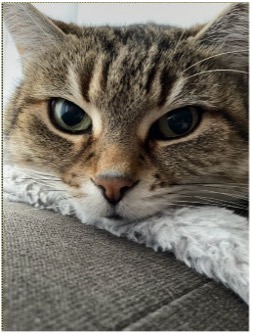 A pair that lives with Kim Thomson, Chief Administrative Officer.
Names:  Izzy and Gracie
Nicknames: Izzy—Diddler Doodler, Baby Girl. Gracie—Grady, Grace Baby (pretty unimaginative on that one!).
Species/breed: Plain old shelter cats, no particular breed. Izzy is Tortoiseshell color. Gracie is a grey tabby color.
Age: Both are about 15 (in people years).
Fave food: Izzy is only allowed diabetic cat food, so her favourite food is whatever Gracie is eating if she can get her paws on it. As for Gracie, it depends on the day/her mood.
Special tricks: Izzy can sniff out plastic from anywhere, also good at staring at ghosts behind walls. Gracie chases dry cat food and scoops it up with her double paw to eat it.
Best quality: Izzy is a lap cat, which results on her mamma getting waited on often so as not to disturb Izzy. Gracie gives great head-butts
Social Media Platform or handle, if available: Izzy says "Does it give belly rubs?  No?  Then I don't bother." Gracie is too busy sleeping to be social!
Leo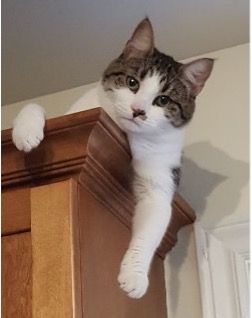 Lives with Julie Rideout, Manager of Operations.
Name: Leo
Nickname: Puss
Species/breed: Domestic short-hair (?)
Age: 6
Fave Food: Tuna
Special Tricks: Opens cupboard doors; watches golf on TV.
Best quality: Entertaining.
Louis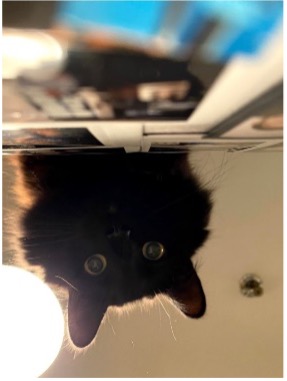 Lives with Curtis Martin, Projects & Communications Coordinator.
Name: Louis (loo-iss)
Nickname: Little Goblin Baby, Peanut, Bubbis, Noodle Head, The Bub.
Species/breed: Black Cat (Best Boy Subspecies)
Age: 5 or 6, but truly ageless.
Fave food: Chicken. Any kind of chicken. It's all he wants, ever. Also, hearts of palm for some reason.
Special tricks: Managing to sneeze right in your mouth when you're holding him or giving him a nice kiss. He's also really good at expressing himself and will tell you all about his day, all day long.
Best quality: He's an excellent 'helper'—loves to help you do everything and be very involved. Whether it's unpacking groceries, showering, or simply getting up to go somewhere, Louis is there for all your helping needs. Also, he has truly spectacular grinch feet with lots of hair poking out between his toe beans.
Maggie and Tessa
A pair that lives with Alvin Kenny, Administrative Officer.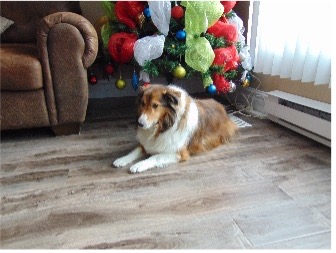 Name:  Maggie
Nickname: Mags
Species/breed: Shetland Sheepdog (Sheltie)
Age: 10
Fave food: Enjoys any food.
Special tricks: Intelligent. Very loyal and knows when we are leaving the house before we even get ready to go out.
Best quality: Very protective. Best alarm system we could ever have.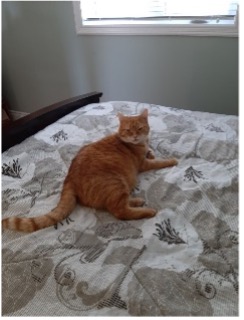 Name:  Tessa
Nickname: Tess
Species/breed: Calico adopted from Scaredy Cat rescue Corner Brook.
Age: 9
Fave food: Whiskers treats.
Special tricks: Playing with her many toys.
Best quality: Loves to get her head rubbed and expects you to do it all day.
Oreo and Orlando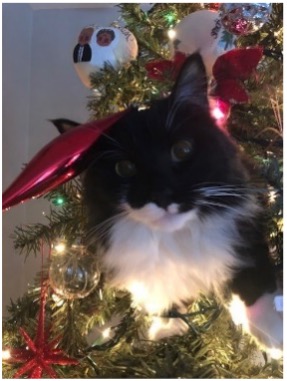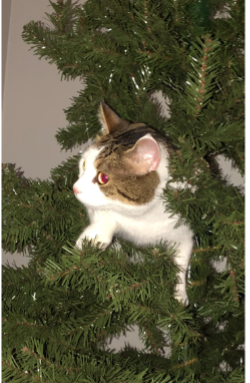 A pair that lives with Michelle MacArthur, Finance Manager.
Name: Oreo and Orlando
Nickname: Trouble and Alejandro
Species/breed: Rescue cats
Age: 2 and 3 years old
Fave food: Oreo—potato chips. Orlando—bacon & eggs.
Special tricks: Oreo—playing fetch and does tricks for food. Orlando—convincing neighborhood he is homeless and hungry. Both are good at destroying Xmas trees.
Best quality: Affectionate and Entertaining!
Theo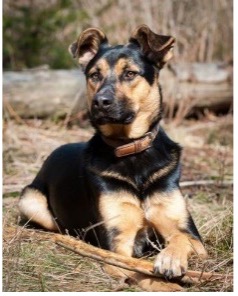 Lives with Anya Waite, CEO and Scientific Director.
Name: Theo
Nickname: Mutely
Species/breed: Shepherd mix
Age: 7 years
Fave food: Crêpes
Special tricks: Brings shoes to visitors.
Best quality: Empathy..will run to take care of humans in distress.
Saffron and Curry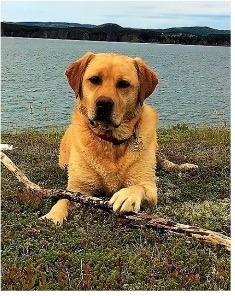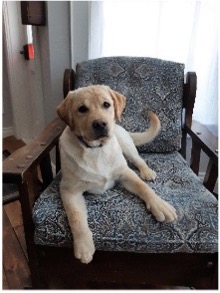 A pair that lives with Paul Snelgrove, Associate Scientific Director.
Name: Saffron and Curry
Nickname: Spice Girls, Spice Pups (Saff and Curry Puff)
Species/breed: Yellow Labrador Retrievers
Age: 8 and 2
Fave food: They are labs, so anything edible, and some things inedible.
Special tricks: Slowly pushing their human companions off the king-sized bed as the night progresses.

Want to tell the Dal community about your beloved pet? Forward along your image(s) and information using the above categories to today@dal.ca.
Don't forget to check out the previous pet we've featured in this space this month — Gili, Yserin, Korial and Baron Von Doom, Squishy, Spruce, Bundles, Chucho and Allie, Nacho and Dorito, Henry Charles, Prim and Wally and Sissi — as well as pets from previous months:
The month in pets: January

The month in pets: February

The month in pets: March

The month in pets: April