When temperatures soared throughout Nova Scotia last summer, people sought out cooler, air-conditioned spots to get a bit of relief from the heat.
The same was true for young salmon growing up in river systems or those beginning lengthy journeys from their ocean habitat to upstream spawning grounds, some of which were thousands of miles away.
The trek back to their birthplace is difficult enough but is becoming more challenging as rivers get warmer and less hospitable for cold-water species making that critical migration. To alleviate the rigours of the trip, wild Atlantic salmon often take breaks in chilly nooks known as 'thermal refuges,' which are found at the mouths of groundwater springs and help fish withstand both short-term heat waves and potentially long-term climate warming.
These cooling stations, however, are dwindling because of the rising water temperatures and human-induced climate change.
That decline prompted PhD candidate Kathryn Smith and her supervisor, Dr. Barret Kurylyk in Dal's Department of Civil and Resource Engineering, to see if humans could create thermal refuges for the endangered species.
"We wanted to see if we can help cold-water biodiversity in a warming world, but targeting key areas and time periods in the summer to help them cool down, says Smith.
Engineering solutions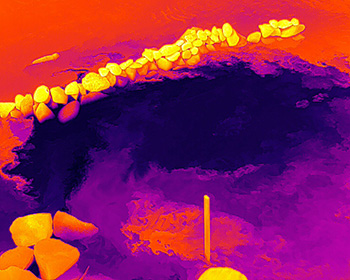 They tried two different approaches in Nova Scotia. In the active method in Wrights River, they pumped cold water from a municipal well for two weeks into a river that had reached 30 degrees. The team used thermal probes, drone thermal mapping and underwater cameras to monitor the area, finding that the infusion of well water significantly lowered the surrounding water temperature.
In the passive approach in the Killag River, they worked with Eddie Halfyard of the Nova Scotia Salmon Association to design and dig an underground trench filled with gravel and capped off with soil that redirected a portion of the warm river water through the area to cool it off.
Underwater wildlife cameras showed salmon and other species congregating in the engineered thermal refuges.
"We discovered that it did indeed work. In Antigonish, we were able to see multiple aquatic species at different life stages occupying the thermal refuge during a heat wave," says Smith, adding that the other site showed a cooling of the water coming out of the trench.
"To our knowledge, these approaches have not been successfully done before. I tried not to get my hopes up, but I was super excited when I saw the fish utilizing the thermal refuge."
Promoting freshwater ecosystem resiliency

Atlantic salmon are born in rivers, but spend most of their lives in the cool waters of the ocean. They return to their birthplaces to spawn when they reach sexual maturity. They do best in waters ranging from seven to 22 degrees Celsius, but can become overly stressed or die if those temperatures are exceeded for prolonged periods.
Their populations have been on the decline for decades and researchers believe that is linked partly to increasingly warm water temperatures.
"We are thrilled to be collaborating with Dalhousie and the Kurylyk lab on this important work," says research scientist Dr. Halfyard. "Our goal is to find practical and applied solutions to climate change that promote freshwater ecosystem resiliency, which is paramount for conservation work in Canada."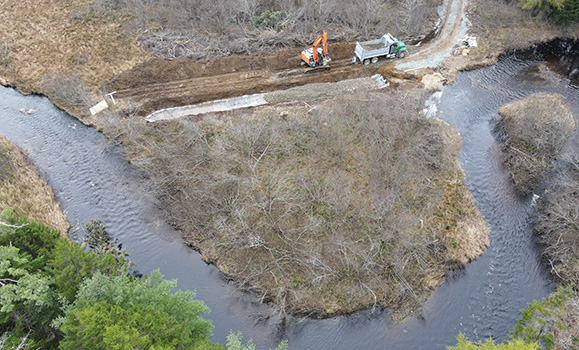 Smith, who received funding for the research from the Foundation for Conservation of Atlantic Salmon, Nova Scotia Salmon Association and the Canada Nature Fund for Aquatic Species at Risk (DFO), recently presented her findings at the Geological Society of America's GSA Connects 2023 meeting.
Charline McCoy, executive director of the foundation ,says the one-of-a-kind project is very important to the survivability of salmon in Eastern Canada.
"Atlantic salmon is an iconic species revered throughout the North Atlantic basin. Salmon is a cold-water species and without suitable thermal regimes in salt and freshwater it will perish," she says.
Smith and her colleagues plan to make some modifications to the existing designs, use them in other rivers in Nova Scotia and continue to collect data on the existing ones. That will allow her to develop specific design guidelines that can hopefully be applied to other rivers with different hydrologic, geologic and climatic conditions.
"There has been a ton of interest with this project, so we are super excited to hopefully see these types of systems implemented elsewhere to further help protect cold-water biodiversity," she says.
Recommended reading: Dal's Aquatron makes a splash in Parks Canada salmon replenishment project