Dalhousie Postdoctoral Fellow Dr. Rafaela Andrade is on a mission to keep people healthy and safe by giving them an easy at-home test to monitor their muscle health — simply by peeing on a stick.
Last Thursday (May 18), she took home the Mitacs Outstanding Entrepreneur Award at a gala in Waterloo, Ontario for her ground-breaking innovation and her efforts to bring it to the world. The awards were hosted by Mitacs, a Canadian not-for-profit organization dedicated to boosting the country's economic growth and innovation by connecting companies and academic institutions.
The ground-breaking technology behind Dr. Andrade's fast-growing company Myomar Molecular Inc. identifies unique and specific molecular changes in urine that are associated with muscle degeneration. They aim to equip medical practitioners and their patients with the information needed to predict the risk of musculoskeletal disease and improve quality of life by catching muscle loss early.
A weakness in the market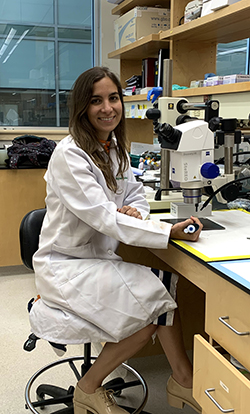 "Right now, there's no way to know how much you're suffering from muscle loss until you develop a disease, or experience a fall or some other health event," said Dr. Andrade, who, in addition to being co-founder and CEO Myomar Molecular, is a postdoctoral researcher in Dr. John Frampton's lab in Dalhousie's School of Biomedical Engineering.
Normally, muscle loss is only monitored after neuromuscular diseases such as ALS or muscular dystrophy are diagnosed, or signs of muscle loss appear using expensive medical imaging systems like an MRI or CT scan. Myomar Molecular's test is designed for the general population and works like a simple home pregnancy test. Dr. Andrade says it can revolutionize muscle wasting self-management the way glucose monitors revolutionized self-care for diabetes.
The company is making great strides validating its product, having just completed a clinical evaluation study in Newfoundland. Dr. Andrade says it was a major milestone that paved the way for the submission of a patent application to be filed in June.
Discovering a love for translation

The spark that led to Dr. Andrade's entrepreneurial mission began at Dalhousie while still a PhD student 10 years ago in the Department of Biochemistry and Molecular Biology. During the program, she had an opportunity to study in Dr. Paola Marignani's lab and received scholarships from Dal's Beatrice Hunter Cancer Research Institute, which afforded the opportunity to interface with the public.
"That's how I became really interested in translational research and using the things we develop in the lab as more practical tools that people in the society can use. That became the focus of my interest as I left my PhD," she said. "At the end of my first postdoc, I decided to dig into how we could put the technologies I was investigating and discovering into the hands of people. That's when I started to apply to Dalhousie's entrepreneurship programs."
Riding Dal's entrepreneurship pipeline

Dr. Andrade began her venture creation journey with Lab2Market, the start of a pipeline of support offered by Dalhousie that begins with fundamental knowledge building and leads to focused mentorship that empowers researchers to scale a business and raise funding.
Lab2Market is split into three sequential programs: Discover, which introduces participants to pathways to commercialize their research; Validate, which helps researchers determine their innovations' commercial value; and Launch which prepares teams to form, build, and grow their ventures. Validate and Launch also come with $15,000 in funding. During the programs, Dr. Andrade interviewed more than 100 people in her target market and discovered there is no competing technology able to quickly diagnose muscle loss at an early stage.
With the market need identified, she turned to the Emera ideaHUB to develop the product. She worked closely with the program's lead engineer to create her first prototype and participated in workshops led by MIT that helped her refine her approach. She was also introduced to Dalhousie's Office of Commercialization and Industry Engagement, which helped her secure an agreement that allows Myomar Molecular access to Dalhousie facilities and equipment.
"It is incredibly gratifying to see the programs Dalhousie has built to support the entrepreneurial aspirations of our research community, play an instrumental role in helping innovators like Rafaela turn ideas into enterprises," said Dr. Alice Aiken, Dalhousie's vice president research and innovation. "We're immensely proud that Rafaela's innovation has its roots at Dal and look forward to seeing the valuable role it will play in health care in the future."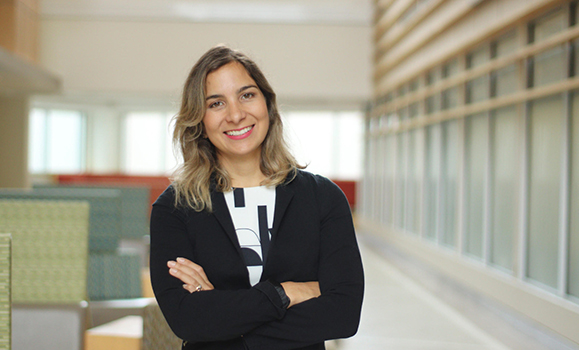 Most recently, Dr. Andrade completed the Prime cohort at Creative Destruction Lab – Atlantic. Hosted at Dalhousie, the non-profit delivers an objectives-based experience for massively scalable, seed-stage, science- and technology-based companies.
"I was able to meet very prominent entrepreneurs and business leaders to better tailor my business plan to reach a higher level of development for our technology," says Dr. Andrade. "It helped me raise angel investment in the company early on. It's also how we ended up applying to Mitacs and receiving the grant that has allowed me to work full time for the company since January 2022."
Next steps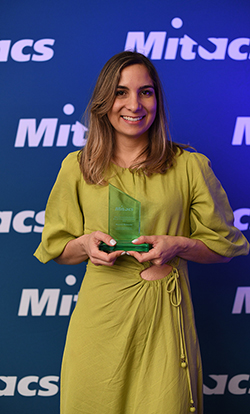 With the focus of recent media attention, Dr. Andrade is gaining recognition as an
up-and-coming founder of a woman-led start up. The momentum has helped her secured over $200K in angel investment and take on four employees, including three Dalhousie alumni.
While Dr. Andrade has moved on from Dalhousie's entrepreneurship programming, she says that she brings with her a large network of mentors. She is receiving support through the Mitacs Accelerate Entrepreneur program, which funds student and postdoctoral entrepreneurs to further develop the research or technology at the core of their businesses.
Her short-term goal is to commercialize Myomar Molecular's test kit as a consumer product by fall 2024. Longer term, she aims to include the development of an AI coaching tool that can provide individualized recommendations to improve muscle health and a more robust test that can be used as a medical monitoring tool for self-management of neuromuscular diseases.
Right now, the startup is seeking beta users to participate in product development by signing up on the company's website as it completes its first round of pre-seed funding.