Researchers at Dalhousie's Faculty of Dentistry are conducting one of the Faculty's first clinical trials to determine whether a drug commonly used to treat Type 2 diabetes could be effective in preventing oral cancer — a disease that afflicts a disproportionately higher number of people in Atlantic Canada.
Dr. Leigha Rock, director of Dal's School of Dental Hygiene, is leading the three-year chemotherapy prevention trial at Dalhousie along with colleagues at nine other sites throughout the U.S. and Canada. They will recruit and study patients with oral leukoplakia or erythroplakia, which are pre-cancerous lesions in the mouth that can become malignant over time.
Dr. Rock and her colleagues are hoping this ground-breaking trial could ultimately help reduce the number of cases of oral cancer by detecting and treating lesions early, thereby diminishing the burden of a disease that is the eighth most common cancer in the world and has a five-year survival rate of just 50 per cent.
"The incidence is fairly high and the morbidity and the mortality with this disease are grave," says Dr. Rock. "It's far more common than people think, so it is exciting that Dalhousie has the expertise and state-of-the-art facilities to take on world-class health research that will have a significant impact on health on a global scale."
Conducting the trials

The Dalhousie team, which includes oral surgeon Dr. Chad Robertson and oral pathologist Dr. Lisa Johnson, will give participants either the drug metformin or a placebo. The patients will be monitored over 24 weeks to ensure they are tolerating the treatment and to see whether the lesions disappear, remain the same or worsen.
The team is in the process of recruiting patients to participate in the study, and already have two of the six in their cohort. To be included, they will have to meet certain criteria, such as having oral lesions, being over the age of 21 and being a current or former smoker.
Metformin is most often used by Type 2 diabetics to help control the amount of sugar in their blood, but has been shown in other studies to have positive effects in people with breast and kidney cancers. Physicians began looking at it as a potential cancer treatment after they found bladder cancer patients who were taking metformin to manage their diabetes appeared to have much better cancer outcomes than those who are not taking metformin.
Dr. Rock, who is also a scientist with the Beatrice Hunter Cancer Research Institute, conducted an initial study on the effects of metformin on oral premalignant lesions while she was at the University of British Columbia. The results were promising and helped to provide the rationale for this expanded study, which will include 86 participants in Canada and the U.S. and is being funded by the National Institutes of Health.
"When I arrived in Atlantic Canada, I realized that the incidence of oral cancer is disproportionately higher here than the rest of the country," she says.
"I also realized that we had all of the pieces in place here at Dal to be able to conduct this kind of work. We have one of the few oral maxillofacial surgery programs in the country, a state-of-the-art facility, oral medicine specialists and oral pathology specialists."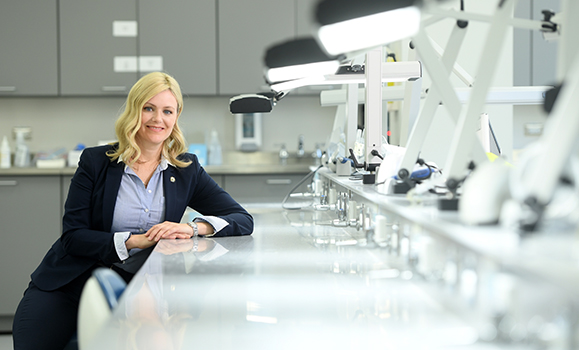 Hope for patients

It's estimated that roughly five to 15 per cent of low-grade oral premalignant lesions progress to cancer, while the vast majority remain stable or even regress. If they do become cancerous, they often have to be cut out surgically, causing the patient to lose part of their tongue or some other region in their mouth.
Despite early identification of the lesions, many patients are monitored until they progress to cancer due a lack of early treatments.
"I don't know the right word to even describe how impactful a clinical trial such as this could have on this patient population," says Dr. Johnson.
"Our current management of these premalignant lesions is to either monitor if they are low grade or to surgically excise if they are of more significance and the reality is that surgical excision has not proven to markedly affect the patient's risk to progress to cancer.
"So, to have some form of therapy that could potentially halt the deleterious molecular events that are going on is tremendously exciting for myself and brings such hope to patients living with this issue."
Recommended reading: Faculty of Dentistry offers new part‑time Bachelor of Dental Hygiene