Like most Dal students, Kailyn Hanke was back in the classroom at the start of this term. But instead of the familiar labs and lecture halls of the Tupper Building, she found herself visiting high schools in the snow-covered northern prairies.
In early January, Hanke, who is a member of the Manitoba Métis Federation, gave presentations to high school students in three largely Indigenous communities in her home province of Manitoba and neighbouring Saskatchewan, discussing her journey to Dal, her honours research project, and how rural students can prepare for university life.
A fourth-year Bachelor of Science student majoring in microbiology and immunology, Hanke received an Undergraduate Student Research award last summer from the Natural Sciences and Engineering Research Council of Canada (NSERC) to conduct honours research under the co-supervision of Drs. Shannon Sterling and John Rohde. After they began working together, Dr. Rohde made Hanke aware of the NSERC Indigenous Student Ambassadors (NISA) program, which provides up to $5,000 in funding for Indigenous students to promote interest and education in the natural sciences and engineering among Indigenous communities.
Hanke was raised in Neepawa, a small town in southern Manitoba. She saw the NISA program as a chance to give back and share her own experiences and some of what she wished she knew when she was a teenager.
"When I was in high school, my teachers talked about how you would be just a number in university," says Hanke. "Nobody talked about the supports available, only the things that are scary or difficult about university."
Hanke believes that rural and/or Indigenous students can get a negative impression of the experience before they even apply. "Lots of students don't realize the supports that universities have set up to help them, like accessibility centres, accommodation services, and health and wellness resources."
Recommended reading: Dal deepens ties with Indigenous peoples by setting up physical office in Mi'kmaw community
Sharing the university experience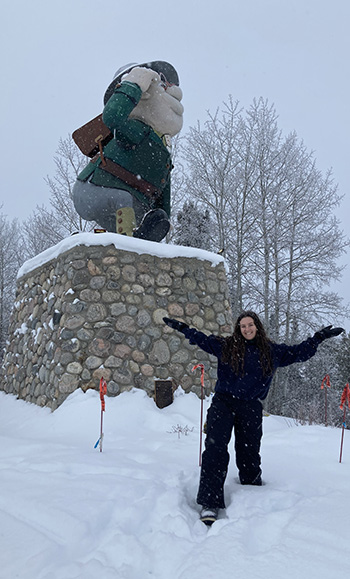 Already in Manitoba for the holidays, Hanke made the seven-hour drive from Neepawa up north to visit schools in Flin Flon, Cranberry Portage and Creighton, which is in Saskatchewan, near the Manitoba border.
Over three days, Hanke estimates she spoke to around 100 students, all of whom were high schoolers taking classes in STEM (science, technology, engineering and math) subjects.
Some advice was tailored to students coming from rural communities ("if you're used to small classes, sitting up front makes the room seem smaller"), while other tips could apply to anyone being on their own for the first time (keep a calendar with key dates for each class, learn to make a basic budget, research your city's public transit before arriving.)
Hanke remembers the adjustment she had to make upon arriving at Dal. "When you're coming from a rural school, you feel behind a lot of your peers, especially in your first year," she says. "Everything in my first year was new to me. I had never done a science lab before, and it seemed like everyone else around me had done that in high school.
"Don't panic, don't stress out. Once you get through your first year, everyone is at the same level. I wish someone had told me that, because as I was going through it, I felt that it was what it was going to be like for the rest of my undergrad."
Hanke says the students seemed to engage with her presentation, asked her plenty of questions about everything from how to apply to university and residence life to what specific science programs were like.
"Students enjoyed Kailyn's knowledge on how to succeed as a first-year student attending post-secondary education," says Brett Ferguson, a teacher at Creighton Community School. "She took time to answer questions and made sure students felt they were part of the discussion."
Recommended reading: Meet this year's recipients of Dal's top student life award
Making the journey to Dal

Hanke always knew she wanted to study science and figured she would end up going to a university close to home. Her plans changed when she was awarded the Loran Scholarship, which encourages its recipients to attend an out-of-province university. Dal's proximity to the ocean appealed to her, as did the fact that it didn't feel overwhelming in size despite having a student population roughly four times that of Neepawa.
Another selling point was that Dal's undergraduate science program does not require students to choose a major right away, something Hanke took advantage of. She didn't declare a major until her third year and then ended up changing it to microbiology and immunology in her fourth year.
"One thing I wanted to get across in my presentation was that there are so many branches of science, and it's OK to not have a plan about what you want to study."
Hanke will graduate this spring, and while she plans to apply to a master's program, she says she won't rush into a decision and is looking at start dates in January 2024 rather than this fall. Her current honours research project explores the effects of "liming" (adding crushed limestone to acidified rivers to raise the pH) in Nova Scotia. Liming has helped to increase the salmon population but its impact on microbial communities is less clear.
Before her time ends as a Dal undergrad, she is hoping to reach Indigenous students beyond those she spoke to in Manitoba. Along with a few others, Hanke is working to form a new group at Dal for Indigenous students in science with the goal of providing additional resources and spreading awareness of scholarships and research opportunities.
Hanke notes that while she didn't know a lot about available scholarships when she was preparing to enter university, she says there are a lot of funding opportunities out there for Indigenous students through their band, federation or council, as well as scholarships from private companies and provincial governments.
"Getting the word out there about these opportunities and scholarships is super important," she says. "We want to encourage and enable as many Indigenous students as possible to go to university if that's a path they want to follow."
Indigenous students are invited to connect with Dal's Indigenous Student Centre to learn more about its services, including tutoring, scholarship opportunities, social events, cultural activities and more.