A small building tucked away in a corner of Millbrook Mi'kmaw community represents a big opportunity for Indigenous youth and other community members interested in studying at Dalhousie.
The structure houses a new sub-office of Dal's Office of Equity and Inclusion devoted to Indigenous Community Engagement.
Millbrook generously invited members of Dal into their community and the Nova Scotia Native Women's Association warmly welcomed Dal into their leased building to celebrate the official opening of the space Wednesday.
"This is about a path forward. Helping to work together to look at the best interests of our children going forward," said Millbrook First Nation Chief Bob Gloade in remarks at a ribbon-cutting ceremony.
Gloade pointed out the many barriers Indigenous students have faced in the past navigating their way to post-secondary studies. He said this collaboration is an acknowledgement of that past and a commitment to making a difference going forward.
"This connects the community to higher learning, which is historic."
The sub-office will provide access to information about Dal and programming for prospective students as well as services for members of the community who are currently enrolled at the university or have family members who are.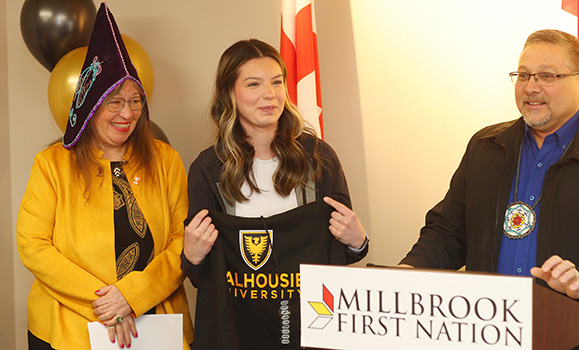 Mattea Bernard (centre), who starts medical sciences at Dal this fall, receives a sweater from Catherine Martin, left, Dal's director of Indigenous engagement. Chief Bob Gloade looks on.
'Seeing our reflection'

Dal currently offers support for Indigenous students on its campuses in Halifax and Truro. But the new space brings Dal directly into the Millbrook community — a step that should help make the university feel more familiar.
Cheryl Fraser, chair of Dalhousie's Board of Governors, said the office demonstrates Dalhousie's willingness to do this work not only on its campuses, but also in the community and through partnerships.
"We hope that many shared successes will emerge from this simple, but important step, and that this office will be a space of learning, understanding and opportunity," she said, thanking Chief Gloade and Karen Pictou, executive director of the Native Women's Association, for ""graciously accepting and welcoming Dalhousie."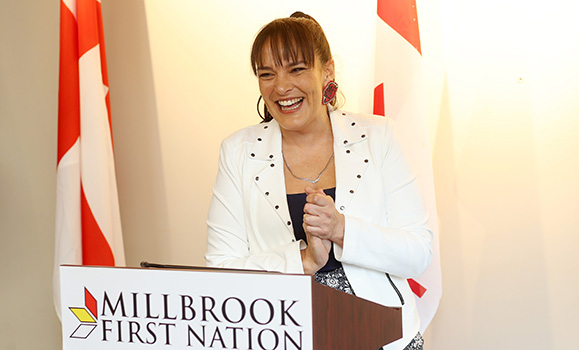 Karen Pictou, executive director of the Native Women's Association.
Pictou, a Dal political science alum whose group offered the building to Dalhousie as it prepares to move into a new space nearby, said the office will allow the community to see itself in the university in ways it hasn't before.
"This campus being here — and hopefully someday having [the option] that we can actually attend classes [here], too, — is seeing our reflection in a university," she said. "It's giving us space where we can have grandmothers there, we can have women from the community supporting, and others."
Endless possibilities

Programming for the space will be facilitated in partnership with Art Stevens, who is Millbrook's director of educational services and was co-MC along Dal's Director of Indigenous Community Engagement Catherine Martin at this week's event.
Extended learning programs, academic workshops, and tutoring services will be offered, and Indigenous students at Dal's nearby Truro Campus can make use of the space during the academic year for meetings and social events. 
"The possibilities are endless," said David Gray, dean of Dal's Faculty of Agriculture and campus principal in Truro.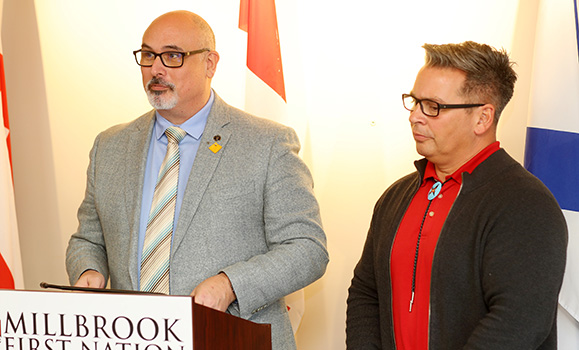 Dean Gray, left, with Art Stevens, Millbrook's director of educational services.  
Gray added that the space holds educational value for Dal as well.
"This space here is not all about us opening access to education for the Millbrook community. It is also a fantastic opportunity for us to learn. We see it as a bridge, as an opportunity," he said.
Angie Gillis, executive director with the Confederacy of Mainland Mi'kmaq and a Dal alum and current board member, expressed pride in Dal for its "very visible steps towards bridging the existing gaps."
"This partnership is proof that working together builds stronger relationships and stronger communities," she said.
A move in the right direction

While dreams of such an initiative began nearly a decade ago, Theresa Rajack-Talley, Dal's vice-provost, equity and inclusion, worked with Martin and Indigenous women along with Stevens and the Millbrook Band to actualize the project over the past two years. Together, they secured the location and undertook some renovations to the space in advance of its official opening this week. Keah Gloade, manager of Indigenous students with the Faculty of Agriculture, and Faith Julien, program manager with Dal's Global Health Office, worked to develop programming during this time as well.
Rajack-Talley says having a front door to Dal in the community should build awareness about the university before students even formally enroll or set foot on campus.
"Students will be able to say, 'I know Dal. It's in my community," she said during a tour of the new space, which includes a boardroom and several separate office spaces.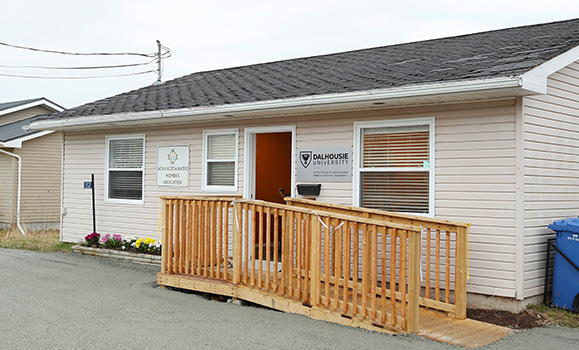 Dal's new office in Millbrook.
Two high school students from Millbrook entering programs at Dalhousie this fall spoke about the value they see in the new space.
Mattea Bernard, who starts medical sciences this fall, says she is grateful to have the support system in the community to get her through her time at Dal. And Ashton Comeau, an incoming arts student, anticipates it will encourage more people to consider higher education.
"I hope that the office in the community will help people want to reach out and further their education," said Ashton. "A lot of people drop out of high school, they don't want to go to university. They just want to go work. They don't have the supports outside of community to go to school. I think this will help them move in the right direction."
Recommended reading: Program offers Indigenous students pathway to Dal undergraduate medical studies
View more photos from the event below: