Dalhousie welcomes more than 20,000 students each year from over 115 different countries, each one bringing with them unique perspectives, motivations, and goals.
Attending university offers these students many different pathways for personal growth and achievement, of course. But for many, student life is about more than that — it's about creating positive change in the world around them.
Dalhousie's Board of Governors' Awards celebrate the most exceptional of these students. It's the university's top award for student life, presented annually to recognize exceptional contributions or leadership in the extracurricular realm — building community on campus, service in the broader community, improving diversity and inclusion, and so much more.
This year's three recipients — nominated by their peers in the Dal community, and chosen by a committee consisting of the president, three Board members and the vice-provost student affairs — were honoured at Thursday night's Impact Awards.
Meet the 2023 Board of Governors' Award recipients:
Sowon Suh, Pharmacy
Daring to care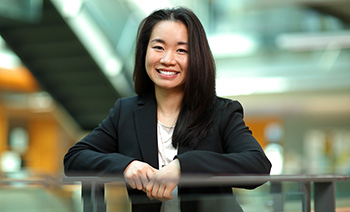 Having a friendly conversation with someone who knows your name. Sharing some jokey banter on a cloudy day. Hearing a short personal story about someone's life.
These are the kinds of small social interactions Sowon Suh shared with people experiencing homelessness during her time as a weekly coordinator with Greater Love Halifax — a Dal-based and student-run not-for-profit that offers food and company to people living on the street every Saturday.
While the granola bars, juice boxes, and other non-perishables were no doubt appreciated by those who received them, Sowon — then an undergraduate neuroscience student on the Dean's List — says the packages were mostly intended as conversation starters used to build social connections with people likely to be suffering from a lack of them.
"It really opened my eyes. I saw what so many different people went through. Everyone has their own story about how they ended up where they are, their struggles, and their plans for the future," says Sowon, who went on to serve as vice-president external with Greater Love from 2019-2021.
Sowon, now in her third year of Dal's Doctor of Pharmacy program, faced her own personal struggles when she and her family first immigrated to Canada from South Korea in 2010 when she was just a young teen. Being a new immigrant in Quispamsis, N.B. — a town of about 18,000 — was tough at times, especially overcoming language barriers. Sowon's family also experienced discrimination.
"I really realized what it's like to be marginalized," she says. "It's really hard to raise your voice up when you are in that situation and are experiencing things. I thought, 'Okay, I can be that person for other people who might want or need that help.'"
A lot of Sowon's work and volunteer experiences have centred around helping underserved populations, including people facing economic insecurity, individuals with accessibility needs, the elderly, veterans, and other underrepresented individuals. She has supported others in her role as co-representative of the Class of 2024 on the Dalhousie Student Pharmacy Society Equity and Inclusion Committee, as a tutor and mentor, and, for the past two years, as a residence assistant to students in Risley Hall.
Says Sowon of the latter role, "Feeling like there isn't anybody to help you could be very scary and intimidating. Oftentimes, I hear from students that they really appreciate that their residence or community assistant team members take time to ask about them and build connection and to provide support when they need it."
It's this same quest to help give voice and build belonging that drives Sowon now as she begins to shape a career in health care. She has been instrumental in helping set the stage for the planned re-opening this summer of the HOPES Health Centre, a student-led health clinic serving interprofessional health care and social services for marginalized communities in Halifax.
And now, as Sowon looks ahead to the final year of her pharmacy program and the three clinical placements that entails, she has a much deeper understanding of her specialty area's value to patients.
"Pharmacists are among the most accessible healthcare professionals out there," she says. "As a pharmacist, I would really like to use my skills and knowledge about drugs and to improve patient care so patients, including those who are marginalized, can best meet their health outcomes to have a greater quality of life." (Matt Reeder)
Mohamed Nashnoush, Health Sciences
Picturing a healthier world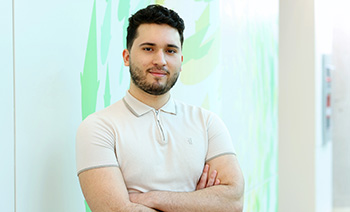 Fourteen is a difficult age for anyone to pack up and move to a new town. For Mohamed Nashnoush, though, it came with the added stresses of the inherent culture shock of moving from Tripoli, Libya to Yarmouth, NS. So how did he acclimate to his new environment?
"I started to ease into school," he says. "I enrolled in the IB program at Yarmouth Consolidated Memorial High School and graduated with a 100 per cent average." It was a sign of things to come for him at Dalhousie.
Now in his final year of the undergraduate Diagnostic Medical Ultrasound Technology program in the School of Health Sciences, Mohamed can easily boast about his 4.3 GPA — but that's not in his character. He would rather talk about the small and competitive program and what it has offered him and the six other students in his class.
"A highlight of the program is the early clinical exposure and the chance to put theory into practice in the clinical world," he says. "Having the opportunity to learn from the best and interact with diagnostic imaging specialists is truly special."
The ability to network with those specialists has resulted in at least 14 publications, presentations, and abstracts. "In my first year, I never thought I would be able to work with such incredible scientists across North America," he says. "Publishing in the Canadian Journal of Medical Sonography, Journal of Ultrasound, Hematology Reports and Cambridge Medicine Journal has been an incredible experience."
Mohamed has taken this passion for research and created opportunities for other students to follow his lead. In 2020 he founded RadScholars, a federally incorporated non-profit that helps students overcome entry barriers to radiology-related research. So far, he has worked with over 350 students and health care professionals from 121 countries to organize conferences, webinars, and podcasts for students.
As the COO of Erevna, a student-led, research-focused non-profit based at Harvard University, Mohamed has created partnerships with such organizations as the United Nations and the Harvard Kennedy School Institute of Politics. He has led large initiatives like Research-a-thon, which invited students from around the world to solve society's most pressing problems, and multiple Policy-thons that attracted students from over 52 countries to draft policy proposals for their local governments.
As for the future for the recent 3M Scholar and Amgen Scholar, research will likely play a large role. But come April, he will be serving the public as a generalist sonographer for Nova Scotia Health and working toward Sonography Canada's vascular licensing exam.
"Regardless of what I pursue, it will likely include elements of ultrasound, medical imaging, and data science," he says. "Sonographers play a detective's role in investigating the root causes of patients' symptoms." (Graeme Gunn)
Muyu (Murray) Lyu, Management
Leading by connecting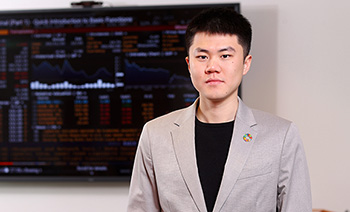 For finance major Murray Lyu, four years wasn't enough time to accomplish everything he wants to do for Dalhousie. Though he graduated with distinction from the Bachelor of Commerce Co-op program in 2022, he's continued his ride with the Faculty of Management so he can explore beyond the limits of his major and keep supporting his community.
"As a management student with extensive international experience and community ties, as well as rich involvement in university operations and governance, I can offer a well-rounded contribution to our campus."
Murray arrived at Dalhousie from the Northeastern part of China in 2018 with a keen awareness of how important it is to get people connected. That desire to break down barriers has motivated Murray's positive impact on the university and his fellow students.
"It is important to understand and learn from each other because it allows you to uncover the beautiful commonality within human beings underneath our external differences. Dalhousie's diverse and international population brings us excellent opportunities to discover this commonality," he says.
Murray's dedication to creating connections has proven instrumental to the success of his fellow international students. He has served as a Dalhousie Student Union (DSU) councilor, vice-president finance of the Dal International Student Association (DISA), and he is currently serving as DISA president. He's also a student member on Dalhousie's Board of Governors.
In addition to this work, Murray also co-founded the International Student Peer Mentorship Program to help build a virtual community during the pandemic and beyond. He has also contributed to the development of several other initiatives including the International Student Work Experience program, the Dal Mobile App, the Student Leadership Academy and the new international tuition model.
Murray acknowledges the importance of both his education in the Faculty of Management and the people who were there to support him in making these accomplishments possible.
"I want to give a shout-out to my DISA volunteer and executive team. Together we have done a lot of amazing work. Dr. Ron Stewart (MD'70) welcomed me to Canada and has been my long-time mentor and role model. Dean Kim Brooks is my cheerleader, always has time to chat about my bizarre ideas and has taught me core things about leadership. And my academic advisor, Katie Haigh, has provided warm and unwavering support that has helped me through many difficult moments. Also, Cynthia Murphy, previous director of Dalhousie's International Centre, brought me into the world of student leadership, and helped me kick off this exciting journey."
Now, as Murray plans to embark on his next chapter, he looks back on the experience Dal has provided him.
"My passion for finance has developed my ability to deal with complexity and volatility. This, combined with the valuable public sector governance experience, leadership, and people-connecting skills I gained at Dalhousie, give me the future-ready confidence to build public-private partnerships to solve the problems we collectively face." (Stefanie Wilson)