Students from Dalhousie and Nova Scotia Community College (NSCC) taking part in a recent masterclass with Erin Costelo got to experience firsthand the benefits of a generous gift from the J&W Murphy Foundation.
An enthusiastic crowd packed the Joseph Strug Concert Hall at the Dalhousie Arts Centre as Costelo, a renowned artist, songwriter and producer, shared her expertise in recording production with students from Dalhousie's Fountain School of Performing Arts and NSCC. The class was free and open to the public, attracting students, faculty, music professionals and music-loving community members.
The Costelo session was the first in a series of masterclasses made possible through a $1.25 million gift from the J&W Murphy Foundation to the Fountain School of Performing Arts. The gift also funded advanced recording production equipment and construction in Strug Hall, which will allow top quality recording of performances in the world-class venue and expanded educational opportunities for Dal and NSCC students.
Recommended reading: Learn how a generous gift honouring the memory of Joseph Strug (BSc'70, Bed'71) launched a music hall with exceptional acoustics that rivals the best halls in North America.  
Marrying the technical and the artistic

Dr. Jérôme Blais, director of the Fountain School of Performing Arts, says the technological side of music is critically important, as students are expected to know how to record and produce themselves and others for auditions and future employment.
"You need a high level of technology to function as an art school nowadays, so this gift truly raises that aspect to our work," says Dr. Blais. "It's crucial for our students to have access to this technology. Having a talented producer like Erin Costelo interact directly with students is the perfect way for them to gain a deep understanding and appreciation of the recording and production process."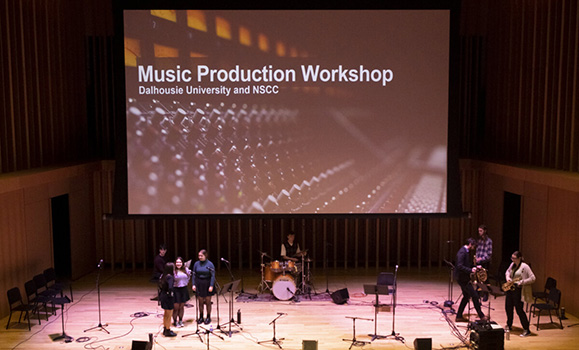 Fountain School of Performing Arts students take the stage in Dalhousie's Joseph Strug Concert Hall in preparation for a masterclass with producer Erin Costelo. The masterclass was made possible through a gift from the J&W Murphy Foundation. Photo by Stuart Moors, NSCC (@sailorstuoutinquiring)
The J&W Murphy Foundation has been a long-time supporter of students and education, funding student scholarships, and projects like the Dr. William Murphy Dental Clinic at Dalhousie and Giving Tuesday in support of food security for NS post-secondary students.
"We're always keen to support students, but as huge fans of music, this gift is particularly special to us," says Karen Spaulding, co-director of the J&W Murphy Foundation with her sister, Lisa Murphy. "Supporting construction for Strug Hall, the sound engineering and recording equipment, along with the masterclasses and the engagement between Dal and NSCC — it was the full package for us that really attracted us to get involved. Seeing it all come together during this first masterclass—it was everything we could have hoped for and more."
Recommended reading: Revitalized Dal Arts Centre opens with a Resounding celebration
Production in action: Learning on stage

The day-long event saw student teams from Dalhousie and NSCC present their own songs. Costelo then worked with them on stage, highlighting how she produces studio albums and leading an interdisciplinary, creative recording production process. The transformed pieces were presented at the end of the session.
"We wanted to show how a producer can help elevate the song structure and arrangement—all with the vision of the artist in mind," says Costelo. "I was so excited to work with and hear from the students, and they did not disappoint! I hope opportunities like this will lead to more producers working in Atlantic Canada—particularly women producers, who are rare in the industry."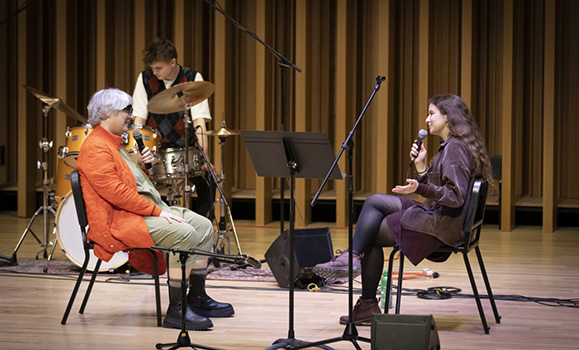 Producer Erin Costelo and Fountain School of Performing Arts student Chloé Dionne get acquainted before working on Dionne's original song in a recording production masterclass. Photo by Stuart Moors, NSCC (@sailorstuoutinquiring)
Chloé Dionne, a singer-songwriter and classical opera student in the Fountain School, sang her own original song, backed on stage by a full band and background singers that she had organized for the class. Costelo worked closely for two hours with Dionne and her band, sharing ideas to bring out the best in the song. Audience members seemed enthralled with the process and showed genuine delight as the song grew stronger with every tweak. Audience members even offered their own suggestions at times.
"I loved the entire experience," says Dionne. "I thought it was so interesting to see how Erin approached our group. She made me feel very comfortable in sharing my song and every change or adjustment she made was always aligned with what I envisioned. One key thing I learned is how important it is for a producer to connect with the artist personally and to know how they connect to their own song to produce a final project that makes the artist happy.
"This workshop has reignited my interest in producing my own album and maybe others someday as well—I've already connected with several other students from NSCC about collaborating on future projects," Dionne adds.
A sound partnership

The project highlights the growing partnership between the music programs at the Fountain School and NSCC.
"Working together really enriches both of our programs," said Craig Mercer, Manager of the NSCC School of Business and Creative Industries. "It's wonderful to be able to work with a producer like Erin Costelo, but the students—and faculty—also gain a great deal by having the opportunity to network and learn from each other. There is a lot of talent in the room and everyone has a chance to learn and contribute in a meaningful way."
Additional masterclasses employing Strug Hall and the recording equipment are being programmed, and the equipment will be used for other classes and events at the venue.
Check out upcoming Fountain School of Performing Arts student performances at the Dalhousie Arts Centre