It was Morris Strug's birthday on Friday, May 5, but he was the one who gave Dalhousie University an incredible gift.

The university community gathered to celebrate the Halifax businessman's generous donation of $5 million to create the Joseph Strug Concert Hall in the Dalhousie Arts Centre. The concert hall will be named in honour of Morris Strug's beloved son, Joseph Strug, who passed away in 2016. The announcement was made at a reception that also celebrated Morris Strug's 96th birthday.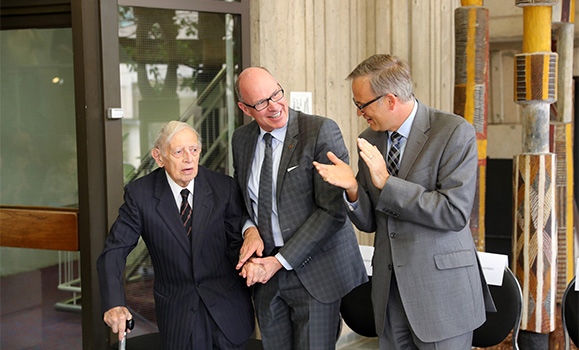 Morris Strug (left) with Stephen Harding (assistant vice-president development) and President Richard Florizone.

"I miss Joe dearly," said Morris Strug, who turned 96 on Friday. "He was a quiet, humble man and brilliant. A truly gifted student, he never sought the limelight but would always help others in any way he could. This gift honours his quiet brilliance, and his deeply generous spirit."

A Holocaust survivor, Strug never had the opportunity to attend university but he instilled a passion for education in his children. All three of his sons graduated from Dalhousie, including Joseph, who received Bachelor of Science and Bachelor of Education degrees from the university.

Members of the Strug family were in attendance and offered remarks about Joseph, including his children, Andrea and Stephanie Strug.

"To my father, education was everything," said Stephanie. "Though he loved science, he always had a passion for the arts, and instilled in us a sense of wonder and a love for the arts and music."

A "jewel in the crown" of Canadian performance spaces

Dalhousie President Richard Florizone hosted the celebration event. He was joined by Fred and Elizabeth Fountain, honorary co-chairs for the Dalhousie Performing Arts Campaign; Jacqueline Warwick, director of the Fountain School of Performing Arts; and Barry Lesser, professor in Dalhousie's Department of Economics, director of the China Program at Dal, and a lifelong friend of Joseph Strug.

As the Prelude to Bach's Cello Suite No. 1 filled the air, performed by student Zach Levin, guests were invited to imagine how much more beautiful the piece would sound in the new performance space with state-of-the-art acoustics.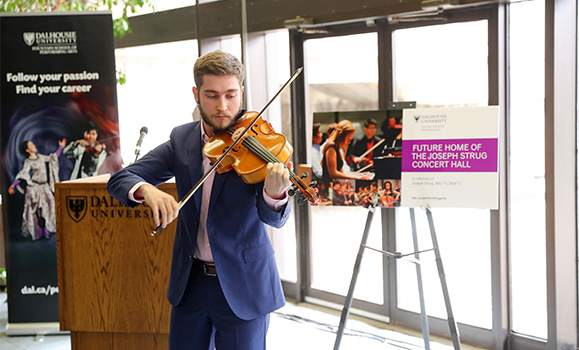 Fountain School student Zach Levin performs at Friday's event.
The Joseph Strug Concert Hall will seat 300 people and enhance the sounds of everything from a solo classical guitar performance, to a chamber orchestra, voice recital, or a jazz ensemble. It will feature acoustics designed by Rick Talaske of The Talaske Group, Inc., one of the top acoustic engineers in the field. The architects are Keith Tufts from Lydon Lynch in Halifax and Thomas Payne of Toronto.

In making the announcement, Dr. Florizone noted that great universities are intertwined with their communities in many ways. "A transformative investment in the performing arts like this can strengthen these bonds with the community," he said, describing the new concert hall as "a jewel in the crown of performance spaces in Canada."

 "The Arts Centre has been a hub for the performing arts on Canada's east coast for more than 45 years," added Dr. Florizone. "When it was built, Dal was half the size it is today. It's time to expand this vital infrastructure and the generosity of Mr. Strug is helping make that possible."

A much-needed boost to music students

The Joseph Strug Concert Hall is part of a planned 37,000-square-foot, $27.7-million expansion to the Dalhousie Arts Centre. The project will include new practice space and private teaching rooms, and enable Dal's Costume Studies program to be fully integrated with the other Fountain School programs.

Jacqueline Warwick, director of the Fountain School of Performing Arts.

"Mr. Strug's generosity means so much to me, and all of us who dedicate our lives to the arts. The Joseph Strug Concert Hall will be a wonderful boost to our music students," said Dr. Warwick. "For years, we have sought other venues for student recitals and concerts. Now, students will be able to rehearse and perform here in an acoustically-superior setting, allowing them to challenge themselves further as performing artists."

"Joe would have understood how important this kind of facility is to students," said Dr. Lesser. "The fact that this will be a space for aspiring student artists would have mattered a great deal to him."

For the School's namesakes — Fred, Elizabeth and Katharine Fountain — the new concert hall and the overall expansion of the Centre is welcome news.
"We have watched with pride as Dal's Theatre and Music programs have come together in a wonderful way," said Dr. Fountain. "Now it's time to build the vital infrastructure to support the growing programming."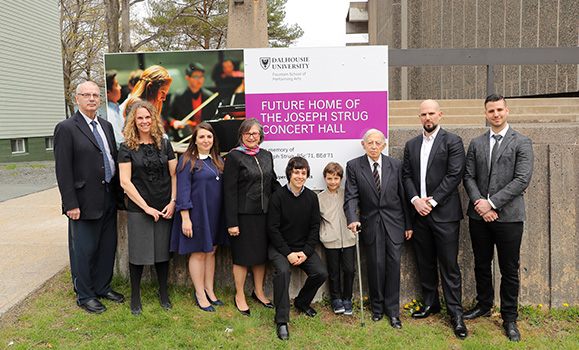 The Strug family at the future home of the Joseph Strug Concert Hall.