A Computer Science master's student earned first place in Dalhousie's 3 Minute Thesis finals last week after winning the judges over with his presentation on combating stress with artificial intelligence.
More than 120 people showed up to cheer on this year's 3 Minute Thesis (3MT) finalists as they took to the stage last Monday (March 20) to present their theses in bite-sized form.
Organized by the Faculty of Graduate Studies (FGS), Dal's annual 3MT competition challenges students in PhD and research-based master's programs to present their research to a non-specialist audience in three minutes or less for a chance to win cash prizes and compete at a regional level.
This year, 11 students participated in the 3MT finals, representing seven faculties across the university.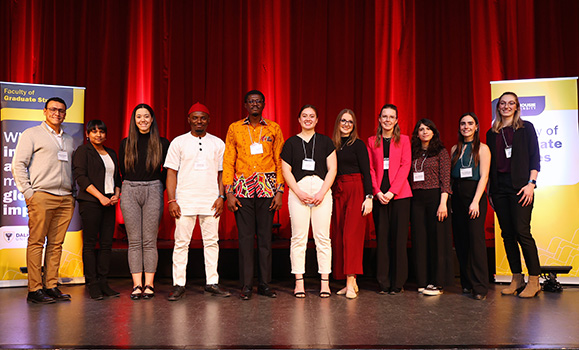 A grin-worthy win

In addition to taking home a $1,000 prize, Orji won the opportunity to compete at the 3MT regionals, which will be hosted by Dal this June and welcome competitors from across Eastern Canada.
He also gained a new sense of confidence in his work.
"3MT was a wonderful experience," he says. "It reinforced my belief in my ability to impact humanity positively using my tech skills."
During the finals, Orji impressed audience members with his presentation on using artificial intelligence to promote positive emotional responses in humans to help manage stress. With the encouragement and guidance of his supervisor, Rita Orji, associate professor at the Faculty of Computer Science, he's working on developing an app that will detect when users smile, allowing them to unlock and move objects across their device's screen. The goal is to trigger the brain's natural response to smiling — the releasing of neuropeptides — which is said to reduce stress.
"Knowing that there are too many life occurrences beyond our control that will stress us out, we need a new evidence-based approach for regulating emotions that is accessible, available, and affordable to everyone globally," he says. "Stress affects everyone in the world, but not everyone can afford therapy or medication. My mission is to give people the power to fight off stress with a smile." 
Runner ups
 
This year's 3MT final were hosted (for a fifth time) by Brett Ruskin, a CBC reporter and videojournalist. Judges for this year's competition were Rick Ezekiel, Dal's vice-provost student affairs, Theresa Rajack-Talley, Dal's vice-provost for equity and inclusion, and Kristan Hines, senior vice-president of corporate and public affairs at NATIONAL Public Relations.
Juliet Rowe, a master's student in Rehabilitation Research, and Saara Mansoor, a PhD student in Medical Neuroscience, also scored top spots in this year's 3MT finals.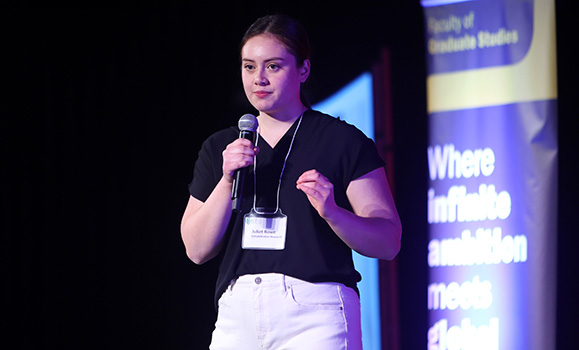 Placing second, Rowe earned a $500 prize with her presentation on the size-weight illusion and how it can be used to better understand learning through motor imagery.
Mansoor earned the third-place title and prize of $250 for her presentation on the connection between stress hormones and the prevention of brain injury complications. She also won the audience over with their votes, claiming the People's Choice Award valued at $250 — generously sponsored by Estelle Joubert, assistant dean of FGS, and Paul Doerwald.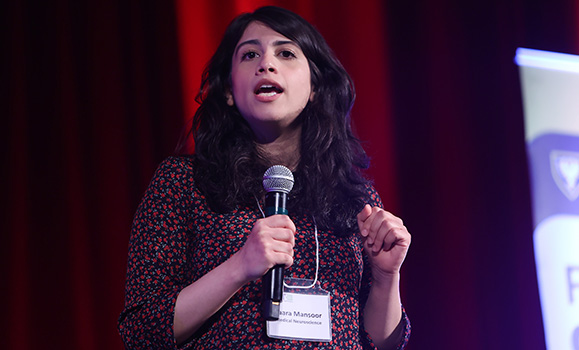 The remaining eight finalists each earned $100 prizes for their engaging presentations.
Sharing ideas with the world beyond university

The 3MT finals gave attendees a snapshot of the innovative work Dal's graduate students are engaged in.
"Master's and PhD students play an essential role in contributing to Dalhousie's ambitious research mission. Their vital contributions allow the university to maintain its membership in Canada's U15 group of top research-intensive universities," said Frank Harvey, Dal's acting president and vice-chancellor.
"Moreover, our graduate students are part of an exciting new generation of academics who are more committed than ever to sharing their knowledge outside the academy. The 3 Minute Thesis competition is a wonderful mentorship opportunity sponsored by the Faculty of Graduate Studies and supported by partners to help graduate students refine their presentation skills to help communicate their findings to a broader audience."
3MT finals judge Hines also sees the competition as an opportunity for professional development.
"The competition challenges participants to share their research with the audience in a clear, concise, and compelling way. From presentations and funding applications to media pitching and job interviews, these are lifelong skills that will serve them well throughout their professional journey," she says.
Adam Donaldson, acting dean in FGS, attributes the success of the competition to its supporters.
"We're incredibly grateful for all the support we received for this year's 3MT competition," says Donaldson. "From our brave competitors who stepped up to the challenge of sharing their research, to the audience members who showed up to cheer them on, to our judges tasked with the very difficult decision of selecting our 2023 winners, and to the rest of our supporters – we couldn't have done it without them."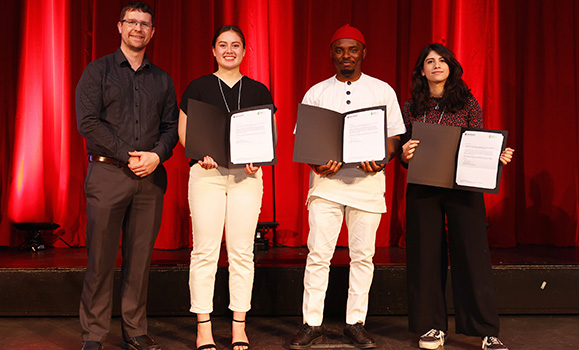 See below for a complete list of this year's 3MT finalists:
 
Sana Kashgouli, MSc in Computer Science
Juliet Rowe, MSc in Rehabilitation Research
Erin McConnell, MSc in Nursing
Saara Mansoor, PhD in Medical Neuroscience
Sofía Magaña Lama, MASc in Biomedical Engineering
Olivia Crewe, MSc in Rehabilitation Research
Philemon Opoku Tontoh, MA in International Development Studies
Mohamed Ibrahim, Interdisciplinary PhD
Melina Markotjohn, MSc in Human Communication Disorders
Joseph Orji, MSc in Computer Science
Nuwanthi Samarasinghe, PhD in Oceanography