Jasveen Brar (BSc'17) was a second-year Dal biology student when she went on an expedition to Antarctica and had an epiphany.  
"I was excited to learn about microbiology from the experts and scientists," Brar says of the trip she took through the Students on Ice Foundation during the winter study break. "I ended up more involved in the sessions that had to do with climate science. They opened my eyes and made me want to learn more."
The improbable sight of a plastic water bottle, spotted between two penguin rookeries in an otherwise untouched Arctic environment, left a lasting impression. "I struggle to put into words what it felt to see something man-made in literally the most isolated place on earth," she says.
After returning to Halifax, she immediately added a minor in Environment, Sustainability and Society (ESS) to her Bachelor of Science degree. Upon graduating in 2017, Brar returned to her home province of Alberta and began carving out a career that has included working in ocean conservation, polar policy, and education. 
She first worked for the non-profit Ocean Wise, eventually moving back to Halifax when she became the manager of the organization's Ocean Bridge youth program for the Atlantic Region. Brar also worked for Student Energy and the Inuit Circumpolar Council before being hired in 2022 as the executive director of Youth Climate Lab (YCL), a Canada-based global non-profit organization that equips youth with the skills, financial access and policy knowledge needed to become leaders in the fight against climate change.
 "Our mission is to support young people no matter where they're coming from and where they are to catalyze transformative climate action in their communities to all levels of government," says Brar. Since its inception in 2017, YCL has raised over $450,000 USD to support youth-led climate action and has worked with over 60 partners around the globe to reach thousands of young people in more than 77 countries.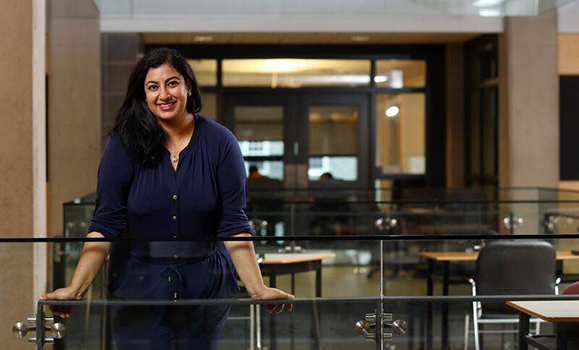 Jasveen Brar at Dal's College of Sustainability.
Recommended reading: Dal project awarded millions to help cities fight emissions
On the road

Last fall was a busy time for Brar: she travelled to Egypt to attend the United Nations Climate Change Conference (COP27) in November and then to Montreal for the UN Biodiversity Conference (COP15) in December. At COP27, Brar moderated a panel with The Honourable Steven Guilbeault, Canada's Minister of Environment and Climate Change, on how to improve climate literacy and education in Canada.
In November, the sustainability magazine Corporate Knights named her one of its top 30 under 30 youth leaders of 2022, a cohort that includes lawyers, executives, entrepreneurs, policy advisers and others who share the goal of driving climate action. Brar credits the honour to the work of her team and says the recognition validates the "gut feel" she had that led to her pursuing a career in sustainability.
"I truthfully never expected someone like me, a Brown racialized woman, to be working in this space," says Brar. "When I was starting out, I did not have mentors or leaders to look up to. Getting that recognition was meaningful to me and hopefully to other women who look like me to let them know that they can't just work in this space but thrive."
Recommended reading: Climate change‑combatting innovations from Dal alumni sisters elevated to global stage at COP27
Shaped by Dal

Dal was where Brar says she got her first real exposure to environmental literacy. By majoring in biology while minoring in ESS, "I was able to get that blend of the sciences and the policy, advocacy, and history from the College of Sustainability. I'm in contact with many of my professors today, and [College of Sustainability profs] Georgia Klein and Andrew Bergel have remained mentors to me."
While there is no easy solution to stopping climate change, Brar encourages everyone to reflect and realize that we all have a role to play in a collective effort. "What I like to say to youth or people who may not feel represented in this space is that the impacts of climate change are diverse and unique to each person."
Though less than six years into her career, she's already made a mark in environmental justice, intersectional environmentalism and ensuring that youth are involved in decision-making 
"We all have a responsibility to work toward a just and climate-resilient future. We can't do this alone."
Recommended reading: Dalhousie's push to put the ocean at the centre of the global climate conversation