Current climate targets do not account for significant changes that may take place in the ocean — the Earth's largest and most important carbon sink. There is increasing evidence that the ocean's ability to filter carbon from the atmosphere could diminish drastically. It may already be happening.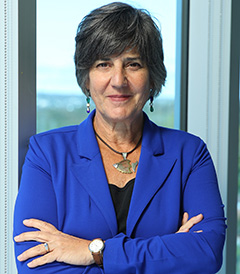 To help tackle this urgent issue, researchers from across Dalhousie, in collaboration with three partner universities, have designed an ambitious research program to improve global understanding of the ocean's essential role in climate, how the ocean might help mitigate climate change, and how we should react and adapt to a changing climate, especially in coastal communities.
Anya Waite, Dalhousie's associate vice president research (ocean), is leading this group in an application for $155 million from the Canada First Research Excellence Fund (CFREF) to support this transformative program. Dal's partner institutions include Université du Québec à Rimouski, Memorial University of Newfoundland, and Université Laval.
A new call for climate action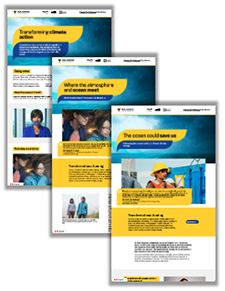 To generate awareness of the urgent need for this ocean-climate research, Dalhousie has launched the Transforming Climate Action website with profiles featuring world-leading researchers who would contribute to the program. Over the coming months, an associated information campaign will deliver people to the site to learn more about how Dalhousie and its partner institutions can address the changing ocean and its impact on climate with support from the CFREF.
"Global climate models predict a gentle decline in the absorption of carbon by the ocean," says Dr. Waite, who is also the scientific director and CEO of Dalhousie's Ocean Frontier Institute. "However, they don't have good grip on rare events, such as the collapse of the Antarctic ice sheet, the slowing of the Gulf Stream, or a massive Arctic melt. If those things happen in concert, suddenly we have extreme events, that could completely change ocean carbon absorption."
The Dal-led research effort also aims to develop climate change mitigation solutions, enhancing Dalhousie's position as a global leader in the science behind ocean-based carbon dioxide removal. And, with the scientific community's growing agreement that a changing ocean and climate are forthcoming realities rather than an avoidable future, the research team will focus on creating equitable and just adaptation policies to guide humanity through the coming storm.
Supporting the cause

"Our Transforming Climate Action information campaign will showcase how Dalhousie and our partners are uniquely positioned to mobilize scientific and economic action, moving Canada into a global leadership position in this important area," says Alice Aiken, Dalhousie's vice president research and innovation.
"We hope the Dal community will be inspired to share the stories of the research team and help build support for the vital science and policy research they will pursue in the CFREF application. It's not an exaggeration to say that this program has the potential to help avert the world from a worse climate crisis."
Dalhousie's application to the Government of Canada's CFREF competition was submitted on August 31, 2022. Intended to help Canadian postsecondary institutions transform key strengths into world-leading capabilities, CFREF funding will give Dalhousie and its partners the resources to develop a global centre for this key area of research.
A final decision on the success of the application is expected in winter 2023.
Recommended reading: Canada Foundation for Innovation invests $38.5M in Dal‑led Ocean Tracking Network