A Dalhousie-led research project aiming to improve the understanding of greenhouse gas emissions at the municipal level has been selected to receive millions in new funding from the federal government.
The project, led by School of Planning researcher Dr. Ahsan Habib, will receive $3.6 million over five years as a recipient of funding through Canada's Climate Action and Awareness Fund (CAAF).
Dr. Habib says monitoring emissions at the local level will have significant impacts on climate mitigation strategies.
Over the next five years, the project team will develop a framework for data collection, tool development, and mathematical modeling to determine how much GHG is emitted daily within the transportation sector. Data will be collected from people's movements — how we get around, by what means, at what time of day, for what reasons — as well as the movement of goods. The latter considers online shopping habits and how products move in cities.
"Understanding how our transportation choices drive emissions is a key factor to building impactful GHG reduction strategies," says Dr. Alice Aiken, Dalhousie's vice-president, research and innovation. "Dr. Habib's research and modeling will provide data and knowledge Canada needs to meet its net zero emissions target by 2050."
The data collected in the first year, currently happening in the Halifax Regional Municipality, will inform the framework used to gather data from the other municipalities and will give researchers the opportunity to more easily estimate the amount of GHG emitted from travel patterns within Canadian municipalities.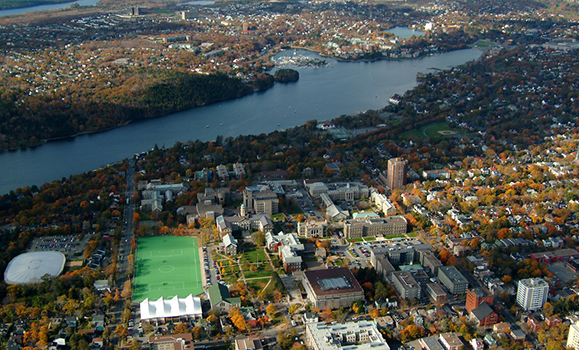 An aerial view of Dalhousie's Studley Campus with the Northwest Arm nearby. (Ron Garnett photo/AirScapes)
Building transportation data and modelling expertise

Dalhousie has been creating capacity for transportation data collection and modeling development since 2012. The effort gained significant momentum with the inception of the Dalhousie Transportation Collaboratory (DalTRAC), a multi-disciplinary research facility dedicated to the advancement of transportation engineering and planning research and practice.
"We've been collecting data for ten years and have had a multi-year partnership with the province and HRM since DalTRAC started," says Dr. Habib, who is the founder and director of DalTRAC.
"This is such an important research priority for Canada," he says. "They saw the value in our preparedness at DalTRAC and the value in our capabilities to lead this type of project."
Dr. Habib recognized the synergy between their research expertise and the importance of benchmarking GHG emissions for Canadian communities, which drove him and his partners to apply to the CAAF. He saw this opportunity as a great way to utilize their data informatics, resource capabilities, and leadership in this area.
Recommended reading: Dalhousie's push to put the ocean at the centre of the global climate conversation
Contributing to Canada's climate action plans

According to Dr. Habib, the transportation sector contributes 23 per cent of the overall GHG emissions in Canada. This is one key reason the government has committed to adopting ambitious climate action plans for the country, such as monitoring our reduction of GHG.
Late last year, Canada reaffirmed its commitment to the Paris Agreement at the COP27 conference in Egypt and its goal of achieving net-zero by 2050. For this to happen, policymakers at the national level need to understand where to invest so that Canada can achieve this goal, explains Dr. Habib.
"There is a need, particularly from the data and modeling side, for helping municipalities quantify GHG so they can benchmark to achieve net-zero. Unless we measure and monitor greenhouse gas emissions at the local level, it will be very difficult to understand which direction we should go."
Plans could include investing more in public transportation or human transportation, such as walking and biking, or could mean an investment in digital infrastructure, making it easier for people to work from home and gain access to more varied virtual functions.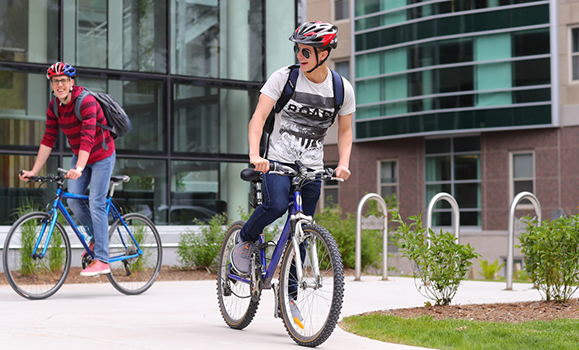 Students zoom around campus on their bikes. (Nick Pearce photo)
Building the research foundation

The substantial investment that Environment and Climate Change Canada (ECCC) has contributed will encourage these conversations and the research that needs to be done.
In November 2022, the Government of Canada announced a substantial contribution to science and technology projects supporting its net-zero goal. A total of $58 million from the CAAF has been invested in various projects working to advance this mission.
"This is one of the largest grants that I am leading as a principal investigator," says Dr. Habib. "We're extremely pleased that the value of our work has been recognized and that Dalhousie and our co-applicants and partners, can lead this research."
The project has eight co-applicants, five of which are from Dalhousie. Others include the University of British Columbia, McMaster University and the University of Toronto. There are also several partner organizations involved, including the Pembina Institute, the MacEachen Institute for Public Policy and Governance (based at Dalhousie), and Transport Canada.
"Our project team is a multidisciplinary group of scholars, practitioners, graduate and PhD students, planners, industrial engineers, computer scientists, environmental scientists, and geographers, to name a few," says Dr. Habib. "Their contributions will challenge us and force us to look at newer questions which will lead us to explore new opportunities for expanding this research."
Recommended reading: Climate risk index shows threats to 90 per cent of the world's marine species
Positioned for the future

One major goal of this project is to build capacity for future generations. This includes training grad students and industry professionals in this framework so they can apply these new skills and tools in their research practices and workplaces.
"It's important that our partnerships with research organizations are carried forward which begins with attracting high-caliber graduate students to the project," says Dr. Habib. "Our graduate students will be the engine driving this project onward."
Emerging technological advancements in the transportation sector regarding data collection of people and goods movement will only continue to grow, explains Dr. Habib.
"It's a big responsibility to really accomplish an advance in scientific discoveries in the next five years, and Canadian universities, such as Dalhousie, are well positioned to answer Canada's measurement and monitoring research agenda now and in the future."