While sisters Leah (BSc'11, MSc'13, PhD'18) and Sarah Ellis (BSc'16) are not in Egypt this month for the United Nations Climate Change Conference, innovations from their respective companies are being featured there as part of a U.S. State Department exhibit showcasing seven companies aiming to tackle industrial CO2 emissions. 
Via Separations (where Sarah works as a scientist) and Sublime Systems (where Leah is CEO) are among the companies with a presence at the exhibit space. They were selected by the First Movers Coalition, a global initiative of over 50 companies that aims to decarbonize seven key industrial sectors.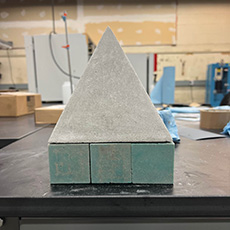 Sublime Systems is commercializing a process for low-carbon cement production.
"Our goal is to have a swift and massive impact on global CO2 emissions," says Leah. The video that will be displayed at its booth can be viewed on its LinkedIn page. 
Shown right: A pyramid made with low-carbon cement produced by Sublime Systems.
Via Separations aims to eliminate energy used in industrial processes, which account for 30 per cent of U.S. greenhouse gas emissions, according to its website.
Climate change is of course not a simple problem to solve, but Leah believes in the power of chemistry to play its part. "Innovations and an improved understanding of chemistry will keep us pushing forward."
Taking place from November 6 to 18 in Sharm el-Sheikh, Egypt, COP27 is the latest edition of the United Nations Climate Change Conference, which has been held annually since 1995. This year's event is expected to see more than 90 heads of state and representatives of 190 countries in attendance. 
Recommended reading: Ocean Frontier Institute to call for ocean-climate action at COP27 in Egypt
Making it to the world's stage

"We both feel honoured to be a part of something so big, and we feel privileged to have made it here," Leah says, while giving a special thanks to Drs. Mary Anne White, Mark Obrovac (her MSc supervisor) and Jeff Dahn (her PhD supervisor) for the "fantastic education" they provided at Dal. 
It was in Dr. White's materials science class where Leah first learned about cement's outsized carbon footprint. "She said that a one per cent improvement in cement would mean a lot more than a one per cent improvement in lithium-ion batteries," Leah recalls.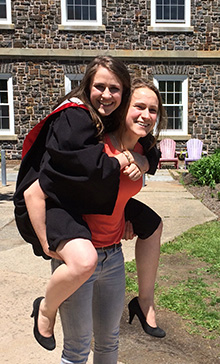 Given cement's widespread use as a construction material, a low-carbon cement would bring with it enormous benefits for the planet. 
Something else Dr. White also said stuck with Leah. "PhDs these days want people to hand them a job," Leah remembers her saying. "In my day, PhDs made jobs for other people."
Leah also took that statement to heart, founding Sublime Systems in March 2020 as a spin-out of her postdoctoral work at the Massachusetts Institute of Technology (MIT). The Somerville, Massachusetts-based company employs 30 people and is "hiring like crazy," Leah says. 
During her time at Dal, she also created opportunities for others by working closely with the Office of Advancement to create the Jeff Dahn Bursary in Physics to mark the 60th birthday of the acclaimed battery technology researcher.
Reunited in Massachusetts

Leah says that she and her sister were drawn to chemistry because of their shared passions for clean tech and sustainability. That passion led them both to complete doctoral degrees in the subject, though Sarah ultimately completed her PhD at Queen's University. 
The Halifax-raised sisters have now been reunited in the United States after Sarah joined Watertown, Massachusetts-based Via Separations.
Recommended reading: Ask the experts: The world's population just hit 8 billion. What now?