When three of the most recognizable champions of civil rights and racial justice in the U.S. come together for a conversation, people want to listen in.
Nearly 700 people braved rainy weather in late October to hear Angela Davis, Margaret Burnham and Fania Davis — the first two in person, the latter by pre-recorded video — look back on their decades-long fight for justice transformation at an event hosted by Dalhousie's Restorative Lab and the Black Cultural Centre for Nova Scotia.
Kai Butterfield, a recent fellow with the lab, and Jake MacIsaac, an associate with the lab and assistant director of Security Service at Dal, guided the evening's discussion at the Spatz Theatre in Halifax as narrators. Prof. Jennifer Llewellyn, the lab's director, provided questions to frame the panelists' reflections in terms of restorative justice and justice transformation.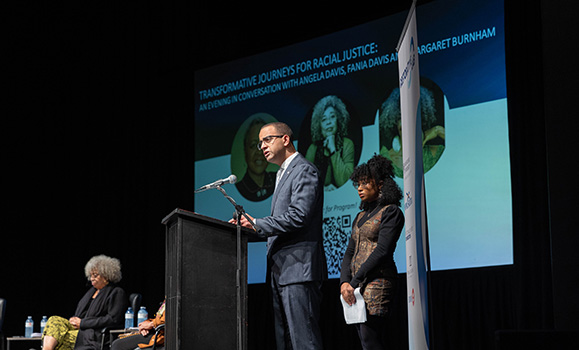 Jake MacIsaac at the podium. Kai Butterfield on right.
One of the central themes to emerge during the evening's discussion — which took attendees on a conversational journey through the different eras of the panelists' lives — was the need to fundamentally alter the adversarial nature of our contemporary justice system. As Fania Davis put it, to create a justice system centred around healing rather than punishment.
"A justice not about getting even but about getting well, a justice that is a healing ground not a battleground," she said.
Angela Davis noted the need to expand our understandings of and to be attentive to the contexts, causes, and circumstances surrounding injustice in order to "imagine the possibility of what we might not be able to imagine now."
Recollections of resistance

The panelists drew on their own experiences growing up as children together in Jim Crowe-era Birmingham, Alabama in the 1940s and 1950s. They spoke about the games they would play as children which, to them, were demonstrations of resistance built out of joy. The memories prompted Angela Davis to insist that joy is a necessary part of resistance against injustice.
The conversation leapt from the early 1950s to the late 1960s and early 1970s when the FBI charged Angela Davis with kidnapping and murder of a judge in California. Fania's memories of this era were of optimism, and she remembers feeling as if Angela's release was almost inevitable. Burnham and Angela Davis, on the other hand, remembered just how powerful the triumvirate of President Richard Nixon, California Governor Ronald Regan, and the FBI Head Edgar Hoover was and how hard the movement to free Angela had to fight. With Angela nodding, Burnham told the audience that she and Fania "agree to disagree" about what this time-period was like. The message of this portion of the discussion was that even in the face of supreme power and oppression, resistance can overcome.
"We have to understand how we got to today and for that we have to look at yesterday," said Burnham, reflecting on the importance of the civil rights movement.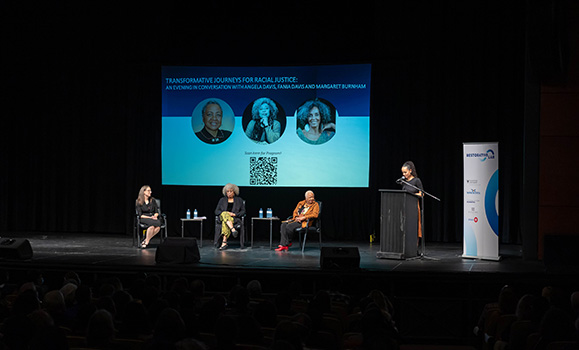 Investigating influences

While reflecting on their journeys in leading justice transformation each panelist referred in different ways to scholars, teachers, or organizers who were foundational in their more recent work.
Fania Davis noted how important it was for her to leave the "hyper-masculine" and "hyper-rational" world of civil rights litigation to study traditional healing techniques with a Zulu Healer. Burnham, whose current work focuses on cold-case lynching files from the 1930s and 1940s, told the audience that it is incumbent upon us to preserve the stories from our past and to keep them accessible for people in the future. She said that the work she does today is rooted in a desire to understand what her parents had gone through, so she could better understand the current civil rights battles. Angela Davis cited incarcerated or previously-incarcerated women as a major source of wisdom for her abolitionist work. 
The event — which also included a question and answer period — was hosted by Dalhousie's Restorative Lab and the Black Cultural Centre in collaboration with the Elizabeth Fry Society of Mainland Nova Scotia, the Indigenous Blacks and Mi'kmaw Initiative at the Schulich School of Law, VOICES (Victims of Institutional Child Exploitation Society), and the Criminal Justice Coalition — Schulich School of Law. Sobeys provided sponsorship for the evening.
See more images from the evening below: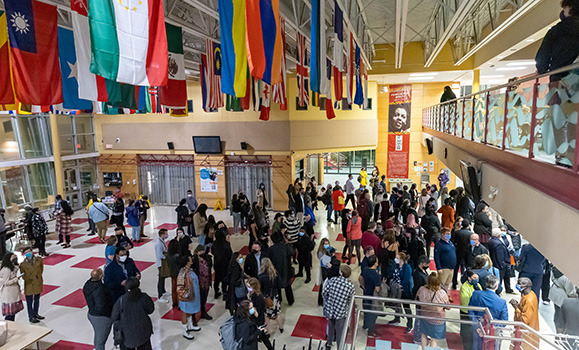 Attendees in the atrium at Citadel High School.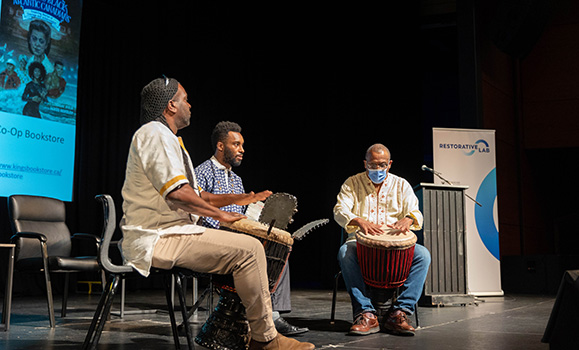 To set the atmosphere for the evening a local drumming group, Drummers from Home, welcomed the audience.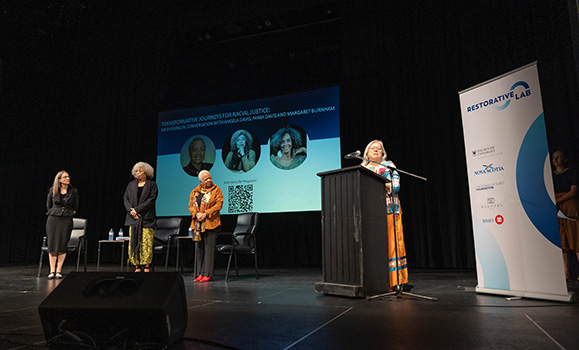 Once everyone was seated, Indigenous Elder Geri Musqua-Leblanc performed a blessing as a reminder of how to live justly together on this land.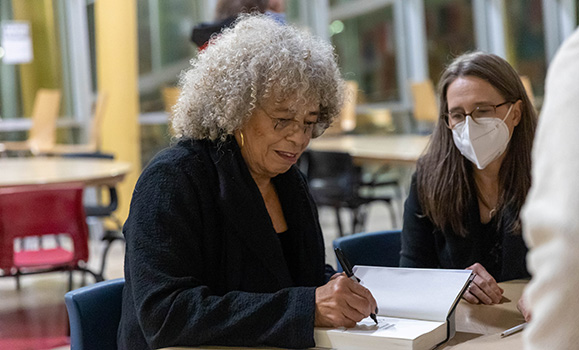 Angela Davis signs a book for a fan.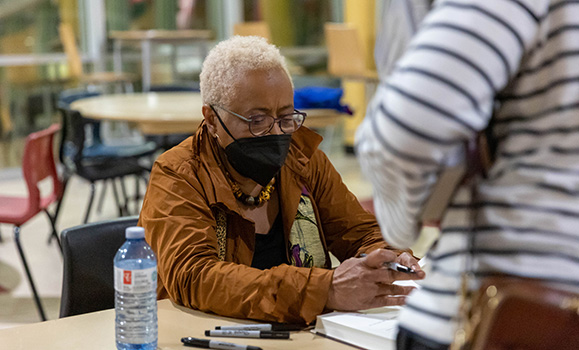 Margaret Burnham signs a book for a fan.