This article is part of a series focusing on fall grads of the Dalhousie Class of 2022. Read all our profiles here as they are published, and visit the Convocation website for more information and to access the live webcast. 
For most students, the winter break is a time to fly somewhere warm, catch up on sleep or just enjoy a relaxing week free of classes.
For Mykola Prus, the last week of February 2022 marked the point in time where Russia invaded his home country of Ukraine, starting a war that has lasted eight months and counting.
"Everyone tried to believe it wouldn't happen," Mykola says, looking back at the days leading up to the invasion.
A Bachelor of Science student, he stayed in Canada during the break, constantly monitoring the Telegram messaging app for updates from back home. He recalls seeing a large number of posts on the eve of the invasion talking about missile attacks coming from Russian forces. With the six-hour time difference between Halifax and Ukraine, it was the early hours of the morning in his hometown of Zaporizhzhia as he monitored Telegram for updates late at night.
"I called my parents and woke them up and said 'Hey, do you see anything going on around you?' and 20 minutes later they started hearing explosions not that far away."
Family close to the frontlines

Mykola's parents and sister, as well as numerous grandparents, aunts, uncles and cousins, live in Ukraine and have remained in the country since the war began. He notes that his father is considered an essential worker due to his position at a bank and that members of his family have volunteered in the efforts to help support the Ukrainian army. "I'm very proud of them for staying in Zaporizhzhia, which is 40 kilometres from the active frontline."
He was interviewed for this story in early October, a time when there were daily news reports of missile strikes in the city. Based on what he has heard from back home, the nightly missile attacks have made it so Zaporizhzhia residents "can't sleep" and there are worries over what could happen should the area's nuclear power plant be hit. "Despite all that, I'm very proud of the spirit that remains in my parents and in the Ukrainian army — they are our heroes."
He's also appreciative of the fact that Canada and other western countries have supported Ukrainian refugees and those displaced by the war by sending humanitarian aid, pointing out that friends have seen firsthand boxes of supplies with Canadian labeling on them.
Despite the ongoing conflict, his mother, Oxana, and father, Gennadiy, were granted permission to fly to Canada and attend Convocation. The trip was their first time back in Canada since dropping Mykola off at Dal before his first year.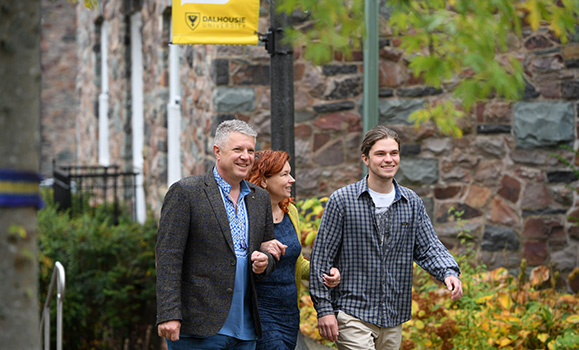 Recommended reading: Twin sisters upended by war in Ukraine feel the love
Struggling to focus

Mykola is graduating this week with a Bachelor of Science in marine biology and a certificate in aquaculture and the environment. Looking back at his best memories from his time at Dal, he notes living in residence at Shirreff Hall, which was close to his classes in the Life Sciences Centre, conducting experiments in the Aquatron and working as a demonstrator.
While he says he was a strong student through most of his program, his academic performance suffered during his final semesters as his mind was understandably focused on events back home following the invasion.
"I was so distracted," he admits.
He reached out to Patricia Laws, the Faculty of Science's assistant dean, student affairs, who he was introduced to in his first year at a time when his GPA was dangerously low. "She helped me so much through my whole university career," he says. "She directed me to programs to develop my study skills and improve my English." After those early struggles, Mykola became a strong student, even regularly appearing on the Dean's List for students with a term GPA of 3.70 or higher – "at least until that last term," he jokes.
He says that during his final months as a student he didn't have to ask for special treatment — he recalls all his professors reaching out to offer help, usually in the form of extensions for assignments. Through Laws's guidance and the accommodating nature of his professors, he was able to meet the requirements to graduate this fall. "There are so many people to thank," he says.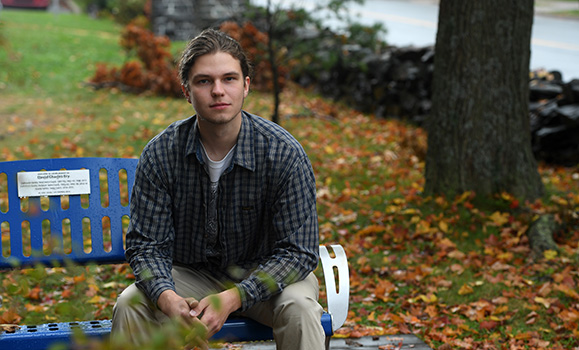 Looking to the future

Once his parents return to Ukraine after watching him cross the Dalhousie Arts Centre stage and collect his diploma along with his Class of 2022 peers, Mykola plans to remain in Canada and look for a job, ideally something in the aquatic sciences field, an area that has become one of special significance to him.
He notes that over the course of the war, the Russian army has purposefully destroyed several waste cleaning stations on the Dnipro river, which has the consequence of increased environmental pollution and a lack of clean water. "Exploring aquatic ecosystems and being in a Canadian community of scientists employed in this area would be the ideal plan," he says.
Mykola admits he isn't sure that his degree would be useful right now with Ukraine in the midst of war, but any skills and experience gained while working in Canada could go a long way toward him supporting rebuilding efforts in his home country once the war ends.
"One day, hopefully yes, but right now I'm focused on staying in Canada and finding a job. If it's something that helps to develop my skills, that would be awesome."