When shelling broke out in her home city of Kyiv in Ukraine last spring, Mariia Lytvynchuk did what she often does when moved by something: she wrote.
"I wrote that it was like I was in the war field," she recalls.
While Mariia and her family left home just days later to stay with relatives in a town on the border with Poland, living in a city under siege — even temporarily — seemed to warp how she experienced the passage of time.
"It feels even now that I was in Kyiv for one or two months when war started, but we were only there for five days. I don't know why, but it felt very long," she says.
It was the first of many twists and turns this year for Mariia, her twin sister, Yuliia, and their mother, which ultimately led them here to Halifax — Mariia entering the Creative Writing program at Dal and Yuliia pursuing her passion for visual art at NSCAD University.
What they left behind in Ukraine was substantial: family, friends, personal belongings, and a community and country devastated by war. What they encountered upon arrival in Halifax was life affirming: an outpouring of support from individuals who barely know them.
More than $30,000 in donations have been raised from 170 people so far, largely through a GoFundMe campaign, to help the twins cover the costs of living and attending university in Canada. Many members of the Dal community have donated, as have others across Canada — from students to an 85-year-old military veteran.
Recommended reading: 'For us, the internet is a kind of weapon': Ukrainian president issues plea for student support in virtual meeting
Advancing their future

Now, as the campaign enters its third month, organizers are focused on hitting their $40,000 target so they can unlock matching funds from a particularly generous donor.
"We have a December deadline to raise the full $40,000 that an anonymous donor has promised to match," explains Christina Luckyj, a recently retired Dal English professor who is co-leading the fundraising effort with Heather Jessup, an assistant professor of English at Dal.
That $80,000 would provide a massive leg up for the twins, whose total tuition and residence costs for the four years of their undergraduate degrees would be at least $150,000. While they have received some scholarships and bursaries, they are ineligible for student loans as they are in the country on Canadian-Ukraine Authorization for Emergency Travel (CUAET) visas.
Bruce Greenfield, a retired English professor from Dal, considers his donation a small way to contribute to something positive in response to Russia's massive violent attack on Ukraine.
"At least two young people will be able to do something to advance their own futures and thus potentially prepare for a better post-war future in Ukraine or wherever they choose to live," he says.
For Kathleen Crandall, a British Columbia-based writer, supporting Mariia and Yuliia was also a way to help Dr. Luckyj — a long-time friend — and fulfill her own wish to assist in some way during the conflict.
"I know that Christy has always been attached to her father's homeland, and I knew that she was hoping to find a way to help when the war broke out," says Crandall. "Helping the girls seemed like a way to honour Christy in her quest to help."
Recommended reading: At Dal gathering, a silent show of resolve for peace in Ukraine
The path to Canada

Mariia and Yuliia connected with Drs. Luckyj and Jessup in August after Qiuling Wu, a student advisor at Dal's International Centre, put them in touch to answer a few questions about programs at Dal.
The twins had been planning on post-secondary studies in Ukraine. But as the conflict dragged on, they began to consider their options abroad, including schools in Japan, the United States, and Canada. They eventually settled on Halifax, in part due to the support they'd been receiving from Drs. Luckyj and Jessup before they'd even decided on where to go.
"We knew if we went to Canada, we would feel more comfortable and safer," says Mariia. "If we have troubles in Canada, they will have us 100 per cent."
Others in the post-secondary community in Halifax stepped in to help, too, as the teens and their mother transitioned to life in Canada. Upon arrival, they were offered a two-bedroom apartment on the Mount Saint Vincent University campus where they quarantined for nearly two weeks. Clare Goulet, an English instructor at the Mount and coordinator of the university's writing centre, pitched in to help Drs. Luckyj and Jessup stock the apartment with groceries, art supplies, and books.
Carrie Dawson, dean of Arts and Science at the Mount, and her colleagues also organized a gift basket that included school supplies and about $1,100 in gift cards. Dr. Dawson's son, Quinn, a Dal student, helped the family move into the residence apartment.
"I have been deeply impressed and moved by their resilience and positive energy,"Dr. Dawson says of the twins. "I'm lucky to be in a position to meet them and even luckier to have got to know them."
Giving thanks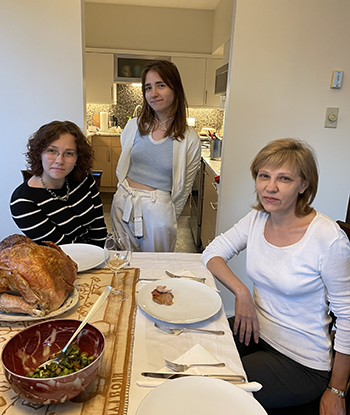 Adjusting to school and life in a new country has brought its share of challenges, too. Mariia and Yuliia miss home, friends, and family (including, for Mariia, her cat) and are adjusting to speaking and doing schoolwork in English.
Chatting a couple days before a Thanksgiving dinner at Dr. Luckyj's house earlier this month, though, it's clear they appreciate the swell of support they've received from donors and others.
"We can just say thank you to them," says Yuliia.
Pictured (l-r): Mariaa, Yuliia, and their mother, Iryna.
Help support Mariaa and Yuliia on GoFundMe. For those who'd prefer to donate another way, please contact Christina Luckyj at luckyj@dal.ca.