Only a week has passed since Russia initiated its assault on Ukraine, yet the conflict's toll has already proven heavy: more than a million people displaced from their homes so far, thousands of people believed to be killed or injured, major cities reduced to rubble.
Far from the frontlines, a small group of people gathered on Dal campus Wednesday to show their support and shared concern for Ukraine in the face of an intensifying war.
Robyn Brown-Hewitt, acting coordinator of Dalhousie Multifaith Services and organizer of the Prayers for Peace event, encouraged attendees to draw strength from each other and from prayer.
"To gather together at this time is an act of resistance. Resistance to the violence, the divisiveness, the indifference. To pray for peace in this moment is an act of resolve. Resolve against apathy and fear or despair."

Attendees at Prayers for Peace.
Related reading: Decoding Russia's attack on Ukraine

Amidst outcry, silent contemplation

The international outcry against Russia has grown increasingly fierce around the world in recent days, with the U.N. General Assembly denouncing Russia's actions in an historic vote, the International Criminal Court opening an investigation into possible war crimes committed in Ukraine, and national monuments and landmarks around the world lit up in yellow and blue — the colours of the Ukrainian flag.
Amidst the rising furour, Brown-Hewitt invited attendees to join her in five minutes of "contemplative silence."
"We'll pray in silence, because silence is deep enough to hold all of our prayers," she said, after noting the diversity of beliefs, practices and religious traditions represented within the Dal community.
"Our silent prayer today will provide a space to reflect on compassion and to hold onto hope. In this space, we will hold close all who have been victimized by the war in Ukraine, those who have died and been injured, all those fighting to defend themselves, those who have had to leave their homes, all who are now refugees."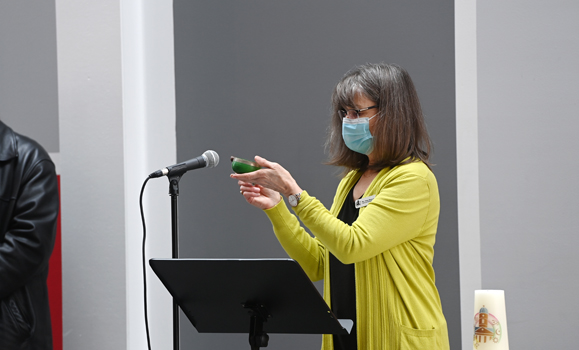 Robyn Brown-Hewitt sounds a chime to begin silent contemplation.
The power of community

Brown-Hewitt, who is campus minister for the United Church of Canada, was joined at the event in LeMarchant Place by other members of the spiritual support team at Dal, including Rabbi Gary Karlin of the Shaar Shalom congregation, Reverend Craig Cameron of St. Mary's Cathedral Basilica and Father Ranall Ingalls of King's College chapel. George Doyle-Bedwell, a representative of Dal Multifaith Services with the Indigenous Students Centre, offered an opening welcome.

Andre Mereschuk, president of the Nova Scotia branch of Ukrainian Canadian Congress, attended the event and shared his appreciation for the support.
"What is going on right now in Ukraine is genocide of Ukranians, of our country, our people, civilians, soldiers, children, everyone. I'm speechless. We are watching and following the news, and we speak every minute with our families and friends there. I want to thank Nova Scotians, Canadians, people around the world — we feel your support. Ukranians are very strong and we will fight for our independence."
Related reading: War and Peace in Ukraine