Yuri Leving is Professor at the Department of Russian Studies. He is the author and editor of numerous books on Russian literature, film and culture.
Dalhousie University has a long tradition of teaching Russian literature, history, and culture to several generations of Canadians. As scholars and students, we have dedicated our professional lives to the study of Russia and East Europe. Along with my colleagues in Canada and abroad, I condemn the unprovoked Russian invasion of Ukraine as a direct violation of international law. The distortions of the situation circulated on Russian state media are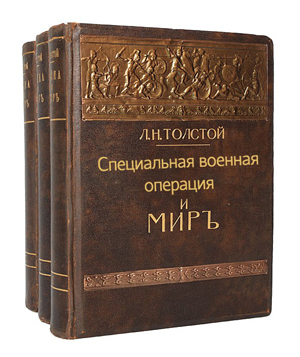 appalling. Russian officials refuse to call this bloodshed 'war,' resorting instead to Russian President Vladimir Putin's misleading euphemism, "a special operation." A meme circulating social media this morning: a cover of Tolstoy's novel, War and Peace, with the word "war" photoshopped to read: "Special Operation and Peace." (Shown right)

I have been teaching at the Department of Russian Studies for sixteen years and in my courses on Russian politics I have continuously stressed the miraculously peaceful dismantling of the Soviet Union. In 1991, the "Evil Empire" (to quote U.S. President Ronald Reagan) ceased to be, or so we thought. It turns out that the dismantling was neither miraculous nor peaceful. It is ongoing, and the pangs of the Cold War are still palpable three decades after the collapse of the USSR. The past five days, we were witnesses to yet another phase of the communist breakdown amidst the aggression led by former KGB operative, Putin.  

We are unable yet to grasp the scale of humanitarian crisis in Europe, nevertheless, it is evident that there are thousands of dead on both sides of this conflict. Ylva Johansson, the European Union Commissioner for Home Affairs, said that the EU needs to prepare for millions of Ukrainian refugee arrivals. Soon after, Canada announced that the country is closing its airspace to Russia. Vladimir Putin put Russia's nuclear forces on high alert on Sunday.

Here at home and in safety, my heart aches as I receive emails from my students and teaching assistants whose parents and beloved ones are in Ukraine, under attack, at this very moment. In downtown Halifax, young Canadians wave Ukrainian flags.
Related reading: Decoding Russia's attack on Ukraine

There is a sense of confusion, fear and anger among our fellow citizens provoked by this war in Europe. It may seem that we are far away, but the impact is felt here at home. We grieve for the victims of the ongoing attacks and for those killed over the past eight years since the Russian annexation of Crimea. We stand with all those in Ukraine, Russia and beyond who oppose this war. As one of the oldest Slavic programs in Canada, we strongly believe in the future of cooperation between our people and express our solidarity with the citizens of neighboring states who stand for peace and freedom.

As you read these lines, people are dying in Eastern Europe. The official spokesperson of Russia's Ministry of Defense refuses to disclose the number of wounded or killed in action. However, the Ukrainian media reports about 5,000 Russian soldiers killed within the first four days of carnage. We can assume that the Ukrainian casualties are at least comparable to this figure. For comparison, according to the U.S. Department of Defense casualty website, there were 4,500 total deaths (including soldiers both killed in action and non-hostile) as a result of the Iraq War. The Iraq War lasted almost nine years while Russia has begun its invasion on February 24, and it is already the largest conventional warfare operation in Europe since the Second World War.

Stop the war. Help Ukraine. Save the world.