There was no textbook, and the teacher was outfitted in army fatigues.
The lessons delivered came courtesy of Ukrainian President Volodymyr Zelenskyy, who carved an hour out of his busy life as a wartime leader last week to meet and engage in conversation with students, faculty and staff from Canadian universities — including Dalhousie.
The discussion centred on the brutal toll of the ongoing conflict in Ukraine, the country's quest to protect democracy, and what Canada, universities and students can do to support the country in the face of continued Russian aggression.
"Today, the walls of our buildings are transparent, literally. They are destroyed by Russian missiles and bombs," said President Zelenskyy, attending virtually via video conference from Ukraine. "The rules of the game do apply but have different meaning — these are now the rules of survival."
UN estimates released this week show 10,631 civilian casualties (4,731 killed, 5,900 injured) since Russia launched its offensive in Ukraine in late February, while Ukrainian military figures from early June suggest more than 10,000 Ukrainian soldiers were killed in the first 100 days of the war.
Hosted by the University of Toronto, the event linked up scores of people from a dozen universities across Canada. Dal and other schools organized their own in-person gatherings, which were then channeled into a central virtual meeting with Ukraine's leader. The entire meeting was open for viewing by the public as well.

Watch: Ukrainian President Volodymyr Zelenskyy addresses Canadian university students
The internet as 'weapon'

President Zelenskyy took several questions directly from students during the event, sharing his perspectives on everything from the heroism of the Ukrainian people and reforming global institutions such as the UN to the power of the internet as a "weapon" in shaping the outcome of the conflict. 
"For us, the internet is a kind of weapon because by means of it we can show what's going on in Ukraine, who conquered us, how many victims or casualties we have and what has Russian aggression left behind. And this is a powerful instrument," he said.  "To be honest, there's a big question about what matters more, what kind of weapon protects us more. Information . . . can sometimes give a bigger blow than a weapon."
President Zelenskyy thanked Canada and universities in the country for supporting Ukraine and its people and encouraged attendees to continue pushing for support — on social media, at rallies and in other ways — as the war persists.
"We need weapons, we need financial support, we need humanitarian support and we need permanent 24/7-sanction pressure. And no matter how many times I repeat this, this will never be one too many while the war is going on," he said.
"Please don't become tired because of the war and with Ukraine — this is something we need you for."
How Dal has offered support

Dalhousie has centred its own efforts to help Ukraine in three primary ways: supporting students and scholars in Ukraine, expressing solidarity with country, and fostering dialogue about the conflict.
With regards to the first area, Dalhousie has waived application fees and offered increased offering increased flexibility with respect to payment deadlines and options for students. The university is also expediting the processing of applications from students from Ukraine and surrounding countries and offering special consideration for Ukrainian students in Dal's scholarship/financial aid pool with a percentage of awards designated to Ukrainian students at risk.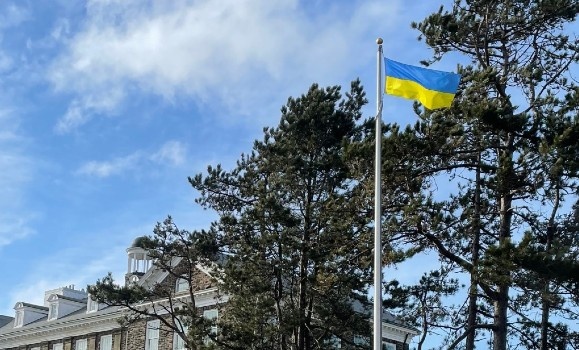 The Ukrainian flag shown flying on Studley Campus.
When it comes to showing solidarity, Dal currently flies the Ukrainian flag on both its Halifax (Studley) and Truro campuses. It also held a vigil earlier this year to convey its support. 
Several Dal events organized this year have encouraged dialogue about the Russo-Ukrainian war and helped raise awareness about its impacts on Ukraine. 
You can learn more about these and other ways Dal is supporting Ukraine and its people in this column by Dal President Deep Saini published earlier this year.