A Mi'kmaw artist from Millbrook First Nation recently completed two murals in Cox Institute on Dal's Agricultural Campus in Truro — a small step in a much bigger plan to help Indigenize the campus to be more welcoming and inclusive for all learners.
Lorne Alexander Julien's most recently completed mural, seen in pictures above and below, can be found near the entrance of West Cox, while his other work adorns the new Indigenous Student Space in East Cox. 
A self-taught artist specializing in rich vibrant colours, Julien creates murals in schools, institutions, and public spaces to Indigenize and create safe spaces that are inclusive, respectful and honour Canada's Indigenous Peoples. He says he believes incorporating Indigenous art in public spaces is a simple act of reconciliation and moving forward in a spirit of mutual respect and understanding. 
"The painting reminds us to honour the cycles and respect all the elements when we work with the land," explains Julien. "The centre of the mural shows the medicine wheel, representing the four colours, the four seasons, the four directions. There are many teachings in the medicine wheel. It can also represent the circle of life."
Symbols of significance

Whale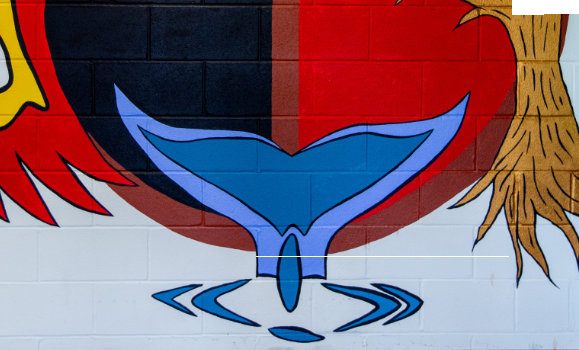 "The whale (putup) represents water and all the water cycles and the life that depends on the water. The tree is connected to the earth and the air.  We breath in what the trees breathe out and vice versa, that is how we survive," he added.
Eagle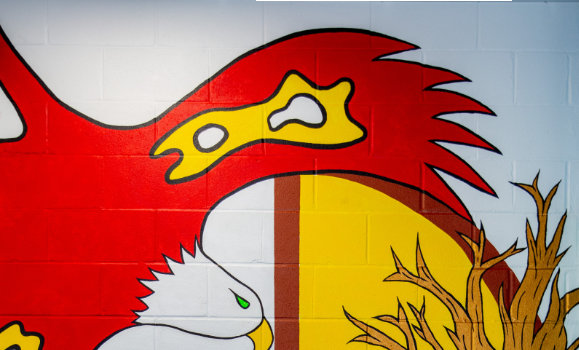 "The eagle (kitpu) is an important element in my paintings, they are protectors and represent love. The hummingbird (militaw) symbolizes beauty, joy, and playfulness."
Moose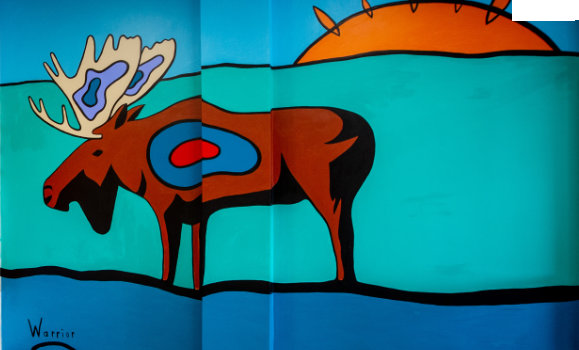 "The moose spirit (tiam) coming into the mural from the side is a woodland creature, tiam stands for protecting habitats and the need to share the earth in a good and respectful way."
Inspiring hope and balance

Lorne's Mi'kmaw name is 'Warrior on the Hill' (Sma'knis), which was given to him in his youth when he learned about the spiritual way of his people. His artwork is a form of prayer, providing healing for himself and to the world. His intention is to inspire hope and balance within the universe. 
These two murals ensure Indigenous students can see their community honoured and reflected in spaces they frequent.
"The Indigenous Student Space in East Cox is always being used by students and their allies, often for the meeting of the Indigenous Student Collective and a place to host Indigenous events," explains Keah Gloade, manager of Indigenous students.
Recommended reading: Dal's new Indigenous community room — Ko'jua Okuom — offers a space for reflection and celebration
She says students take great pride in the new artworks. 
"It has important meaning with colours reflecting residential schools, animal symbolism for the concept of love and family as well as representing the four pillars of the medicine wheel," she adds.  "I'm so proud to have such a meaningful space on campus feel complete with the addition of the mural for our Indigenous students. I'm excited for the students to return in September and see the addition of our newest mural in West Cox, they will feel valued and appreciated in their Indigeneity on campus- which is reconciliation in action."
Gloade works to help foster success for Indigneous students by providing specialized advising and support. Additionally, she serves to assist faculty and staff to create a welcoming and inclusive campus environment.
Indigenizing the curriculum and providing support
 
This includes working to Indigenize the curriculum of several first-year courses as well as select second year courses. The Faculty of Agriculture is also developing a series of co-curricular activities on campus with an aim of increasing Indigenous cultural awareness and inclusivity.  
The incorporation of Indigenous perspectives and ways of knowing in curriculum, policy and on campus landscapes will ensure administrators, faculty and staff have a broader understanding of Indigenous culture, values, traditions, and customs.
The Indigenous Student Access Pathway (ISAP) has also been designed and delivered as a one-year program exclusively for First Nations, Metis and Inuit students who would not otherwise be eligible for admissions and who would benefit from dedicated supports while transitioning to a university environment.
Throughout the student experience there will be opportunities for community involvement, access to Dalhousie's Elders in Residence program and more.  By immersing students in a strong and supportive network of faculty, staff, and peers, the ISAP aims to provide both the tools for navigating post-secondary and a culturally supportive environment needed to succeed.
Recommended reading: Residential school survivor Jim Prosper's extraordinary book collection finds new home at Dal
'We are connected'

Julien's mural in the Indigenous student space, not pictured here, has been well received by students.
"It makes our room so inviting, its nice to have visual representation of our values," said Kylie Harquail Simonson, president of the Indigenous Student Collective. "No matter where we are, we are connected."
The student space also provides a second space for smudging — an important cultural practice — on the campus.
The Agricultural Campus is also uniquely situated among 13 First Nations communities and in 2016 permanently installed the Mi'kmaq Grand Council Flag — a first for a Nova Scotia university — acknowledging the campus sits on Traditional Territory of the Mi'kmaq people
"Our campus is a place of learning for everyone, no matter their background, culture, gender or sexual orientation," said David Gray, dean of the Faculty of Agriculture and campus principal.  "It is crucially important that members of our indigenous communities see themselves here as part of our community and feel welcomed. It is also important, as a place of learning, that we embrace the knowledge of our indigenous elders and share with all."
Now, check out photos from this year's campus Mawio'mi: Culture, colour and community on display