Of the dozens of classes Rick Ezekiel took as a psychology and neuroscience student in the mid-2000s, it was a philosophy course called Evil that ignited his imagination the most. Then a budding academic, he had always enjoyed studying philosophy — but this course was different: it jostled his thinking on a deeper level.
"The readings in the course revealed how humans have the capacity to do evil and what conditions created the likelihood that humans would do that," he recalls. 
Conversely, the course also expanded his understanding of how conditions can be shaped to encourage other forms of behaviour, too, such as kindness and compassion. "It influenced my thinking from a psychology and education perspective," he says, "acknowledging what we have the capacity to do as humans and building conditions that bring out the best in people and bring out pro-social behaviours in people."
The insights lingered in Ezekiel's brain, even as he sought out and acquired new perspectives during a Master in neuroscience and PhD in applied psychology. He also began to dip his toes into the world of higher-ed leadership and policy with several roles at Western University and, most recently, Toronto's Centennial College. Over time, the two worlds began to converge in important ways. 
Now, as he settles into his new role as vice-provost of student affairs at Dalhousie, Dr. Ezekiel brings this wealth of knowledge and years of experience as a senior leader in the post-secondary sector to the table at a critical time of transition for students. After years of tumult spurred on by the COVID-19 pandemic and a tricky stop-start return to in-person activities last year, many learners are understandably frazzled. But Dr. Ezekiel says there's also a sense of promise and hope for the future, which he will seek to tap into as the next academic year approaches. 
Below, Cambridge, Ont.-born Dr. Ezekiel shares his thoughts on everything from student mental health services and increasing access to university for individuals from underserved communities to the importance of extracurricular life and community in the student experience. 
Dal's student population has grown rapidly in recent years, jumping to just under 21,000 students now. What can a growing university do to ensure students continue to feel connected and that they belong to a community?  
It's hard to build community in the context of 21,000 people. What's key is that we look at ways to make 21,000 people at an institution feel much smaller. In my mind, that comes down to the spaces we create within the institution. One of those spaces is residence, which is both a home and a place to meet new friends and make community. Another place, of course, is the classroom. We need to think about ways we can get students into smaller classrooms that include opportunities to interact meaningfully with each other and faculty. A lot of the research on sense of belonging looks at that: if you even know one faculty member or staff member at the institution, if you feel like you have kind, supportive and engaged interactions with even a handful of other students, you start to feel that sense of place and identity with the institution. 
I think that's something we have to be intentional about: How do we both grow our existing spaces and be clear in how we design them in terms of classrooms, residences, programming outside of the classroom, student societies, clubs, etc.? And, in all that, keeping in mind that element of human connection as a priority. The learners in front of us are in fact humans bringing the whole diversity of their experiences and identities and life before Dal with them into the university. For me, a goal is that there are those spaces that are connected and supportive, where students can be their full selves within Dal and can learn from each other.
We know that the physical and mental well-being of students is critical to their overall learning and student experience. We also know that the COVID-19 pandemic took a toll on students and their mental health. With all that in mind, what defines success for you now when it comes to providing this kind of support for students?  
We have a very responsive and agile mental health service for students who are experiencing acute mental health issues and students in immediate distress. There's a significant body of literature that tells us that if a human doesn't get what they need early on when they are experiencing a mental health issue, they're less likely to engage in future ever again if there's a need because there's a feeling of a need that's gone unmet. One thing I value about what the Student Health and Wellness team at Dal has done is they've actually built this collaborative care model where we sustain same-day service that's effectively and skillfully triaged to ensure students in acute mental distress are able to access that service same day or next day. That's above and beyond what most people have access to in terms of mental health services. 
The other thing we need to do is think about building a community of care. As we think about evolving discourses around mental health and mental illness, we've been seeing good things around de-stigmatization of mental illness. What we've also seen to some degree is the pathologizing of typical distress and emotions. Emotions that fall in the range of things that are typical to experience in reaction to a difficult situation, whether that be processing grief or exam stress and overcoming failure. Something we need to do to build resilient communities is to acknowledge the full range of human emotions as fundamental parts of the human experience and build communities where we support each other through that. We know that most folks aren't likely to reach out to a professional first. It's usually that soft-landing space, that conversation with someone I already have a connection with. This also ensures that we can reserve intensive professional supports to be responsively available to students navigating significant challenges with mental illness.
The COVID-19 pandemic upended higher education in many ways. What did you learn from the experience in your previous role that you think will prove useful in your new position here at Dal?
Lots of things. One observation I made and kept reflecting on throughout the pandemic in working with staff and students was that through the loss of connection and sharing of physical spaces, we lost some social accountability to each other. I kept seeing more and more conflict emerging, whether that be conflict in the workplace, or conflict between loved ones or seeing actual altercations on the street in different ways. I think there's something that happens when we don't feel that obligation of kindness to each other because we don't necessarily see each other every day — something that can bring out challenging behaviours and less pro-social behaviours in communities. So, how do we build back and express that goal of being a community grounded in kindness and care to each other? As we are coming back to campus, I think that's important.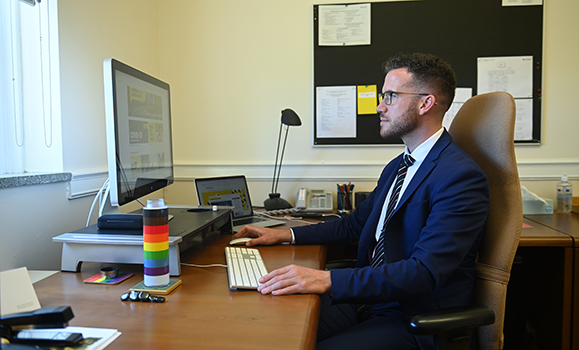 Another thing we missed was play, and those collective experiences of being together in fun ways. And that connects to the first point. We are not playing together if we are not interacting in joyful ways, and then it's much harder to feel well ourselves and to have that come out in our relationships. So, I think a learning for me that I want to bring into this year is valuing that and being intentional about it: collective experiences and play are not an afterthought. They are core needs and we need to value that being a workplace, being a learning institution, being a place where students are gathering again. 
Another learning is that we can do hard things and we can find ways to do them thoughtfully. We have an obligation and purpose as a university to not let our worries, fears and anxieties get the best of us. To come back to the realization that 'Okay, we have challenges we face, but we have so many tools at our disposal to face them.' Something I'm mindful of is how we intentionally have conversations that re-instill hope and take a real historically grounded look at where we are now compared to where we've been before as humans. To me, there is a lot of hope and opportunity, and hope is what calls on us to do hard things in effective ways.
How do see your academic background in neuroscience and applied psychology influencing how you work towards your goals in this role?
Throughout my career, I've always been actively doing research and working in higher education administration, policy, and leadership spaces. To me, they've richly informed each other. I've asked better questions as a researcher that are relevant to the actual issues we are facing, and that our students are facing. On the inverse, I was able to identify more effective and impactful policy and practice solutions in my work as a result of studying these issues and taking a systematic approach to understanding them. 
My specific research areas, I've looked at the development of brain networks involved in attention and cognitive control. I also look at how mental health impacts learning, particularly in students with marginalized identities and the additional stress and burden that comes with holding marginalized identities. A big goal of that for me was to demonstrate these realities by using big data and empirical science — to convey that these are issues, so let's stop having the debate about whether there are barriers in our learning environments. There are. There's no question about it. So, let's get to the work on the solutions, let's find the mechanisms that are driving these disparities, and that's the orientation that I bring. 
Many conversations about equity, diversity, inclusion, and access are rightfully fraught because people have experienced harm, and I have this commitment to ensure we create space to hear people's lived experience. And that we also translate that, through good research and effectively understanding the mechanisms driving disparities, so that we can get precise solutions that start to reduce those disparities and that we measure the impact of solutions we put in place. 
Learn more: Student Affairs and affiliated services
We've seen a lot of work in recent years by universities looking to increase access and retention of students from underserved communities. In your experience, what are some of the key elements that can help ensure success in this endeavour?
One thing we always need to look at is that socio-economic status is a key mechanism driving different lifespan development outcomes for students across a range of different identity groups. We always need to have that lens of what might be socio-economic barriers to participation: financing, having to work multiple jobs impacting academic performance and learning; having a safe home environment; having access to food, etc. 
We have to be mindful of the role we can play in supporting students who might be experiencing some of those barriers to access. Another is thinking about that idea of a sense of belonging. Sense of belonging contributes to well-being and learning. A factor that influences that sense of belonging is that students can see themselves represented in our institution. They can see their cultures, the ways they identify represented within our faculty and staff and leadership at the institution. That we create conditions where students can organize spaces where they can see themselves in their peers as well and form collective meaning around the issues they are navigating.
From an access perspective, we also have to think about engaging much earlier. There is mistrust because we have not always been an accessible institution — nor have any higher education institutions. Acknowledging that we are starting at a place of mistrust and to build that trust back with Indigenous communities, African Nova Scotian communities, and a range of folks with different marginalized identities. We have to be working to connect with communities where they are at. Connecting with students in the K-12 education system such that Dal is a place that they have a good image associated with that is willing to invest meaningfully in their lives. At Dal, there are so many amazing initiatives underway. And I think people are motivated to do good work in this space.
Universities focus a lot of energy on the experience of students in the classroom, but extracurricular activities are also incredibly important to a student's experience. What role do universities have to play in this aspect of the student experience? 
We need to realize that the co-curricular environment is a big part of the university experience and value it. I often think if we were to ask the question 'How are students different after they graduate and what is contributing to those differences?', the classroom is essential and super important, as are the lives they've been living for those four years. And I think we have an opportunity to cultivate the conditions where students can make meaningful connections outside of the classroom. One of the richest parts of this involves how we support students in their own peer-to-peer initiatives in student leadership, and in planning ways for students to connect through peer led initiatives. Both are supporting students in building their leadership skills, their ability to organize and support their peers but that also creates richer experiences where If I'm a student, and wanting to find meaningful connection, I usually don't want to talk to a bunch of adults in the room. I want to talk to people who are navigating similar things as I am.  
We know that the student experience itself deeply impacts learning. The experience in the classroom informs what students might be motivated to pursue outside. If the classroom builds meaningful connections in the academic environment, that's going to translate to how students can connect with the friendships they are building outside the classroom. We're automatically building so many safety nets and supports and a rich set of conditions where students can thrive in the classroom and also personally and in their future endeavours.
Further reading: Celebrating student leaders — Here are Dal's 2022 IMPACT Award winners