This article is part of a series focusing on the grads of the Dalhousie Class of 2022. Spring Convocation runs from May 24 to June 3 in Halifax and Truro. Read all our profiles here as they are published, and for more information visit the Convocation website.
For Enemona Agada, the choice to come to Dalhousie was "a family thing." He grew up in the south of Nigeria, in a city called Port Harcourt. His sister, who graduated from Dal's Psychology program, spoke so highly of the university that he decided to change his original plan to go to school in the UK and see Halifax for himself.
"The campus is beautiful," he says. "And the air. The air is good."  

It reminds him of Port Harcourt: ocean, seafood and a small community where he can get to know people easily. Looking back on orientation week, he remembers how exciting it was to meet new people, explore new places and feel the energy in the air. He lived in residence for his first year, joined a recreational soccer team and made friends quickly.

Enemona, who goes by Mona, was attracted to the Management program because he was curious about how things like owning a business and commerce work. He describes himself as someone who "likes to work with people, work on teams and be involved."

The program is designed for creative students who want to learn foundational business concepts like innovation, leadership and marketing. "It really made me feel like I was getting ready for the next step," he says. Mona learned how to communicate in a business setting, manage conflict, network and build teams — skills that he started putting to work in the restaurant and bar industry, where he worked throughout his degree. "It gave me a good sense of what people in management should actually do."   
A turning point

Working and studying full time wasn't easy. Like many students, Mona was sometimes juggling more than one job on top of five courses. His grades started to drop and he didn't know what to do.  

He turned things around when he started asking for help. He talked to Margie Muise, Management's program administrator, who helped him adjust his course schedule and access other resources at Dalhousie.
"I walked into Margie's office, and in an hour she helped me solve things I was struggling with for years," he says.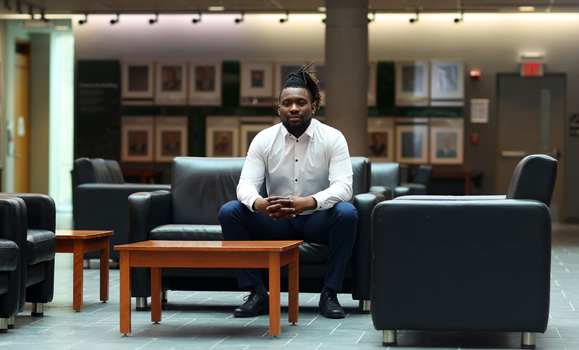 He worked with someone to improve his study habits, reached out to his professors, talked to his family and received the support he needed. "My sister was amazing throughout the process," he says. "I thought professors were scary people that you should never talk to, but they're here for you."  

In the end, Mona spent seven years in the program, and he encourages other students who are balancing multiple responsibilities to consider this part-time approach.
"Everyone finishes at their own pace," he says, noting that asking for help as early as possible is the best thing you can do. "When you feel like you're drowning sometimes in all these things, it's really hard to ask for help. But you're not alone in this."
An inspiration

Margie, a long-time champion of students who need support through the program, remembers Mona fondly and is excited to cheer him on as he walks across the stage at graduation.
"To me, his perseverance is an inspiration," she says.

Mona's final two years in the program were completed during the COVID-19 pandemic, but by then he was up for the challenge. "We should be able to put that on our résumé," he jokes. "Bonus points!"  

Now that he's graduating, Mona is looking to apply his curiosity, perseverance and affinity for teamwork to a business or project he's passionate about. "I know I want to work with people," he says. "If I'm really into something, I want to see it through, I want to take that idea or invention and figure it out."