Lee 'Marion Shancez Cain was an energetic and popular student at Nelson Whynder Elementary School in North Preston, where he was known for his big smile, love of basketball, and his "never give up" attitude. Now he is remembered with a hand-drawn portrait displayed on the wall of the school and pizza, his favourite food.

Mar Mar, as he was affectionately known, was a grade 3 student at Nelson Whynder and a patient in the Faculty of Dentistry's pediatric clinic, located in the school. He died in a tragic shooting incident on December 21, 2021 when he was just eight years old.

On April 27, 2022, a small ceremony took place in the school's library and dental clinic. Juliette Thomas, pediatric dental clinic assistant, organized the event and said that she felt it was important to gather everyone together to remember and honour Mar Mar.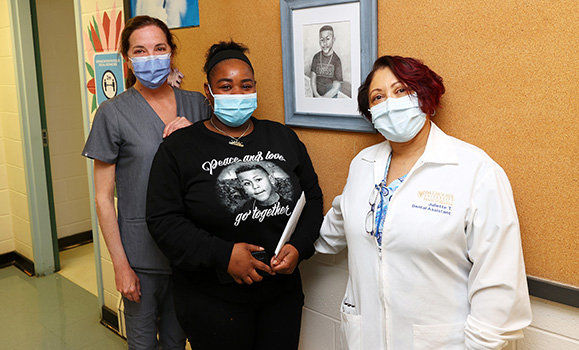 Left to right: Jennifer MacLellan, Shannon Cain, Juliette Thomas.
Dr. Tanya Cook, acting chair of the Department of Dental Clinical Sciences and chair of the Equity, Diversity, Inclusion, and Accessibility Committee in Dalhousie's Faculty of Dentistry, spoke of Mar Mar's positive spirit and announced that the Faculty of Dentistry would donate an annual pizza party in April, Oral Health Month, in Mar Mar's name, with the first one taking place that day.

The group then moved into the dental clinic to unveil the black and white pencil drawing of Mar Mar. The artist is Edie Ford, daughter of Dr. Jennifer MacLellan, a pediatric dentist who works regularly at the clinic. Also in attendance from the Faculty of Dentistry were Prof. Heather Doucette, School of Dental Hygiene, and associate dean of students, Dr. Ferne Kraglund. Principal Anne Johnson McDonald and vice-principal April Desmond represented the school.

Mar Mar's mother Shannon Cain attended the event. "It means a lot to me," she said, "to see the school want to honour my baby."

Memories of Mar Mar

Juliette Thomas says that Mar Mar was a "delight" to see in the hallways. "He was always high-fiving and he had a big smile when I came to take him to the dental clinic. He had a lot of respect and always left saying 'thank you.'"

His pre-primary teacher, "Miss Olive" Simmonds-Gray, says that Mar Mar was smart, loved learning and was a basketball star. "He liked to say 'do the right thing' and he would often tell his classmates to 'never give up'. He was one of a kind."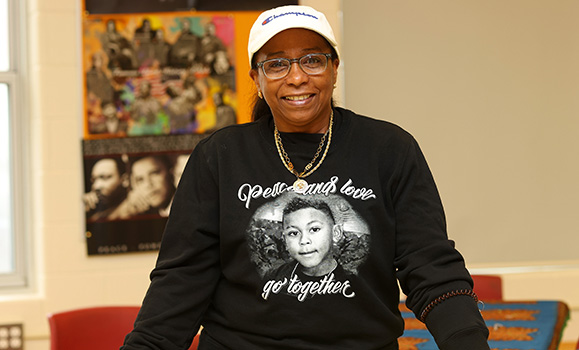 "Miss Olive" Simmonds-Gray, wearing her tribute shirt for Mar Mar.

Miss Olive wears a sweatshirt with an image of Mar Mar on the front and his favourite saying, 'Peace n love go together'. His family had the shirts made, she explains, and a lot of people at the school and in the community bought them to support the family.

Mar Mar's death was devastating, she says. "He was a positive, vibrant little guy and had so much to give. Nothing stopped him."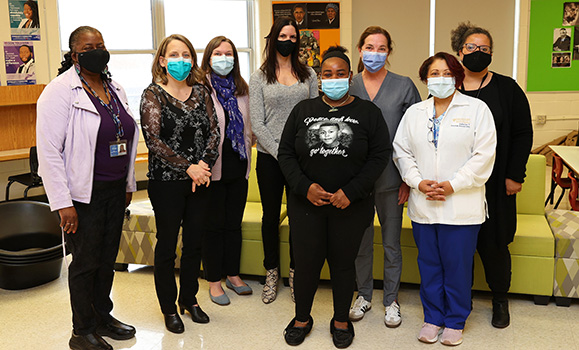 Back row: Anne Johnson McDonald, Tanya Cook, Ferne Kraglund, Heather Doucette, Jennifer MacLellan, April Desmond.
Front row: Shannon Cain, Juliette Thomas.