This story concludes our Investigating Impact series into how the university's alignment with a selection of the United Nations Sustainable Development Goals (SDGs) is contributing to a better future for us all. 
Watch for a Dal News story on April 27 with the results of this year's Times Higher Education Impact Rankings. 
The ocean lies at the heart of patterns and systems that make the Earth habitable for humankind. As Elisabeth Mann Borgese wrote in her 1976 bestseller, The Drama of the Oceans, "we must save our oceans if we are to save ourselves." 
Borgese brought her passion to Dalhousie in the late 1970s as a Senior Killam Fellow and stayed on as a professor in the Department of Political Science. While at Dalhousie, she set up the Canadian centre for her International Ocean Institute (IOI), which is headquartered in Malta — 2022 marks the 43rd year that IOI-Canada has been hosted at the university. 
"Dalhousie has been very generous these 43 years," says Michael Butler, director of IOI-Canada. "Our Ocean Advisory Committee consists of four or five key people in the university. And for most of those years, our eight-week, intensive, face-to-face ocean governance training program has been based at the university. We have over 100 lecturers per training program, many from Dalhousie University. In addition to two excellent staff, I have assistance from eleven senior research fellows, some of whom are on campus. Having these people nearby is a great, great resource. So, we're very lucky."
The in-person training program now has 740 alumni from at least 100 countries. It's focused on mid-level professionals in fields related to ocean governance and includes modules on topics such as Law of the Sea, ocean sciences, marine transportation, integrated coastal ocean management, and maritime security. 
"Our mission is closely tied to SDG 14," Butler says. "Aspects of almost everything associated with SDG 14 and all its subsets are covered in the training program, and it's been very successful. It's very much across disciplines, which is so critical."
Making an impact on Life Below Water
 
Dalhousie has a global reputation for excellence in ocean education and research, and the university supports, in whole or in part, several ocean-related institutes, centres and initiatives. Like IOI-Canada, with its mission to promote responsible ocean governance and stewardship, each of these partnerships add to the university's contribution to SDG 14: Life Below Water, which is focused on conserving and sustainably using ocean and marine resources. 
IOI-Canada's training program and annual lecture series were submitted as evidence of Dal's support for promoting ocean conservation and governance in this year's Times Higher Education (THE) Impact Rankings. The annual ranking assesses universities around the world on their contributions toward achieving the UN SDGs. Last year, Dalhousie was ranked 38th (of 379) in the world and fifth in Canada for its work in support of Life Below Water.
This year's ranking is due out in the last week of April and will explore the university's research on life below water as well as the education, outreach and operational support that Dal provides for aquatic ecosystems. 
Promoting ocean literacy
Ocean literacy — understanding how the ocean influences us and how we influence the ocean — is an area of strength for Dalhousie. The university has strong ties to the creation of the Canadian Ocean Literacy Coalition and Ocean School, a ground-breaking education platform developed by Dal researcher Boris Worm in partnership with the National Film Board of Canada.
"Ocean literacy is absolutely critical, not just in Canada, but, globally," asserts Butler. "We're not trying to turn out hundreds of oceanographers or anything like that. What we really would like to do is graduate teachers with a little bit of background in this topic. Otherwise, they don't have the confidence, I feel, to access the great things that Boris Worm, and many others, are doing. Once the kids are up to speed, then they tend to talk to their parents. So, then there's the ripple effect."
IOI-Canada's annual Elisabeth Mann Borgese Ocean Lecture, which was launched in 2005, also aims to promote understanding among the general public about important ocean issues. After a two-year pause due to the pandemic, the lecture is set to resume on May 19.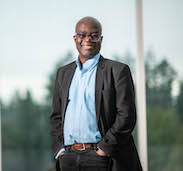 "Rashid Sumaila [pictured left] from UBC is going to be the keynote entitled 'Canada's Oceans and Coasts: Pathways to Sustainability in a Sea of Change," says Butler. "Tirza Meyer is going to speak briefly about her recently published book on Elisabeth Mann Borgese, and we're going to have three discussants. It is very exciting to get that going again."
 
Read more: How Dal is doing its part to reduce the world's material footprint 
• Innovative energy efficiency practices on campus lead the way for the wider community  
• Freshwater research supports water security in Canada's Arctic communities   
• Student‑run HOPES Clinic seeks better health care for society's most vulnerable