While Sarah Fortune was living on Quadra Island, a remote outpost in British Columbia with little cell service and intermittent internet connection, she was one of the lucky ones whose call came through.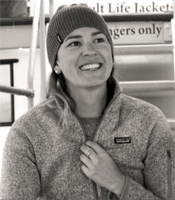 It was a phone conversation that would change the trajectory of her career and send her soaring all the way to Canada's other coast. She had been selected as the recipient of the Canadian Wildlife Federation (CWF) Chair in Large Whale Conservation, a partnership between CWF and Dalhousie University.

"To say that I was ecstatic would be a true understatement," says Dr. Fortune, who had been doing a postdoctoral fellowship with Fisheries and Oceans Canada on the impacts of climate change for bowhead whales in the eastern Canadian Arctic (because of COVID, she worked remotely on the project in B.C.).  "My fascination with the marine environment and scientific investigation began on the east coast and it feels right to be beginning this next, most exciting chapter near where it all began over ten years ago."

Dr. Fortune, who started in her new chair position only weeks ago, looks forward to being an integral part of Dalhousie's Department of Oceanography.

"The breadth of cutting-edge research is truly impressive, and I'm looking forward to integrating large whales into the already innovative mix of ocean research at Dal," she says. "I see the future impact this research can have, and I am optimistic that this new role can fill in my part of the puzzle."
Dr. Fortune's fascination with marine ecology began during her undergraduate studies at Queen's University in Ontario. She then completed an MSc and PhD from the University of British Columbia, the latter which included a stint as a guest student at the Woods Hole Oceanographic Institution in Massachusetts.  
Where oceanography, ecology and physiology meet


CWF's marine program has been focusing on the conservation of large whales in Atlantic Canada for more than a decade. Throughout this time, Dalhousie has been an important partner in this work through the academic investigations carried out by our faculty, and by providing workspace, support, and numerous qualified students to CWF's program.

"This newly announced chair position will enable increased support on research in large whale movement, distribution, habitat associations, and human-induced mitigation options necessary to inform conservation actions," says Charles Macdonald, dean of the Faculty of Science. "We know that Dr. Fortune's research background, her at-sea experience, and her unique expertise in whale conservation makes her an ideal individual for this role."

Currently, Fortune's research has been focused on studying predator-prey relationships.

"Specifically, I investigate how some of the world's largest mammals can make a living by foraging on some of the smallest creatures," she says. "This work occurs at the cross-section of three disciplines — oceanography, ecology and physiology. Each discipline asks a different question, helping to fill in pieces of the puzzle."

Oceanography asks 'what's the quality and quantity of available prey?', while ecology wants to know 'how do whales interact with their environment?' and 'how much food do they consume?' Physiology helps to tie it all to together by answering the question 'are whales getting enough to eat?'

"Through support of the CWF and Dalhousie, we can pursue a variety of interdisciplinary research approaches that utilize observational data and modelling techniques collected with emerging technology such as aerial drones, underwater biologgers, and optical prey imaging to better understand how environmental conditions are changing and how this is affecting large whale species," continues Dr. Fortune, who has an MSc and PhD from the University of British Columbia.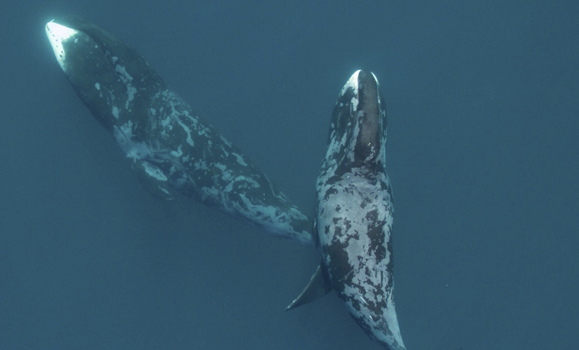 Bowhead whales interact.
Filling gaps in knowledge

Human impacts on the ocean are greater than ever before, yet the ramifications of human activity such as climate change on the health and functioning of marine ecosystems and ultimately large whale populations are only just starting to be understood. Logistically, it's challenging to tackle such problems because it requires studying not only the whales, but also the condition of the environment they rely on for hunting, resting, socializing and reproducing.

"Dr. Fortune's research focus on the feeding ecology of large whales and the oceanography that affects their feeding and behaviour will contribute important knowledge about whales specifically in Atlantic Canada. The absence of such information has made it difficult to predict where and how whales use our coastal oceans and by improving our understanding of this, we will be able to make better decisions about how we also use these same waters," says Dr. Macdonald.

CWF says that the creation of this position is a part of their conservation strategy to expand partnerships with lead researchers investigating issues necessary for evidence-based conservation.

"A leader in marine science and conservation, Dalhousie has always been a university I wanted to be part of," says Dr. Fortune. "I plan to maintain a strong connection between research and conservation at Dalhousie and with CWF while implementing an interdisciplinary and collaborative approach," she says.

"I'm thrilled to have Sarah join this effort at this critical time," says Sean Brillant, CWF's senior conservation biologist, marine programs. "Many marine species, and whole ocean ecosystems, as well as ocean industries, are entirely dependent on our united and urgent progress in research, education and action."