About the author: Craig Arthur (MASc, CRSP, P.Eng) is manager of industrial safety at Dalhousie University.
Global recommendations for face masks have been updated as new variants have emerged and market supply has shifted. It's more important than ever to be aware of what each mask does, and its strengths and weaknesses.
Dalhousie's mask guidance aligns with Nova Scotia Public Health's recommendations that masks offer a minimum of three-layer protection. In this article, we'll look more closely at what that means and provide advice to choose the mask that works best for you.
Two things have not changed, and they remain the most critical details to keeping you and others safe: your mask has to fit well, and you must wear it properly when around others. No mask, no matter how good it may be, will protect you or others when you wear it under your nose or take it off to finish the rest of your cup of coffee.
For an overview of Dal's mask guidance and where you must wear your mask, visit the "Wearing your mask" page on Dal's COVID-19 website.

Generally two categories of masks


There are two main variables when it comes down to the protection offered by any mask: the filtration capacity of the mask's fabric, and the amount of air that leaks around a mask via gaps between the mask and the wearer.
For this reason, we'll start by classifying facemasks into two main categories: looser-fitting face masks such as non-medical (cloth masks) or surgical-type masks, and tight-fitting respirators.
Masks from both categories are suitable for wearing on campus but need to be worn properly and made of appropriate material. Masks that remain not suitable include masks with exhalation valves, plastic sheils and bandanas and "neck gaiters" — for reasons we explored in our last article.


Examples of looser-fitting masks include reusable non-medical (cloth) masks, and surgical-style medical masks. Looser-fitting face masks are currently more readily available, cooler and lighter to wear, muffle the voice less, and are generally easier to breathe through.
Their primary benefit is that they help to protect those around you by containing larger respiratory droplets and slowing airflow as you exhale — so smaller particles travel far less distance. While they do also provide some measure of protection to the wearer when they fit properly, their most significant impact is in source control, capturing viral particles as they are exhaled before others can inhale them and become infected. 
a) Re-useable non-medical (cloth) masks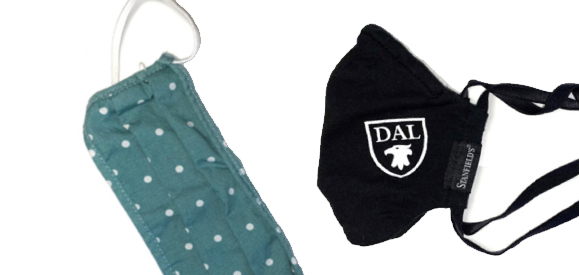 Many of us have spent the past two years relying on a personal stockpile of cloth masks — homemade, store-bought, all colours of the rainbow. Some of these masks may still be appropriate to wear — and some might not.
As the pandemic evolved, recommendations and standards have evolved, and with more infectious variants the construction of your cloth mask is critically important. The guidance at Dalhousie and in Nova Scotia aligns with current recommendations from the World Health Organization that the "ideal combination of material for non-medical masks should include three layers" as follows:
an innermost layer of a hydrophilic material (e.g. cotton or cotton blends) to absorb moisture you breathe;
an outermost layer made of hydrophobic material (e.g., polypropylene, polyester, or their blends), which may limit external contamination from penetration through to the wearer's nose and mouth;
a middle hydrophobic layer of synthetic non-woven material such as polypropylene or a cotton layer which may enhance filtration or retain droplets.
If you're at all unsure whether your cloth mask contains three layers, you may want to choose to wear a medically rated/surgical mask instead (see below).
With cloth masks, the fit of a mask can also vary widely. Regardless of the mask type, masks should fit your face well, without any gaps around their perimeter.  While nose wires are not required as part of a mask, they often can help to reduce gapping around the bridge of your nose — an area that is a common source of leaks.
b) Medically Rated/Surgical masks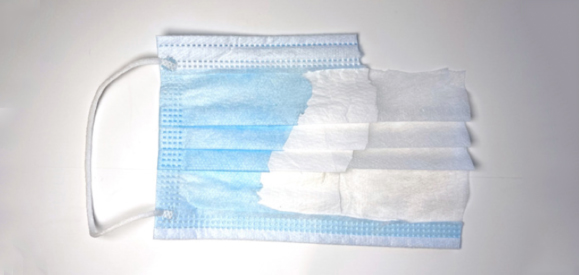 Medically rated surgical-style masks used in Canada and the United States conform to the ASTM F2100 standard and come in a variety of colours depending on the manufacturer.  They are all generally constructed of three layers, with the same hydrophylic-filter-hydrophobic makeup that is recommended by the WHO, but they are thoroughly tested to ensure their fabric meets a very high standard of filtration and are graded into one of three levels (1-3).

There is a small difference in filtration ability between the three levels of these masks (95% for level 1 vs 98% for levels 2 and 3), but the main difference between them is their resistance to blood and other fluids. When it comes to particulate filtration, all three levels these masks are superior to their cloth counterparts.

While the fabric of these masks filters the air incredibly well, and they are still very effective at protecting others around you from the particles you may exhale, their fit remains the biggest consideration to ensure the best protection for those wearing them. If you go outside on a cold day and see puffs of air coming out from around the sides of your mask, it is not fitting properly and should be adjusted. 
c) Tips for improving your mask fit
Try adjusting the nosepiece to be tighter. If you are having fogging issues on your glasses, a piece of medical tape to seal your mask over the bridge of your nose will eliminate the gap entirely.
For those with smaller faces, or who see gaps/leaks around the sides of the mask, try the knot and tuck method.
If the mask is too loose, for masks that ride up, or for those with facial hair that may need a bit of help with the seal of the mask in the beard area, consider tying knots in the earloops to shorten them, which pulls the mask in tighter against the face.
Consider removing facial hair around the jaw line and chin, as it makes it much more difficult to achieve a full seal of any mask.
d) Double masking with cloth and surgical-style masks
Studies have shown that you can see an increase in protection with surgical-style masks if you "double mask": wearing a well-fitting cloth mask OVER a disposable surgical mask. Doing so helps to pull the surgical mask (which has good filtration fabric) tighter against the wearer's face, often markedly improving the fit and seal of the mask.
To do this properly, you must wear the surgical-style mask underneath the cloth to get the best seal with the fabric that has the highest filtration. Double masking is not recommended with any other combination of masks. (Two surgical-type masks would not fit as closely and will still have gaps, and respirator-type masks are intended to fully seal against the face by design may be negatively impacted by adding another mask over top.)

These masks are intended to address both the filtration and the fit, and while they also work as source control (capturing viral particles as they are exhaled before others can inhale them), their design was originally intended to protect the wearer from a fully contaminated environment when they are worn properly.
Tight-fitting respirators have been a hot topic of conversation lately and have as many advantages as disadvantages for long-term use (more than a couple hours). While people may find these sufficiently comfortable for shorter-term periods, such as running to the store or quick meetings here and there, they are often hot and uncomfortable when worn for longer periods of time. In addition, due to their thicker construction, these masks are often harder to breathe through — which can cause issues for people with poor respiratory function. 
If you choose to wear a tighter-fitting respirator, be sure to get one that fits you well — remember that gaps in a mask allow completely unfiltered air to pass, which negates the advantages of a tight-fitting respirator.
For the purpose of this article, we will briefly touch on these different respirator types by their country of origin/regulation.
a) N95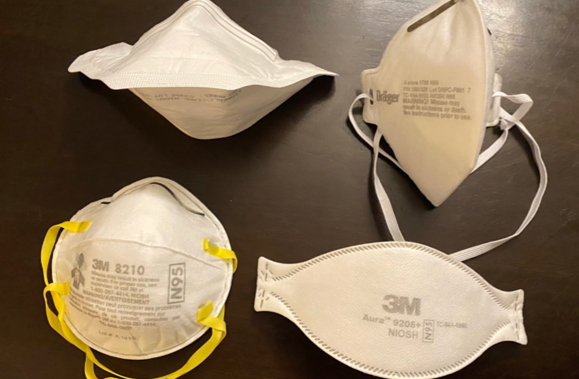 A NIOSH N95 Filtering Facepiece Respirator (commonly referred to as just an "N-95") are one of a series of tightly fitting respirators regulated by the US National Institute for Occupational Safety and Health (NIOSH) under NIOSH - 42 CFR 84. When their use is required due to an occupational hazard, there are strict standards that must be complied with. (For example,  Nova Scotia Occupational Health and Safety Legislation requires that the selection, use, maintenance, and testing of respirators, as well as the training of the users, meet CSA Standard Z94.4.) This standard requires both a medical evaluation for suitability and an annual respirator fit test to ensure their proper sealing against the user's face.  Personnel using for these for when required for workplace hazards must be cleanly shaven of facial hair along the mask's sealing surface, and cannot wear makeup (these can both interfere with the mask's proper seal).
N95s come in a wide variety of shapes and styles, from disposable single-use masks to cartridges that are intended for use with reusable half-face, full-face, or hood-type respirators. The disposable single use type are the ones most often referred to in a COVID-19 setting and will always use two behind-the-head straps and have a nosepiece. There is also a surgical version of these disposable masks, which has added fluid resistance.
The nomenclature for these types of masks or cartridges is standardized as a letter, followed by a number. The three main letters used are N, R, and P, with the difference being the mask's resistance to oils. The three main numbers you see are a measure of the mask's ability to filter out material particulate greater than 0.3 microns. A rating of "95" is intended to filter at least 95% of these particles, "99" would filter at least 99% of these particles, and "100" would filter at least 99.7% of these particles.
With these masks, a perfect seal is of utmost importance to achieve the benefit of the higher filtering ability —hence the fit test by qualified personnel in settings where they are a professional requirement. The masks come in a variety of shapes and styles; what fits one person may not fit the person next to them. Any gap in the mask's seal would allow unfiltered air to bypass the mask, dramatically lowering its effectiveness. People who have facial hair, for example, typically need extra protection when using these masks in a hazardous situation. (An example of extra protection would be a powered air purifying respirator, or PAPR — though this is not suitable for COVID as these devices do not filter exhaled air.)
If you are using these masks, it is important that they are not counterfeit. Be sure that they are a true NIOSH approved N95, and from a reputable source; also note that NIOSH does not evaluate any other types of masks, such as KN95s.
b) KN95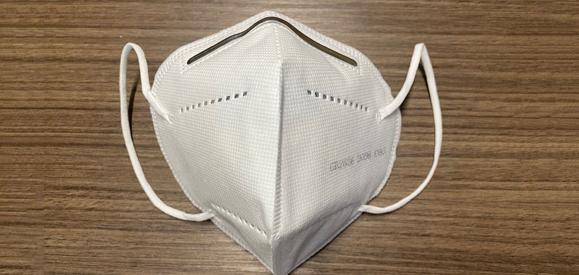 KN95s are generally considered the Chinese version of the North American N95, and should meet the GB 2626-2006 standard for industrial respirators. (There are surgical variants that meet the GB 19803-2010 standard, but you are unlikely to find these on the market currently.) Like the Canadian/US "N95," you can find these respirators in other variants such as KN90, KN95, KN100, KP90, KP95, and KP100.
While the fabric of these respirators often achieves a similar filtering efficiency as the N95, these masks utilize an earloop design versus the Canada/US behind-the-head straps. This change results in a reduction in respirator fit, often making them less efficient.
Like the other filtering facepiece respirators, a perfect fit, and no facial hair, would be required to ensure a full seal of the respirator. Without a perfect seal, any gaps around the respirator would result in air bypassing the mask's filtering fabric, greatly reducing its effectiveness.
While Health Canada has made a temporary allowance for KN95s in health-care settings if N95s are not available, these masks are not certified for industrial hazards in Nova Scotia at the time of this article. There has also been a large issue with a market for counterfeit KN95s, and without a regulating body to oversee these it is mostly left up to the consumer to try and find the real ones. If you are purchasing KN95s, be sure to do your research on the type you are purchasing to ensure they are of good quality and from a reputable vendor.
c) Other countries' filtering facepiece respirators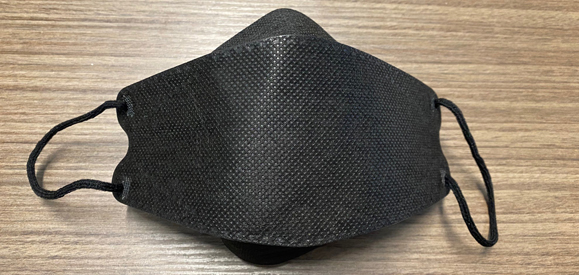 Standards for similar masks from other countries that you may find on the market currently includes South Korea's KF94 respirator (KMOEL 2017-64), Europe's FFP2/FFP3 respirators (EN 149:2001+A1:2009), Australia/New Zealand's P2 respirator (AS/NZ 1716:2012), and Japan's DS2 respirator (JMHLW-Notification 214, 2018). Pictured above is KF94.
An excellent comparison of the standards from each of these countries can be found here, but like the "N95", and "KN95," each of these masks would require a respiratory fit test to completely ensure a full seal.
In summary...

A mask's effectiveness is a combination of both the fabric's filtration capability, and how well they fit your face. Face shape, as well as features such as facial hair, dramatically impact how a particular mask will seal against any given person's face, and any gaps in a mask's fit will dramatically lower their efficiency.
Even then, no PPE is 100% effective at preventing infection — this is the reason that they are the last hazard mitigation method that safety professionals rely on in the hierarchy of controls. Instead, it's often more effective to control hazards at their source, so they do not reach anyone in the first place.
And all of the masks above can serve as effective source control — keeping COVID out of the air in the first place. This is why it is so important for us all to do our part and wear our masks, whatever type they may be.
So continue to wear a minimum of a three-layer mask in soaces where it is required or recommended. Waer it properly, covering your nose and mouth fully. Make sure it fits you well without any gapping. Do not wear masks with exhalation valves in them, and be sure to change your mask out if it becomes damp or soiled, since all mask types lose effectiveness when this occurs. 
By following these simple steps, we can collectively do our parts to increase the overall safety of our Dal community and communities around us.