About the author: Craig Arthur (MASc, CRSP, P.Eng) is manager of industrial safety at Dalhousie University.

Physical distancing, limited social circles, hand hygiene, and the use of face masks are some of the tools critical to protecting ourselves and the larger community at Dal and beyond against the spread of COVID-19.  But non-medical masks — which are required in indoor common spaces at Dal — come in a variety of materials, shapes, styles, and types, which leads to the question: how do I know what to wear?
A little background

While evidence shows masks provide a measure of protection against the virus, their effectiveness varies widely based on the construction and fit of the mask. The greatest benefit of most non-medical face masks is that they help to protect others from you, should you be COVID-19 positive and not know it.  As a community, you are afforded protection from others wearing a mask, and others are afforded protection in turn when you wear yours.  We are collectively the safest when everyone wears their masks.

Non-medical (i.e. cloth) face masks help to protect those around you by containing larger respiratory droplets and slowing airflow as you exhale so smaller particles travel far less distance. This helps reduce the risk of infecting others. There is no standard construction or regulations surrounding these non-medical masks, which is one of the reasons Dalhousie requires rated medical masks for personnel who are working within 2 metres (6 feet) of others.
Mask style

There are two main styles of non-medical facemasks: fitted and pleated.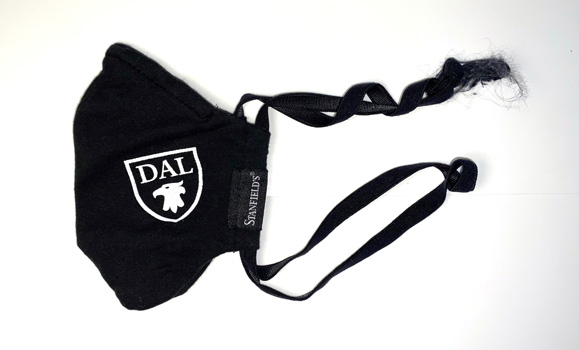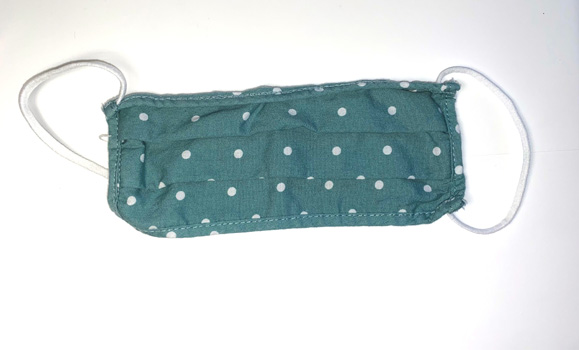 Where pleated masks (above right) generally fit a larger range of face sizes and shapes, fitted masks (above left) are cut to more closely follow the contours of the face and should be both the correct size and shape to appropriately fit you.

Some people find fitted style masks more comfortable and/or find they have fewer fogging issues if they wear glasses with them.  Like clothing, choosing the best style for you may require some trial and error. The most important point is to make sure the mask fits you appropriately and is comfortable to wear — regardless of its style.
Non-medical mask construction

Non-medical masks can be constructed from a variety of materials, with recommendations for this evolving over the duration of the pandemic as new evidence has emerged. A balance must be struck between the added protection of multiple layers of fabric, or the tightness of a fabric's weave, and the resistance to breathing that the wearer experiences.  

The current recommendation from the World Health Organization indicates that the "ideal combination of material for non-medical masks should include three layers" as follows:
an innermost layer of a hydrophilic material (e.g. cotton or cotton blends);
an outermost layer made of hydrophobic material (e.g., polypropylene, polyester, or their  blends), which may limit external contamination from penetration through to the wearer's nose and mouth;
a middle hydrophobic layer of synthetic non-woven material such as polypropylene or a cotton layer which may enhance filtration or retain droplets.
The Public Health Agency of Canada also recommends a minimum of three-layer construction for non-medical masks, with "2 layers of a tightly woven fabric, such as cotton or linen, and include a third (middle) layer of a filter-type fabric, such as non-woven polypropylene fabric or a disposable filter."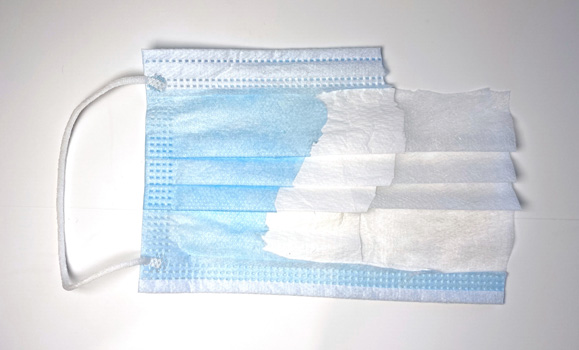 While three layers are ideal, two layers of fabric can still prove effective, so you don't have to throw out any of your two-layer non-medical masks. Take a close look at your masks: some two-layer masks also contain a pocket for an additional removable filter, which will provide an added layer of protection on top of that found on the mask itself.  

The use of a nose wire within the mask may provide additional benefit in fit, as well as to reduce the instance of fogging eyeglasses, but is not a required addition to prove the mask effective.
Masks to avoid

Some masks offer limited, or no, protection to others and may actually pose an additional risk to the wearer. These style of facial coverings are not recommended for COVID-19 purposes:
Masks with exhalation valves do not offer any protective benefits to others, since these valves do not filter or slow the wearer's respiratory droplets.
Small clear plastic shields that are held over the nose and mouth, similar to using a face shield without a mask, do not afford any respiratory protection from COVID-19 since they do not seal against the face.
Bandannas, or "neck gaiters" have been shown to be poor performers, allowing both small and large particles to travel greater distances when exhaling. They also pose an additional risk to those using them because the wearer must pull the fabric over their head while putting them on and taking them off, increasing the risk of rubbing contaminated fabric over their mouth, nose and eyes.  This action also poses additional risks to others, since the same action may contaminate the outside of the mask as you are putting it on, which would then spread as the wearer exhaled with the mask on.

Wearing and caring for masks

No matter what type of mask you choose, it can only provide a benefit to you and those around you if you wear it properly. Masks must fully cover your nose and mouth, and should not be removed when you are near other people.  

Please refer to the Environmental Health & Safety COVID-19 Safety and Training video for information on how to put on and take off a face mask properly.  Make sure you carry a few masks with you when you are out and about, as masks must be replaced whenever they become damp or soiled.

It's also a smart idea to leave your mask on when moving from place to place, as there is an increased risk of infection or cross-contamination whenever reusing a facemask. To be safest, it's always best to use a new mask every time you put one on.

Reusable non-medical masks should be placed in a plastic bag or container, until such time as they can be laundered properly before being worn again. These masks should not be shared between people. If you're using a disposable mask, it should be discarded into any plastic-lined receptacle with your normal garbage.

If you're having issues with the wearing of non-medical facemasks, try checking out these great Mask Usage Tips (login required) that were put together by Dalhousie's own School of Occupational Therapy.

Please continue to be aware, be safe, and be considerate — for we truly are all in this together. Help do your part to protect our community and please wear your mask.

For those looking for more information on mask selection and wear, you can refer to the university's "Mask Required" poster (login required), the Government of Nova Scotia's masks page, the Government of Canada's instructions on making homemade masks, and the World Health Organization's advice on the use of masks in the context of COVID-19.