The reverberations of the École Polytechnique tragedy can still be felt today, more than three decades after 14 women lost their lives in the name of hate.
Each year on December 6, members of the Dalhousie Women in Engineering (WiE) society invite the community to gather together for a ceremony of remembrance and resilience to take stock of the senseless act and honour the victims.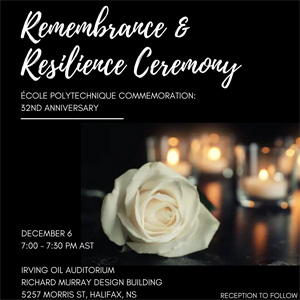 In 1989, a gunman opened fire on a class meeting of engineering students at Montreal's École Polytechnique. For Alexis Mulligan, WiE's president, it is an important day to remember female victims of violence.
"Our commemoration is very important and powerful because we're not only remembering the 14 women who lost their lives, but all women who were victims of violence," Alexis says.
The CBC Archives detail how the gunman at École Polytechnique separated everyone he saw by gender and opened fire on the women while saying  "haïs les féministes [I hate feminists]."
In total, 27 people were shot in the violent attack and 14 were killed solely because of their gender. Twelve were engineering students, one a nursing student and one a budget clerk from the school's finance office.
Due to the magnitude of the shooting, December 6 remains the day that Canadians gather to remember the tragedy through the National Day of Remembrance and Action on Violence Against Women.
A rose in their memory

This year's Dal event will be held in person at the Richard Murray Design Building on Morris Street. At 7 p.m., the memorial will begin in the Irving Oil Auditorium with Alexis speaking. Twelve Dalhousie engineering students, one nursing student and one administrative individual will be there to represent each of the 14 École Polytechnique victims who were killed.
"They will blow out a candle and receive a rose in their memory," says Alexis.
Teo Milos, WiE's vice president, will take part in the candle ceremony and place a rose on the commemorative plaque outside the Sexton Campus building.  
"You know, there were engineers that were going through what I did, and there's no reason for any of them to have been shot," Teo says. "We don't want this to happen again, so we want to remember it and make sure it doesn't happen to anyone again."
The memorial is open to the public with each attendee needing to show proof of vaccination at the door.
"It's a way to remember where we came from," Alexis says, "and why we're where we're at today with women in engineering."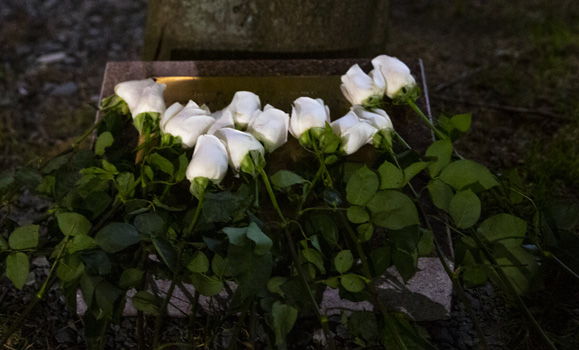 In remembrance of:
 
Anne St-Arneault, 23;
Geneviève Bergeron, 21;
Hélène Colgan, 23;
Nathalie Croteau, 23;
Barbara Daigneault, 22;
Anne-Marie Edward, 21;
Maud Haviernick, 29;
Barbara Klueznick, 31;
Maryse Laganière, 25;
Maryse Leclair, 23;
Anne-Marie Lemay, 22;
Sonia Pelletier, 23;
Michèle Richard, 21;
and Annie Turcotte, 21.