This article is part of a series focusing on the grads of the Dalhousie Class of 2021. Visit our Class of 2021 virtual space to share in the excitement with our newest graduates.
Being part of a community has long been an important part of Zainab Syed's life.

Originally from Pakistan, Zainab and her family permanently moved to Canada in 2012. They decided to move to Toronto mainly because of its large South Asian community and the fact that her mom had many friends and family that lived there, which made it easier for them to settle into an existing community rather than find a new one.

Community-mindedness was a factor that Zainab considered when planning what to do after high school. Rather than begin her first year of university, Zainab decided to decline her offers from several different universities in Ontario and British Colombia and take the year off.

"I had been struggling a lot with my mental health in the last two years of high school and felt that I needed some time before I could enter university," says Zainab. "It was in that year that I decided to apply to Dalhousie."

Zainab explains that she wanted to go to a school that was academically rigorous but had a strong sense of community. She wanted to avoid feeling overwhelmed or insignificant.

"Some of my friends struggled with that in larger universities. Halifax also really appealed to me since I think the east coast is beautiful and I wasn't interested in living in a large city like Toronto or Vancouver. My mom ended up taking me on an impromptu road trip to the east coast and I really loved the city and the campus and that decided it for me."
A change of plan

When Zainab came to Dalhousie in the fall of 2017, she had originally planned to major in psychology. However, her strong interest in languages and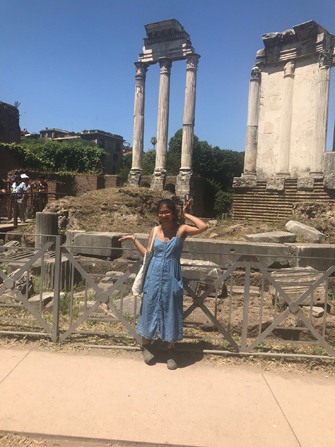 history changed that when she saw that Ancient Greek was offered by the Department of Classics. She couldn't help but register for the course.

"It took one Ancient Greek class for me to realize that this was something I needed to pursue seriously," she says. "I've never regretted that decision, although this degree has certainly been quite challenging. At one point, I was studying three ancient languages at once at three different proficiency levels."

Zainab notes that Classics is interdisciplinary by nature, encompassing history, culture, philosophy, literature, every facet of people's lives and it is an important part of pop culture and hugely influential in various ways, particularly in Western society.

"I firmly believe that there's something in Classics for everyone. There's so much knowledge to be found in the past and I think everyone deserves to have the chance to access it."
Community and collaboration

Zainab continued to be part of, and find greater community, through her time as an Honours student in the Classics department.

"My professors have taught me what it means to be a part of a larger academic community not just a department. I've learned how to collaborate with and learn from my peers, to be critical in a way that is constructive and fosters dialogue rather than hinders it, and to constantly push the boundaries of my own ideas and scholarship. I feel incredibly lucky for all the support and care I have received as a student in my time here."

Zainab has held various prominent roles in the Classics department. She has worked as administrative assistant for the department, served as president for Res Publica (the Dalhousie Undergraduate Classics Society), and has been the organizer and master of ceremonies for the annual Pythian Games. She also served as director of the Dalhousie Student Union's Equity and Accessibility Office, as vice-president of the education and knowledge seeking with Dalhousie's Black, Indigenous, and People of Colour Caucus (BIPOCUS) and as a member of the Classical Association of Canada – Women's Network. She has also worked as a student assistant at the Art Gallery of Nova Scotia.

Zainab received the Faculty of Arts and Social Sciences Leadership Award as part of this year's Impact Awards. She also received this year's Pius Aeneas award for exceptional and exemplary services faithfully rendered to fellow students of Classics (an award that is given out only when warranted) and last year's Nicole Knox Memorial Prize for outstanding achievement in ancient languages and combined performance in Greek and Latin at the senior level.
Remote, but not in spirit

Zainab says that although managing studying, work, and various extra-curricular activities has been challenging at times, it also has kept her in some semblance of a routine, particularly at hectic times of the school year and during the pandemic. Over the past year, she has been working and learning from Winnipeg, where her mother currently lives. She adds that even though she misses being on campus, seeing her friends and professors in person and hanging out in the Classics library, working remotely for the department and planning for the Pythian Games and Res Publica has helped her continue to feel connected to the Classics department and to Dalhousie.

"I'm really grateful for the various opportunities I've been offered in my time at Dal. I wouldn't be where I am without the communities that have supported me and helped me, and it would feel incredibly selfish to constantly take and never give back in any way. That's primarily why I've tried to be as involved as is possible for me given my job and my academic workload."

Zainab's next step of her academic journey will take her to Seattle this fall to begin a Masters in Classics at the University of Washington, where she will continue her research in social history, focusing on questions of citizenship ideology and the circumstances of the Athenian metic (resident alien) population.