Get involved. It's a common refrain, especially familiar to those heading off to university for the first time. "You'll learn new skills, build your social network and create lasting memories," the wisdom goes.

But getting engaged in student life is about so much more than a student's own experience, as this year's Dalhousie Board of Governors' Award winners illustrate so well. It's also about building community and supporting others. And that's just what these five outstanding individuals have done through their work with some of Dal's more than 400 student societies, in student and university governance, and in the broader community.

The university's top award for student life, the Board of Governors' Award is presented annually to recognize exceptional contributions or leadership in the extracurricular realm — building community on campus, service in the broader community, improving diversity and inclusion and much more. The recipients are nominated by their peers in the Dal community, and chosen by a committee consisting of the president, three Board members and the vice-provost student affairs.

Meet the 2021 Board of Governors' Award recipients:
Emma Stirling Cameron, Health Promotion
Expanding access to health care for those who need it most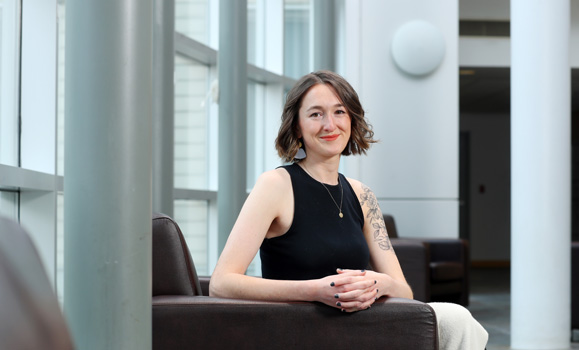 Emma Stirling Cameron cares about others and she's not afraid to do something about it.

Now completing her master's degree in Health Promotion, Emma has spent her time at university exploring, researching, supporting and championing what it would take to improve the lives of others.

During Emma's undergraduate program in psychology, she started thinking about the barriers that prevent people from getting the help they need. She translated her concerns into action when she joined friend and mentor Jen Powley in co-founding the not-for-profit organization No More Warehousing: The Nova Scotia Association for Inclusive Homes and Supports to advocate for co-housing, community living and supports for persons with disabilities.

The experience contributed to her decision to continue with a research-based master's program so she could dig deeper into the social determinants of health.

"The way we access health care is the biggest barrier I see," Emma says. "Mental health care is a great example. We have great psychologists and psychiatrists but if you don't have coverage you cannot access it unless you're able to pay per appointment. I don't know why every person isn't screaming about this."

When she discovered the Health Promotion program, she knew it would be a good fit with her concerns. Meeting with Lois Jackson, a professor in the program who became her supervisor, was exactly the affirmation she needed.

To enrich her work, Emma launched the Women's Health Interest Group with a colleague in 2019 to share local research on women's health and support women researchers in the field at Dalhousie.

"It's kind of like a knowledge translation network or initiative that provides opportunities for attendees to present about their research and to engage with other people's ideas," she explains.

Her current research focuses on understanding access to sexual and reproductive health care services for resettled refugee and migrant women.

"It's very challenging to access health care as a newcomer here," she says. "I don't know where it's going to take me but that's the population I want to continue to work with."

As you might expect, her commitment has already stretched beyond academics and into the community. She currently sits on the Board of Directors for the Rainbow Refugee Association of Nova Scotia. And over the past year, she had the opportunity to foster a six-year-old newcomer.

"We didn't really seek it out, but it was the right thing to do at the time. It was a super rewarding, really complicated experience, especially since we started fostering five days before the pandemic closures," Emma recalls. "The experience made me realize that I would love to look at the mental health care experiences of youth who are newcomers and how the systems we have perpetuate racism or discrimination." (Stefanie Wilson)
Sarah Meng Li, Computer Science and Mathematics
Creating connections through code and quantum research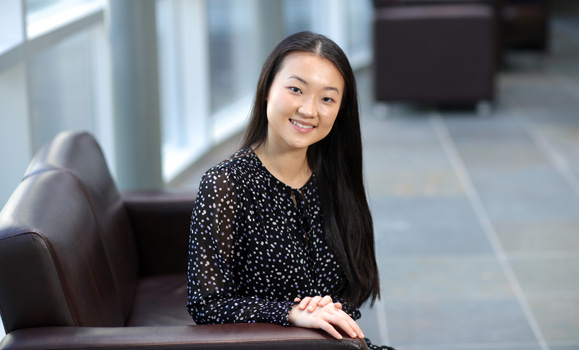 When Sarah Meng Li first came to Dalhousie from China more than five years ago, she wasn't sure what she wanted to do with her life. But as she graduates this spring, not only has she discovered her passion — she's also left her mark on Dal and the Halifax community.
Sarah came to Dalhousie on exchange while studying Atmospheric Science at Ocean University of China, but she wasn't interested in her program. She took this opportunity to explore her options.
"When you exchange here, normally people are expected to take ocean science courses. But I'm the complete opposite," Sarah says. She took courses in a variety of disciplines to figure out what she was interested in.
After a positive experience at Dal, she decided to transfer. Five years later, she is graduating with combined honours degree in Mathematics and Computer Science and a minor in Statistics.
Sarah quickly made a name for herself at Dal for her outstanding work ethic and community spirit.

Throughout her undergraduate degree, she has consistently carved out time to give back with different groups at Dal and in the Halifax area. As a volunteer with Canada Learning Code, she has helped hundreds of children and adults learn computer coding skills — an experience she found empowering.
"What I learned from the textbook is not just about the knowledge or like the piece of code. It actually can be really helpful," Sarah says.
She also took her teaching abilities to local schools as a volunteer with Nova Scotia Math Circles, engaging high and junior high school students in different topics of mathematics.
All this while maintaining a rigorous academic and research workload. Sarah has completed two undergraduate honours theses, held numerous research positions, more than ten head teaching assistant positions, and numerous awards from her faculties.

Sarah was first exposed to her current field of research at a conference on quantum information, a topic she knew nothing about first but was soon enchanted by. "Could you imagine it's like a combination of computer science, mathematics, physics or even ethics! So, I feel like there's just so much to do about this discipline," she says.

This interest led to her first research assistant position in quantum computing. It was around two months in, while working late into the night on a problem, that she reached a breakthrough moment.
The work that summer led to her first of two publications, which she finished the night of December 31, 2019, a deadline Sarah set for herself.
Leaving Dalhousie, as she prepares to begin her master's program in quantum information at the University of Waterloo, she hopes to continue giving back to her community. While her time at Dal hasn't been without its challenges, personal and academic, Sarah says she owes her amazing accomplishments to the support from her professors, research supervisors and friends. (Stephen Abbott)
Selam Abdella, International Development Studies

Supporting students, on campus and from afar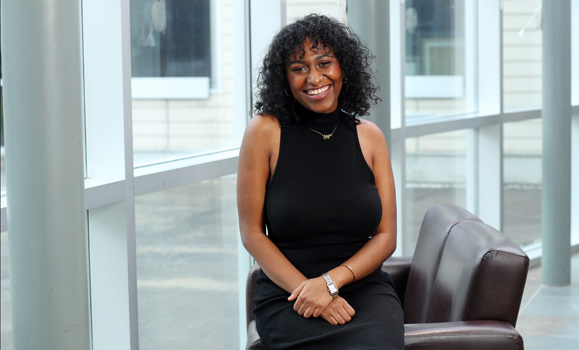 Selamawit (Selam) Abdella began to work for the Dal community from the very first day that she stepped on campus.

After arriving at Orientation Week late because of visa delays (she is from Addis Ababa, Ethiopia), she saw former Dalhousie Student Union (DSU) president Amina Abawajy setting up for an event.

"I had already read about a lot of the work that Amina had done," Selam says, "so I just walked up to her and said, 'I know that you're doing a lot of work that is related to making things accessible for people, and I'm really interested in that kind of work.'"

This exchange is just one example of Selam's drive to contribute to her community.

Outside of her studies as a combined honours student in International Development Studies (IDS) and Political Science, Selam has acted as a workshop leader at the East Coast Leadership Conference and the DSU Racial Justice Symposium, chair of support for Dalhousie's Black, Indigenous and People of Colour Caucus (BIPOCUS) and vice-president communications for Amnesty International Dalhousie. She is currently wrapping up her second year as director of the DSU Equity and Accessibility Office, while working as a research assistant in the IDS department.

When Selam arrived at Dal, she built a support system that included DSU executives, classmates in her IDS program and professors. These bonds inspired her to return that support to her fellow students, especially international students and students of colour.

"Everything I have, like my place at Dal or my position in the DSU, or honestly just day-to-day life, I don't think I would have been able to get through had other people not given me support," she says. "So, it only feels right to continue to support other people."

This support extends to professors, too. Selam worked with the Centre for Learning and Teaching to develop Universal Design for Learning modules. She has since collaborated with faculty members who have on used these resources to ensure that their online classes were accessible for all students.

There are two major initiatives that Selam is most proud of. The first is the work she did with the Equity and Accessibility Office to provide $50,000 in bursaries for students impacted by the COVID-19 pandemic. The second is last year's AfroFest, a block party celebrating Halifax's Black students.

When she finishes her thesis, Selam will return to Ethiopia to rest and spend time with the family she has not seen in almost two years. After she recharges, she plans to do what she has always done: give back to her community.

"I want to get more involved in Ethiopia starting with volunteering, especially in development and humanitarian realms," she says. "I want to go home and offer my skills, experience, and energy in any way that could be useful." (Hannah Whaley)
Sierra Sparks, Electrical Engineering

Unlocking better design through inclusive engineering and education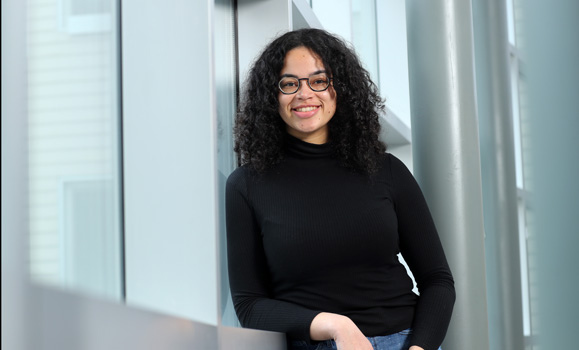 If you work or study at Dal, there's a good chance you've heard the name Sierra Sparks by now.

Last fall, the soon-to-be electrical engineering grad from Dartmouth was awarded the Rhodes Scholarship — among the highest student honours in the world. Only 11 students in Canada and roughly 100 globally receive it each year.
Flash back a few short years, though, and Sierra was navigating a far different experience as a self-described "shy" student arriving from high school.
While Sierra excelled in her classes, she struggled at first to make her voice heard.
"At that time, I wasn't as comfortable speaking up about my abilities. I just didn't have the confidence to share my ideas," she says, noting how she was often the only woman on team-based assignments.
Getting involved with on-campus student groups such as Women in Engineering (WiE) and the Dalhousie Undergraduate Engineering Society (DUES) that year proved an important turning point for her. The groups provided a built-in community and served as a forum where she and other could share ideas in a supportive environment of like-minded peers.
"I felt like I really belonged," she says.
Energized, Sierra dove headlong into community activities and soon found herself taking on leadership roles that would allow her to help others in the same respect. She has served several engineering societies at Dal and beyond in president and vice-president roles, including as vice-president academic for the Canadian Federation of Engineering Students, and volunteered her time as a peer mentor to first-year students and with the African Nova Scotian math tutoring program.
She has been a champion for women and underrepresented groups in engineering throughout all these endeavors, as well as more broadly in her governance work as a student senator for the Dalhousie Senate and in similar positions.
"Promoting diversity in engineering education but also in the profession has become extremely important to me," she says.
She worked on a project this year with the U.S.-based Institute of Electrical and Electronics Engineers exploring the importance of inclusive design in course curriculum. "When you are making designs that are going to be directly impacting society, it's really important to have diverse perspectives. Otherwise, the devices and designs we are making can be inherently discriminatory."
Research has shown that women are more likely to be injured in car crashes because the majority of tests are done with dummies modelled after typically male bodies, she says, by way of illustration.
Now, as Sierra wraps up her time at Dal, completes a position as an Electrical Engineer-in-Training at a local ultrasound imaging firm and prepares for her studies at Oxford, she does so confident in her quest to become Dr. Sparks the professor.
"That's my big dream." (Matt Reeder)
Fatima Beydoun, Environmental, Sustainability & Society

Building networks of care and compassion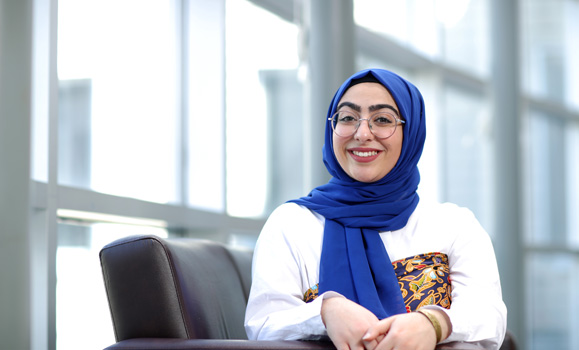 Fatima Beydoun became passionate about racial-justice issues during high school in Halifax when she noticed how little she saw herself, her culture and her values represented in the classroom and community at large. Through working with the HeartWood Centre for Community and Youth Development, she connected with other BIPOC (Black, Indigenous, People of Colour) individuals and learned about community building and care. This experience set her on a path of social- and racial-justice advocacy.
When she came to Dal, Fatima worked alongside other racialized students at Dalhousie to create a racial-justice collective initiated by past Board of Governors' Award winner Aisha Abawajy. The collective, formally called the Black, Indigenous and People of Colour Caucus, or BIPOCUS, is focused on facilitating a supportive environment for racialized students and supporting BIPOC students in taking on leadership roles at Dal and in the community. As a student representative on the university's Board of Governors, Fatima has also devoted herself to enhancing the student experience for all her peers at Dal.
An experienced cultural humility facilitator and public speaker, Fatima has organized numerous events that call attention to Islamophobia in Canada. She has also developed and delivered many workshops aimed at educating people on a number of social and racial justice issues, including microaggressions, reconciliation and youth. Her advocacy work has even taken her to Ottawa, where she spoke to the House of Commons in support of migrant communities.
Fatima, who is currently completing a combined honours degree in Sustainability and International Development with a minor in French, has been involved with Amnesty International Canada for almost six years — most recently serving as an organizer, national youth advisor and president of the Dalhousie chapter. The experience offered her an opportunity to work with youth across the country and taught her a lot about the power of coordination in affecting change from the ground up.

Fatima is no stranger to success, with a number of accolades and scholarships to her name already. Most recently, she was named an inaugural McCall McBain Scholar, an award that will see her attend law school at McGill University on a fully funded scholarship this fall.
"I know that when I get to McGill, I will discover so many new possibilities that may influence the path I take in the future," she says. "I plan to use the community and collaborative skills I have developed at Dal and those that I learn during my studies at McGill, to ensure that underrepresented and underserved communities are represented and that they have access to the justice system." (Lindsay Dowling-Savelle)