Nothing inspires like someone else's enthusiasm.
Kind of like when Sierra Sparks was a junior high student in Dartmouth, and her cousin from Ottawa moved to Nova Scotia to study engineering at Dalhousie. "I got to see her a lot more often, and she knew that I really loved math and science," says Sierra. "I got to hear so much about what she was doing in engineering. It was the first time I connected my love of math and science with what I could do with it: 'This is really cool; maybe someday I'll be able to do it, too.'"
Or when, in her first week on campus at Dalhousie, Sierra was trying to decide whether to step up and put her name forward for one of the first-year representatives with the Engineering Society. "I think that was a turning point: I met someone who would become one of my best friends, and he said he was going to run for one of the positions. I saw his enthusiasm and thought, 'I want to do that, too.'"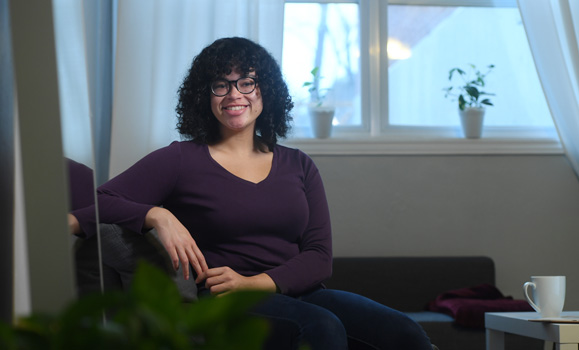 Sierra has spent the past four years at Dalhousie taking that enthusiasm and giving it back, time and time again. Whether it's advocating for diversity in her field or supporting her fellow students academically and within Dal's administration, Sierra has been a beacon of inspiration for her peers, her professors and people across the Dal community.
"She is a complete student, an impressive individual and a role model for many to follow," says John Newhook, dean of the Faculty of Engineering. "Sierra has continually and consistently demonstrated outstanding academic performance, but equally impressive is her level of engagement and passion as a student leader within Dalhousie and at a national level."
Now, Sierra's enthusiasm is about to go transatlantic, with the aid of one of the world's most prestigious student awards: the Rhodes Scholarship.
Oxford bound

This weekend in Halifax, Sierra underwent an interview process unlike any she'd experienced before — not just in its content, but the format as well, with COVID safety measures added to an already intensive and detailed review process to select two students from the Maritimes to become Rhodes Scholars. Even with masks and social distancing, her enthusiasm clearly inspired the judges enough to award her one of the Maritime region's two Rhodes Scholarships.
Ever committed to her Engineering activities, Sierra was actually participating in a virtual conference back at her parents' house Saturday night when the Rhodes Trust called her — a national event hosted by the Canadian Federation of Engineering Students on diversity in the profession.
"I was trying to listen closely to the session, so when [the Rhodes Trust] called and I answered I almost fell over," she laughs. "I just couldn't believe it. I ran downstairs. My family was all over the house and we all ran together with lots of screaming and lots of smiles … I've been trying to let it sink in, and it still hasn't."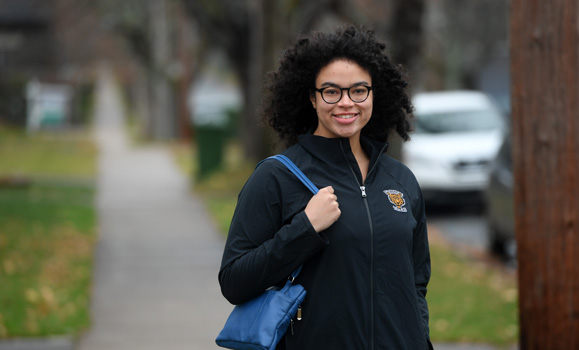 Being a Rhodes Scholar is a life-changing opportunity: a fully paid scholarship covering travel, study and expenses for two years (with an option for a third) at the University of Oxford in England. There are just over 100 Rhodes Scholars selected each year from across the globe. In Canada, only 11 students each year are chosen based on criteria that spans academics, extracurriculars, leadership and community impact.
Sierra becomes Dalhousie's 92nd Rhodes Scholar — a number that exceeds all but a small handful of schools in North America, and an area in which Dal competes with the likes of Princeton, Stanford, McGill and U of T.
"As we look to grow Dalhousie's global reach and impact, students like Sierra show just how far our outstanding students can go on the international stage," says Deep Saini, Dalhousie president. "Sierra's dedication to her community and fellow students, particularly to young women and underrepresented groups looking to pursue studies and careers in STEM fields, shines through in her leadership efforts. Sierra is a most deserving recipient of the Rhodes Scholarship, demonstrating incredible academic performance, community leadership and amazing personal accomplishments."
That enthusiasm is shared by Sierra's dean. "The Faculty of Engineering is thrilled that Sierra is being recognized as a Rhodes Scholar and for the incredible learning and personal opportunities it will afford her," says Dr. Newhook. "We have every confidence in her ability to both succeed and to have meaningful impact throughout her future career."
Giving back to community

Sierra's academic achievements are second-to none: she's a Dalhousie Chancellor's Scholar with a near-perfect GPA, a Sexton Scholar designation and multiple awards and honours.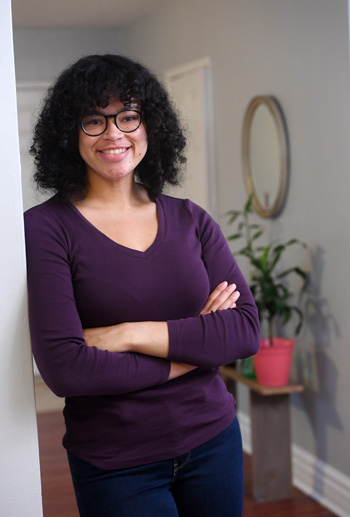 But there's good reason she's earned a Sexton Leader designation, too, as well as the Faculty of Engineering's Leadership Impact Award, for her work outside the classroom. She's a community builder who has been deeply involved in university life from her first days as a diploma student, with a particular passion for increasing support for women and underrepresented groups in engineering. She's been president of the Diploma of Engineering Society, VP external of the Undergraduate Engineering Society and VP logistics/outreach of the Women in Engineering society. Currently, she represents all Dalhousie students as a senator in the Dalhousie University Senate.
She's also treasurer of the Dalhousie student branch of the Institute of Electrical and Electronics Engineers (IEEE) — an experience that gave her a unique opportunity to push for change in her field. She and her fellow students co-authored a report earlier this year on anti-discrimination and inclusive design and had the opportunity to work with the faculty in the Department of Electrical and Computer Engineering on how to incorporate its recommendations.
"It was a great time to reflect on all the social justice movements happening this year and trying to make tangible change in the Faculty, which we've seen underway already," she says of her team's call to action. "It was really great to hear how receptive they were to our report."
She's been reflecting on those social justice movements in other parts of her life, as well. A pianist and composer who's a guest pianist for the Cherry Brook Church, she composed and has performed a song for the Black Lives Matter movement called "Always Moving." Her musical pursuits extend to being a founding member and soloist in an engineering-based jazz band, The LogRhythmics.
"I've been surrounded by music my whole life. My dad's side of the family has a lot of musicians, and it's very important to our family and our community. I think there are a lot of links between music and engineering: music is very creative and expressive, but there's also a lot of analytical and logical components to it."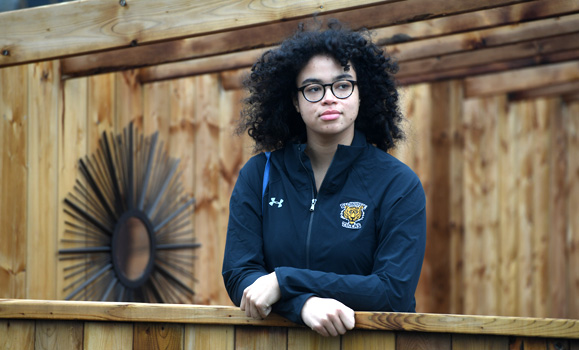 And somehow, even given all this, she's found time to stay physically active, playing rugby and fast-pitch softball and even volunteering as a coach with the latter.
"I think the motivation, for me, is that if I'm enthusiastically involved, maybe other people will see how amazing it is to be involved in student life — just how much you get out of it and how much you can give back to the Dal community and the community at large. I think Dalhousie has so many opportunities for aspiring leaders, and they really give their students the resources they need to try something new."
Imagining (and imaging) her future

Obviously, student life looks at bit different this year during the global pandemic. Sierra misses being on campus and seeing everyone in-person but says she tries to focus on the positives of online learning, like being able to set her own schedule for her asynchronous coursework and her other activities.
And she's continued to advocate for student experience through the pandemic: within her Faculty training peer-mentors to support first-year students learning remotely; at the Dalhousie level as a student senator; and at the national level as VP academic of the Canadian Federation of Engineering Students.
"Sierra knows how to make a tangible and long-lasting difference in the people, programs, and institutions around her," says Vince Sieben, one of Sierra's professors from Electrical and Computer Engineering, who says Sierra is known throughout the department and Faculty for her steadfast devotion to bettering her peers. "She tackled tough issues on anti-discrimination and social injustice, course learning outcomes, and advancing women's position in Engineering.  Beyond her time at Dalhousie, her enhancement to the institutions around her will be felt by hundreds if not thousands of students in the years to come."
Sierra has also been able to continue her co-op experiences through the pandemic, which have been instrumental in shaping her future ambitions. Her co-op term this past summer was with Daxsonics Ultrasound Inc, a local medical imaging startup that features Dalhousie prof Jeremy Brown as its chief scientific officer. Sierra's also been working with the company on her capstone project on an ultrasound transducer device.
"Working there really solidified that doing further studies in biomedical engineering is what I really wanted to do," she says. "Co-op has been a great way to make the connection between school and life after school."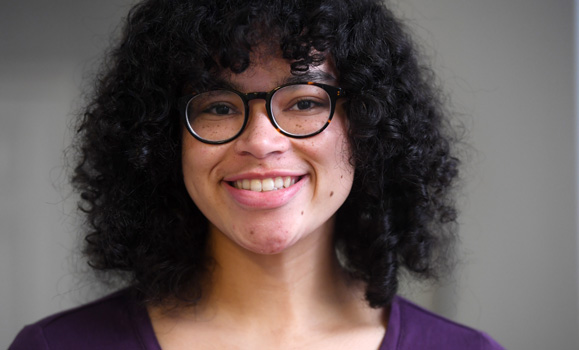 "Five minutes after meeting Sierra, it becomes clear she is going to do extraordinary things in her life," says Dr. Brown, associate professor in the Department of Electrical and Computer Engineering and the School of Biomedical Engineering. "She completely exemplifies the values and responsibilities of a Rhodes Scholar, and will continue to generously pursue of her goals for the betterment of our world."
Looking to Oxford and beyond


Sierra's work in biomedical engineering — specifically medical imaging — has been so inspiring that she plans to continue it at Oxford in her graduate studies. She hopes to explore how artificial intelligence can be used to improve the diagnostic quality of medical imaging, and also make it more accessible to remote areas and communities.
"I'm really excited to be at Oxford because they have a really fantastic engineering science program," she says, "but also to be part of the Rhodes community. I'm going to get to meet current and future leaders and bounce ideas off them, learn from their skills and their community involvement… I think that's the most exciting part: learning from all these amazing people about how to make change. Words cannot describe how excited I am."
Though, given her track record for inspiring great things, maybe it's Sierra's fellow Rhodes scholars that should be even more excited to meet her.